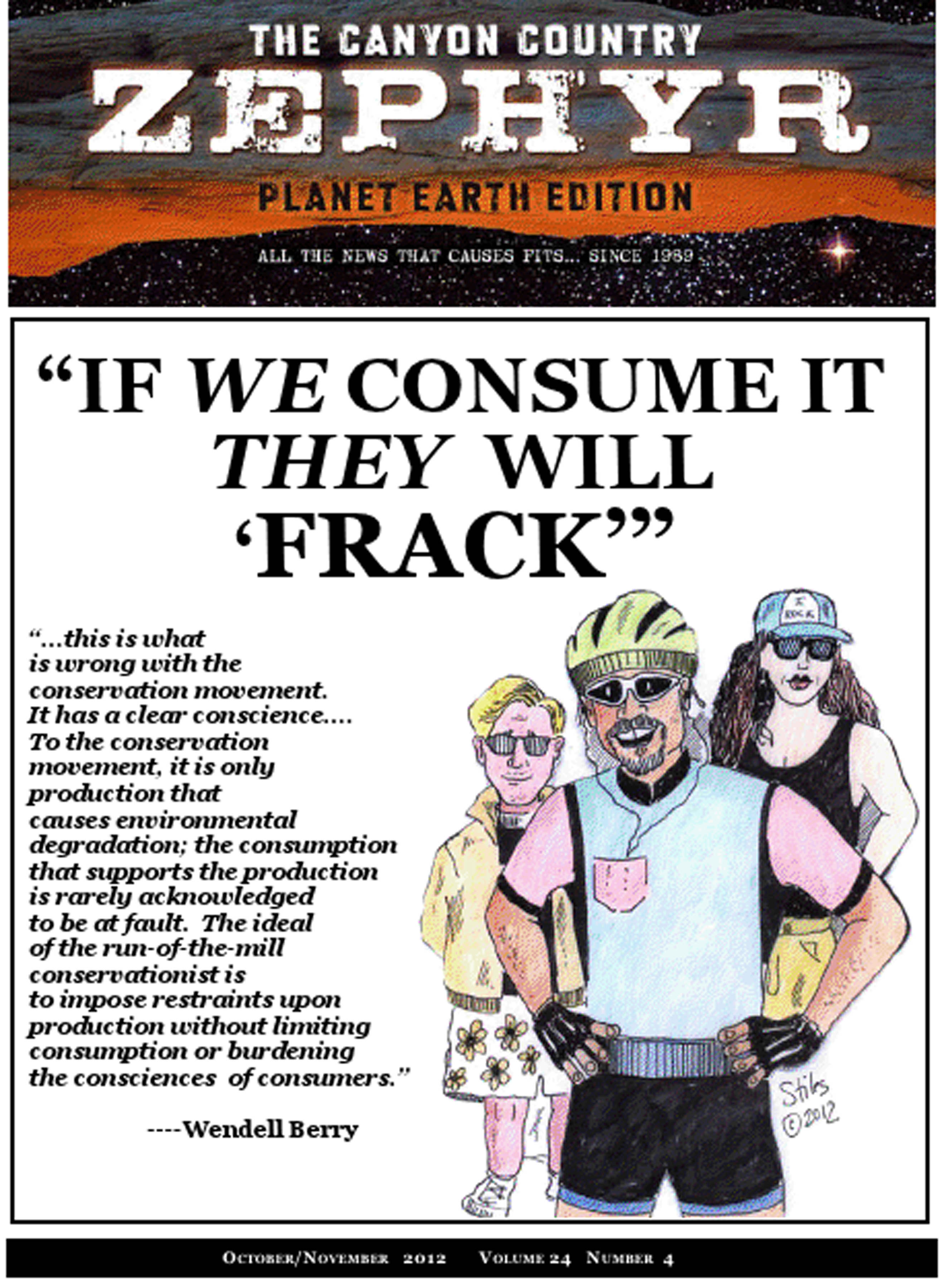 TAKE IT OR LEAVE IT…Jim Stiles
Election Blues…Speaking of Elections, Hate Bain Capital? Now Go Look in the Mirror…The Stiles Job Plan: "Do as the French do."
SOWING CLOVER… Tonya Audyn Stiles
"The Walnut Desk"
THE POETRY of DAMON FALKE
"Dove Creek"

MOAB & FRACKING & CLIMATE CHANGE & ELEVATED RIVER BIKEWAYS…Jim Stiles
"A community whose economy and existence, by definition, demands the massive consumption of energy just to get the tourists to Moab, needs to at least understand how complicated and layered this issue is."
SAGEBRUSH IN FOUR DIRECTIONS: LOVING THE LAND…Scott Thompson
"I believe the vicious cycle has worked this way. The more we overcrowd, overpopulate and develop a landscape the more insensitive we become to it. In time we cease to love the land for its own sake."

HERB RINGER'S AMERICAN WEST…
An Update: Moab in 1952 & 2012
LAST FLOAT DOWN GLEN CANYON, September/October 1962…Words and Photographs by Edna Fridley
Headed for Hole-in-the-Rock
LOSING SOLITUDE…Martin Murie
"Once in a while something very like a vision comes along. Those, as we all know, are not scheduled in advance.They happen in subways, tangled woods, high plains, classrooms, prisons, battlefields."
WHY I NEVER BECAME A MORMON…Part 1...Jim Stiles
Thirty Years in the Beehive State & Still a Heathen After All These Years.
The WILDER WEST… the Art & Wit of DAVE WILDER
"The Imaginary West"
THE BULLETIN BOARD of DOOM
Incl: US APPEALS COURT STRIKES DOWN EPA RULES…"GROWTH IS THE PROBLEM" by Chris Hedges…THE SLAUGHTER of ELEPHANTS IS NEARLY COMPLETE.
THE SHEEP NEXT DOOR…Dave Jarvis
As Urban Sprawl & 'Civilization' swallow us up, a second look at the 'Hooved Locusts'
(From the 1995 Zephyr Archives)  AN INTERVIEW with MAXINE NEWELL  with Jim Stiles
POINTBLANK:  HOW WE LOST SILENCE…Richard Mahler
And Why We Need to Get it Back
FUTURE NEW WEST TRENDS?
The Moab/Colorado River Elevated Bikeway & the Grand Canyon's "Escalade."
VLACHOS' VIEWS
Paul Vlachos is a New Yorker who understands The West. He also understands New York. His work celebrates the differences and the similarities.