Looking for the Great Sun Buddha
SMOKEY THE BEAR will surely appear to put the enemy out with his vajra-shovel – Gary Snyder
Ever since the ranger in his broad-brimmed hat said
     I've seen a lot of bears this summer
The arc of shadows has bent towards ursine.
Bears crouch among boulders
gathered by gravity at the toe of a landslide
Bears climb into the blue green canopy
of Douglas fir
Bears graze among bucolic herds
of black angus cattle
A woman with a brown coat
coming over the mountain is a bear
A shaggy dog
trotting across the street is a bear
Snuffling among pomegranate red raspberries
the wind is a bear
Claw-scratched footprints, scat full of rosehips
someone spilled the garbage with a cymbal crash
Deep in my heart I know how stylish I would look
in that broad-brimmed hat
symbolic of the forces that guard the wilderness
Knowing that when the student is ready,
              The Great Bear Appears

I'm peering at faces
looking for bears shining from the eyes
of dogs, cats, chipmunks, chickens, chickadees,
of strangers on the bus,
of shoppers filling their grocery carts with canned foods,
Searching the bear-like eyes of hopeful children
who dance out of school at the sound of a bell
Seeing bears in my own reflection, ghostly in the glass window
of the train that follows a river
where a handsome smoky-coloured animal
with two round furry ears
swims calmly across the current.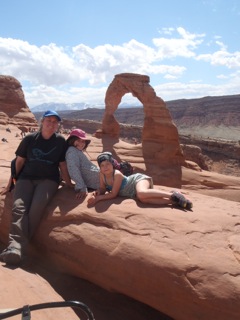 Amy Brunvand is a librarian, writer, and part-time nature mystic from Salt Lake City, Utah.  She agrees with Edward Abbey that the environmental movement needs more poets and fewer lawyers (even though some of her best friends are lawyers).
To read the PDF version of this article, click here.
To comment, scroll to the bottom of the page.
Don't forget the Zephyr ads! All links are hot!