Your Old Canary is Obsolete
If your coal mine still uses an old canary
You're past due for a replacement;
Down in the velvet-black underground
Yellow clashes with contemporary fashion,
Shrill warbling can be digitally corrected.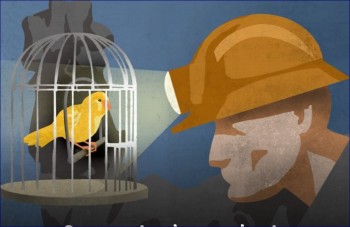 To properly dispose of your old unit
Take the cage to a warm and sunny spot,
Set the door to the "open" position,
Wait until the bird has flown,
Or ascertain it has been eaten by the cat.
Now you are ready to install
XanRE 2.0 ®
Available in eye-ease putty gray,
A color formulated scientifically
To avoid feathery-bright after-images
Offensive to the dark-adjusted eye.
Plug the cord into the sound jack,
Set the power switch to "on,"
Twiddle the volume control knob
Until you hear an ear-pleasing frequency
That should resemble birdsong.
Your new device will sing continually
In negative-light conditions.
Used as directed, this product
Is guaranteed for the life of the battery
And does not require oxygen to operate.

Hiking to Delicate Arch
I've hiked up here so many times before.
People scurry up the trail like ants
When I've spilled sugar on my kitchen floor.
There's something splendid at the top we want
To taste.  Each of us takes a turn to pose
Framed by the sandstone arch.  I seize a crystal
Of time, grip my camera in my mandibles,
And take it home to store with past years' photos
Taken other years in this same place
Hoarding reassurance that some beauty
Will persist. The vintage of my face
And people standing near me tell the story:
A man I didn't marry; a friend who died;
My infant on my back; myself, a child.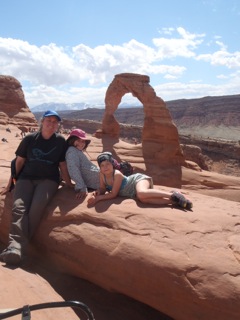 Amy Brunvand is a librarian, writer, and part-time nature mystic from Salt Lake City, Utah.  She agrees with Edward Abbey that the environmental movement needs more poets and fewer lawyers (even though some of her best friends are lawyers).
To read the PDF version of this article, click here.
To comment, scroll to the bottom of the page.
Don't forget the Zephyr ads! All links are hot!