EDITOR'S NOTE; The Bears Ears NM controversy continues to occupy the attention of both supporters and opponents of the proclamation. And articles continue to be published, unchallenged, in many mainstream media venues that distort or misrepresent the facts.
And tourists traveling to the area don't seem to be completely sure why they came or what they hope to see at the new monument, or even where it is. Or what it is they think they saved. Or why.
Here's a quick review of some of them.
FIRST…A FEW WORDS ON 'BEARS EARS' NOMENCLATURE
Even before Bears Ears National Monument was proclaimed by President Obama on December 28, 2016, tourists to southeast Utah have been arriving in ever increasing numbers, wanting to know…
"What's out there at Bears Ears?"
Or.."Where are the really cool places out at Bears Ears?"
Or…"Where are the secret spots out at Bears Ears that nobody knows about?"
But here's the thing. Until about two years ago, nobody…and I mean nobody…ever referred to the vast landscape in San Juan County west of Blanding and east of the Colorado River  as "The Bears Ears." Nobody ever said, "I'm goin' out to Bears Ears" unless their destination was the the two named buttes themselves.
Locals and informed visitors to the area for the last 100 years might have said:  "I'm headed out to Cedar Mesa…or Grand Gulch…or Elk Ridge…or White Canyon." All of these name represent large tracts of land that represent thousands and thousands of acres of land that are appreciated and respected for their natural beauty or their wealth of archaeological resources.
Before the monument name came about, Native Americans sought protection for those resources, choosing to call it the Cedar Mesa National Conservation Area (NCA).
But the "Bears Ears?" The Ears are two buttes at the far southern end of Elk Ridge that are accessible by an eight mile gravel and dirt road. They are nice buttes as buttes go, but they offer no special archaeological reward when you get there–no ruins, no rock art, no interpretive displays. There is no trail to the top of the Ears. There isn't even a real parking area. There is an old sign that says "Bears Ears."
In April, I drove up Utah Hwy 95 to see if there were noticeable increases in visitation after the proclamation. There were…traffic was heavier than I'd ever seen it. Rangers at the Grand Gulch ranger station reported significant increases in travel. A tour bus was parked out front of the station on the day I was there.
I drove back to the Bears Ears turnoff from the paved road and parked. In the span of 30 minutes, I watched eight cars, six of them 2WD sub-compacts, turn onto the Bears Ears track. All the vehicles boasted out-of-state license plates. All these vehicles were driving up this rough unpaved road because the monument was named Bears Ears and thus, it seemed logical to them that they drive there.
Clearly, they had no prior knowledge about the road's surface, or its current condition. Dirt and gravel roads can be affected by, you know, weather. For more than a mile south of the Bears Ears,the road is unimproved dirt, also known as mud when it rains. Reports from the San Juan County Sheriff's office already account for several tows for hapless tourists whose single-minded determination to see the ears up close put them in harm's way and buried axle deep in a quagmire.
So if you are among the minions who also want to make the pilgrimage to Bears Ears National Monument and add to its eventual ruination ("WE have met the enemy and they is US."—Pogo), then at least get your nomenclature right.
RE: COMPLAINTS ABOUT ACCESS TO ZINKE v JEWELL

When Interior Secretary Ryan Zinke visited the new Bears Ears National Monument in June, he met with Utah's congressional delegation, the governor, commissioners from San Juan County, as well as representatives of the pro-monument groups, "Bears Ears Inter-Tribal Coalition" and "Friends of Cedar Mesa."
Zinke also met with many local citizens from San Juan County, to specifically hear their concerns. Critics of Zinke complained that he failed to make himself available to pro-monument citizens. Climbingzine.com objected that, "he only met with a highly curated and skewed group of interests while he was in Utah. Pro-monument supporters were moved out of the way so he would minimize the number of people he saw for the monument."
The Salt Lake Tribune reported that, "He offered little media availability outside of daily briefings, and no public meetings. By contrast, predecessor Sally Jewell invited the press to accompany her on most legs of a July 2016 Bears Ears visit that concluded with a three-hour public hearing in Bluff."
Advocates for preserving Obama's December 28 proclamation feel they've been wronged. Interestingly, in 2016, citizens opposed to the proposed new monument felt exactly the same way about then-Secretary of the Interior Sally Jewell..
It's called partisan politics. When Democrats held the reins of power and Obama was president and everybody assumed Hillary Clinton would easily win the general election, nobody on the Left was concerned about balanced representation; the Republicans felt they were being stampeded.
The July 2016 visit by Secretary Jewell was hailed by Utah environmentalists as a text book example of the public process at its best. It's true that while Jewell held meetings in northern Utah to hear what everyone expected to be a well-organized declaration of support by its participants, the July 16 meeting in Bluff was supposed to be an opportunity for the local population to express their voice. It's probably fair to suggest that the sentiments of most Bluff residents were pro-monument, while residents of Blanding and Monticello strongly opposed it. But the July 16 meeting didn't turn out that kind of locally-based representation.
Instead, an extremely well-organized and funded Utah environmental community was able to transport hundreds of monument supporters to the event in Bluff and because opportunities to speak publicly to Jewell were by lottery, a disproportionate number of presenters were not local at all.
The out-of-towners were there in great numbers. Their grasp of the facts was limited. I spoke to several–one thought there'd be oil wells and pumpjacks, between the Bears Ears buttes, running full-time in a year without the monument designation. Another had a different take and feared condo developments in the same location.
In any case, many residents of San Juan County felt they had been marginalized as a result of what they considered a carpetbagger strategy by environmentalists.
In addition, it was apparent in 2016 that Secretary Jewell was sympathetic to the Utah environmental community and its efforts to forge an alliance with the outdoor recreation industry. Before her role in the Obama administration, Sally Jewell had, in fact, been the CEO of REI (Recreation Equipment Inc), one of the largest outdoor clothing and equipment companies in America and an active member of the Outdoor Industry Alliance. Groups like SUWA and the Grand Canyon Trust have been building lucrative alliances with the outdoor industry for almost 20 years.
Have those alliances become personal? SUWA board member Terry Tempest Williams shared a 2015 letter that she sent to Secretary Jewell in her book, "The Hour of Land," in support of the monument. Their close personal connection is reflected in the letter as early as the salutation which begins, "Dearest Sally."
What followed was a very personal report to Jewell re: a meeting that had occurred with a room full of white Utah environmental leaders and Jonah Yellowman of the Navajo Nation. It even included the seating arrangements.
Whatever preferences the San Juan County commissioners might have received from Secretary Ryan, it's doubtful that Commissioner Phil Lyman ever felt comfortable sending a letter to Secretary Zinke that began: "Dearest Ryan."
KEN SLEIGHT OPPOSES MONUMENT DESIGNATION
Ken Sleight, immortalized as 'Seldom Seen Smith' in Edward Abbey's "The Monkey Wrench Gang," has been an environmental activist for almost 70 years. He was an "activist" before anyone thought to call him an activist. He tried to stop the construction of Glen Canyon Dam in the 1950s, when even David Brower and the Sierra Club offered little or no opposition.
In a recent copyrighted story by Christopher Smart in the Salt Lake Tribune, Sleight offered his own candid and sometimes sorrowful views about his life and the canyon country he has loved since he first laid eyes on it, back in 1951. Sleight made a living from the tourist/recreation economy and now at age 87, Sleight expressed some regrets, and some thoughts about the future, especially "Bears Ears NM." Here is an excerpt:
Ken confesses, somewhat sheepishly, that he promoted tourism in the area decades ago out of necessity.
 "It was great when we first came down here," Ken says. "But we had to get out and really push for people to come and employ our services."
But Abbey's warnings about "industrial tourism" came to pass in and around Moab…
Ken fears the same fate awaits San Juan County with then-President Barack Obama's designation of Bears Ears National Monument. The retired river guide had spent decades fighting to get a wilderness designation — forbidding vehicles of all types ­— for the spectacular and varied landscape that sweeps across 1.3 million acres.

"When [the tribes] first started pushing for the monument [seven years ago], I figured they had given up on wilderness designation," he says. "I'm afraid it's going to end up like Arches and Canyonlands [national parks]. What are we going to do with the hordes of people? That's what I'm afraid of."
* * *
In 2010, I spent "An Afternoon with Ken Sleight" for an article in The Zephyr. It was probably Ken's most honest and heartfelt expression of his love for the canyon country, his disappointments in trying to protect it, and his fears for the future.
Here are some excerpts from that article:
More than anything, Ken worries about too many people. When Sleight was running tourists down Glen Canyon in the 1950s, he never dreamed the recreation industry would become what it is today. And if it's this bad now, what will it be like in another 20 years? "They keep trying to bring more people here. That spells doom for wilderness. More people. More people. How many times have we talked about that? More parking lots. More of everything. We keep building and building. Down at Zion they're about to build a bigger tunnel for the east entrance road. 'Improving' it! Adapting to handle ever increased numbers, all for the comfort of the people. Now everybody associates that with preservation. We've got to 'improve' it so we can get more people in.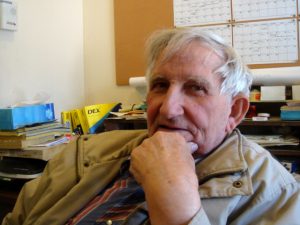 Ken Sleight on wilderness:
"Now its how can we use IT…wilderness that is. Not wilderness for its own merits. I've got an idea for wilderness. Lets carve up a big section and NOBODY goes in there. Leave it to the animals and nature. NOBODY! Goes in there. I admit I'd be the first to want to go in there and I'd probably get caught. Why not just have places on the earth where nobody can go in. Not even scientists! They're not going to allow that. I always like Dave Foreman's idea to even take wilderness off the maps. Big blank spots. JUST LEAVE IT LONE! That sounds good to me."
Sleight on the Future:
"Pack Creek Ranch and Moab will be plastic," Ken says sadly.  "Nothing but plastic, and Pack Creek with it. Civilization is already headed that way. It IS that way. Plastic is a good word. Plastic individuals.  Not really individuals anymore. People will go where they've been trained and taught. Control.
"Wilderness is supposed to be having the space to be free. When we fought for wilderness, we thought it meant big empty places. I really don't want to be around for what's coming and I won't of course. I'm 80 years old. I've turned the corner I guess."
Who wants to argue with the passion and wisdom of Ken Sleight?
TERRY TEMPEST WILLIAMS, PATAGONIA , "BEARS EARS OIL," and THE FRACKING IRONY OF IT ALL

Supporters of the new national monument continue to insist that without the Obama designation, virtually all of southeast Utah will be at risk from massive and immediate oil and gas development. In a New York Times editorial, noted author and SUWA board member Terry Tempest Williams called efforts to reverse the designation, "the latest example of a new colonialism, with the government bulldozing Indian sovereignty and privileging Big Oil."
The outdoor equipment giant Patagonia, which has spent millions of dollars marketing the monument, makes the same claim. It wrote, "Oil and gas development and potash and uranium mining threaten to restrict access to and forever destroy beloved recreation sites."
But again, here are the facts. There isn't much commercially recoverable oil under the heart of Bears Ears NM. Geologists and federal land managers agree that the opportunities for oil and gas exploitation under the main portion of the monument are "low to moderate;"  that estimate is based on a study a few years ago when the price of a barrel of oil was selling for more than $100.Even the Grand Canyon Trust (GCT) acknowledges the lack of real energy potential under most of the monument. In April 2016, GCT noted, "The uranium mining boom in southeast Utah has long since passed, and oil and gas are not resources that exist in high quality or great quantity in Bears Ears.Drilling for oil and gas in Bears Ears over the last 70 years has resulted in little but dry holes."
Consequently, arguments by Ms Williams, Patagonia and others are simply untrue, and are based on uninformed or misleading information. And yet that information has been disseminated across the main stream media, even to the New York Times.
Had the monument included that area east of US 191 and Bluff, Utah called the Aneth oil field, surely "Big Oil" would have been furious. Aneth has been a major oil producing section of the state for almost 70 years.
In fact, if monument supporters really wanted to end all energy development in the region, they should aim much of their wrath at President Obama and Secretary Jewell.
The original proposed monument was 1.9 million acres. The Obama administration reduced its size by almost 600,000 acres in key areas that had energy potential, including a small uranium mine west of Utah Hwy 95 in White Canyon, some areas with energy potential in the northern sections of the monument and possible oil development lands east of Bluff. This was an Obama administration decision. Now supporters are protesting the sale of proposed oil leases by the Trump administration in the Bluff area outside the monument, that were excluded by his predecessor.
But it's also a fair argument that any further lands withdrawn from the monument by the Trump administration and auctioned for their energy potential should be carefully scrutinized for archaeological resources. If there is a reduction, the lands that could become subject to debate lie on "the far eastern fringe" (source: Salt Lake Tribune) of the Monument's current boundary. There are no proposed oil leases anywhere on Cedar Mesa or Grand Gulch, which lie at the heart of the Monument and where the vast majority of archaeological sites can be found.

Finally, there is this irony. Environmental groups like SUWA and the GCT, its most ardent supporters like Terry Tempest Williams, and the full force of the massive outdoor recreation industry all maintain that an Industrial Tourism/Recreation economy is far superior and less impacting than the extractive industry and the development of energy potential in the West.
Now in 2017, despite explosive visitation increases that are taking their toll on parks and monuments across the country, environmentalists remain silent on the issue of Industrial Recreation. In fact, just a couple years ago, SUWA asked its members what they believed were the "greatest threats to the red rock wilderness." Runaway industrial recreation wasn't even an option.
And yet, what's fueling this massive increase in travel to the West and its most magnificent natural treasures? We can partly blame the never ending marketing campaigns by the outdoor industry and assorted travel councils across the West.
But more than these, what really brought upon this increase?
The price of a gallon of gas.
Since 2014, the increase in travel has been matched by commensurate declines in the price of oil. The cost of filling any vehicle's gas tank, from a Toyota Prius to a Ford F250 has been halved. What caused this startling price reduction? Prices are affected directly by supply and demand. Previously, this country could not produce or import enough oil to meet the country's domestic requirements for oil.
Now, whether you like it or not, hydraulic fracturing (fracking) has significantly increased this country's ability to provide oil and its byproducts to Americans. It has created more "expendable income" and allowed us to spend more money on other goods and services, including tourism.
So if mainstream environmentalists want to keep pushing their Industrial Recreation agenda, they need to publicly thank the oil and gas industry for making it all happen. And if the price of oil ever goes back up–and it will–those same mainstream enviros better be prepared to see their favorite kind of economy collapse all around them.
For now, the tourism explosion continues and the wild places of the West continue to be threatened by too many people and an expanding tourist economy that is anxious to take their money. When will the environmental community admit that their embrace of Industrial Recreation has gone too far? When will they call out the corporate giants of the outdoor industry and tell them, "Enough is enough."
PROTECTING THE ARTIFACTS…A LOOK BACK AT 1976
Bears Ears National Monument proponents supported the proclamation for many reasons. But more than any other was the perceived need to protect the 100,000 archaeological sites that lie within its boundaries. Supporters have insisted that monument designation, via the 1906 Antiquities Act, was the best way to achieve that goal.
This publication has maintained for over a year that all federal lands are protected by the Archaeological Resources Protection of Act of 1979 and that, in fact, ARPA was passed by Congress to address shortcomings and inadequacies in the 1906 law. What the area needs is protection;  monument designation does nothing except provide a marketing tool for the recreation industry to draw more people to the area.
Last Spring this publication advocated for the creation of an ARPA Protection Unit to provide immediate and effective protection of those resources at a fraction of the cost of a national monument. I wrote:
The primary objective here is to protect the area's archeological resources. So, use the funding to create an "ARPA Enforcement Unit," composed of trained rangers from the Inter-Tribal Coalition, BLM, and USFS. They can target the sensitive areas most vulnerable to vandalism and damage. (Antiquities are not evenly distributed across the Bears Ears area.).
They can also assure that Native Americans are allowed to continue the traditional practices they have feared might be placed in jeopardy. They could also preserve and protect those traditions and improve communications for everyone.
Currently, the heart of the monument, where the vast majority of these antiquities can be found—Cedar Mesa and Grand Gulch—is virtually unprotected. Slashed budgets and tiny protection staffs have left the area more vulnerable than ever.
How is this possible? And why wouldn't increasing budgets to hire more rangers be a higher priority than pursuing monument status for these priceless treasures? It wasn't always like this.
I moved to the canyon country in 1976. That winter I spent a lot of time at Natural Bridges National Monument and came to know the staff there, as well as the BLM rangers from Grand Gulch. In 1976, there were at least six field rangers on patrol at Grand Gulch, at a time when visitation was a fraction of what it is now. One of my future best friends, Jim Conklin, was one of the rangers who patrolled the area and so I came to know the law enforcement program at Grand Gulch well.
Someone who knew it far better than me was Ranger Lynell Schalk. She went to work for BLM in 1974 and was one of the lead rangers at the Gulch. In 2005, she was interviewed by "Archaeology" magazine, a publication of the Archaeological Institute of America. her observations about protecting the resources of Grand Gulch are revealing. Here is an excerpt:
At Grand Gulch, the rangers were told to "go out there and stop the looting." "Our main purpose was to get control of the problem in all of Cedar Mesa," Schalk says, a 185,000-acre plateau broken by nine major canyons including Grand Gulch.
"It was a real crash course." The rangers pursued pothunters on horseback, on foot, by jeep, and in helicopters. "We flew almost every day," she remembers. But without law enforcement authority, the rangers could only notify local officers–based at least an hour away–when they caught violators. "You called the sheriff when you saw someone digging and he would come to the crime scene and make the arrest."
The rangers at Grand Gulch went on patrol duty everyday. "With a four-wheel drive vehicle or horse patrol we would head down into Kane Gulch or across Cedar Mesa," Schalk says. "If we saw fresh tracks we would go see what people were doing…" The four to six rangers on duty also switched off on three-to five-day backpacking and horse patrol trips into the backcountry. Five days a week, the rangers went on overflights, in Bell Two helicopters at 7,000 feet. "It had a little bubble top, with seating for just the pilot and one passenger," Schalk recalls. The rangers would "spot" for illegal activities in the canyons or on the mesa tops. "Helicopter patrol was a routine part of the day…" They would fly with the doors off, covering large areas in several hours that would take rangers on the ground several days, she says.
Schalk also addressed the disadvantages of the Antiquities Act and the subsequent improvements that ARPA brought to the protection of Native American antiquities…
Aside from the perils of the job, the biggest obstacle the rangers had to contend with when apprehending pothunters was that under the 1906 Antiquities Act the looting of archaeological sites was only a petty offense, less than a misdemeanor. "You didn't have to serve time or be fined. It was a slap on the wrist," Schalk says. "With the passage of the Archaeological Resources Protection Act in 1979, the looting and trafficking of archaeological resources was given a felony provision." Before ARPA, the prevailing attitude was that it was acceptable to take artifacts from sites on public lands. The belief was held by many in local government. In fact, Schalk recalls a federal judge in Salt Lake City who refused to take archaeological cases involving only misdemeanor offenses.
This is PRECISELY the point The Zephyr has tried to make for the last year. The provisions of the Antiquities Act offered little protection and insignificant penalties for violators. It was ARPA that finally gave the federal government the power to impose severe fines and even imprisonment for looting. And ARPA protects ALL federal lands, with or without monument designation.
In 1976, the BLM at Grand Gulch had the needed staff to patrol Grand Gulch, and their work was effective as a preventive measure, simply because potential looters were aware of their presence.
But the BLM in 1976  lacked the legal authority or the necessary penalties in the law to mete out the kind of justice that was needed. ARPA changed all that almost 40 years ago. The question is, why has the BLM, under both Democratic and Republican administrations over the past 40 years, failed to implement the authority they now have by providing the needed funding to restore the kind of staff that once patrolled these national treasures? These failures didn't start six months ago.
* * *
It's important to remember some chronology here. Efforts to create Bears Ears National Monument go back to late 2015. In the summer of 2016, Interior Secretary Jewell came to southeast Utah. There was little doubt in anyone's minds that she'd recommend the creation of a monument.
There was also little doubt in anyone's mind that Hillary Clinton would be elected on November 8. But late that evening, all that changed with the stunning upset by Donald Trump.
President Obama's proclamation came on December 28, seven weeks after Trump's election. As this publication noted months ago, did any of the monument's proponents think President Trump would embrace the new monument? Did they think he would fully fund it in a way that provided the protections its supporters claimed it needed?
No. Virtually no one in the environmental community or anyone who supported the monument believed he would take such steps. So what was the point?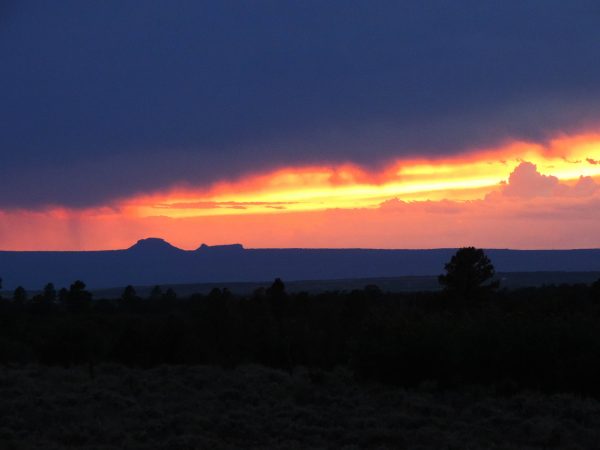 Josh Ewing, the executive director of "Friends of Cedar Mesa," an advocate for the monument and a close ally to the recreation industry (he is the 'star' of a glossy promotional film about Bears Ears by Patagonia), was surprisingly candid in an interview for a blogpost called eateggs.com. In a post called "Loving the stuffing out of Bears Ears," Ewing expressed grave concerns. Here is an excerpt:
I was lucky enough to have a fascinating but sobering conversation this morning  with Josh Ewing, Executive Director of Friends of Cedar Mesa. Expecting a sense of triumphalism, his deep unease and concern caught me off guard.
As an advocate for the conservation of the area's archaeological resources and sites, he describes the situation with Bears Ears as being "likely the worst possible situation." Publicity for the monument is dramatically increasing visitation (including to many sensitive archaeological sites). Unfortunately, there is no concomitant allocation of resources to meet to flood of visitors. Suddenly, the very precious resources that inspired the protection of the monument are in immediate danger of being loved to death. The little structure for educating visitors on visiting archaeological sites respectfully is not yet in place.
Ewing described to me the sobering and disappointing experience of recently revisiting one of his formative sites, a site that inspired him to fall in love with the area and dedicate himself to its conservation and preservation. "Ten years ago," he tells me, "the site was thick with pot shards and artifacts. On my recent visit, there was not a shard to be found, a wall of a structure had been pushed over and destroyed, and people had been digging in the kiva."
The BLM has limited resources for education and conservation. Given the charged politics of the situation, the BLM is hesitant to act.
So why was Bears Ears NM created, if even its supporters knew the designation would generate massive publicity and subsequent destruction, and knowing that the Trump administration would refuse to adequately fund it? Like Mr. Ewing observed, the monument designation created, "the worst possible situation."
Who else in the environmental community is willing to be that candid?
Jim Stiles is Founder and Co-Publisher of the Canyon Country Zephyr.
Links to Stories Mentioned in the Article:
ClimbingZine: Stacy Bare on Bears Ears and Ryan Zinke's Visit to Utah
SL Trib: I gave Utah a voice, Zinke says as he departs from national-monument trip
Zephyr Blog:TERRY TEMPEST WILLIAMS' LETTER TO INTERIOR SECRETARY SALLY JEWELL. 12/21/2014
SL Trib: At 87, eco-legend Ken Sleight of Ed Abbey fame is still fighting Lake Powell — but knows it's a losing battle
Zephyr Blog: An Afternoon with Ken Sleight (from the Zephyr archives) —Jim Stiles
NY Times: Will Bears Ears Be the Next Standing Rock?
Patagonia: Five Reasons Bears Ears Needs to be Protected as a National Monument
Grand Canyon Trust: Fact and Fiction in the Bears Ears
Yale Environment: How A Surge in Visitors Is Overwhelming America's National Parks
Canyon Country Zephyr: A BEARS EARS ALTERNATIVE SOLUTION
Archaeology Archive: Riding for the Brand 
EatEggs: Loving the Stuffing out of Bears Ears
Save
Save
Save
Save
Save
Save
Save
Save
Save
Save