EDITOR'S NOTE: In 1985, two great artists, writer Edward Abbey and cartoonist R. Crumb met in Moab, Utah  to promote a new edition of Abbey's classic novel, 'The Monkey Wrench Gang,'  with Crumb's brilliant and unique illustrations.
On the afternoon of March 24, 1985, the two men gathered with family and friends at the Devils Garden Campground in Arches National Park. Moabite and reporter/photographer Vicki Barker was there to record the meeting on film.
Years later, Vicki gave The Zephyr a contact sheet of some of those images, but somehow we never used them. In 2012, Vicki died suddenly, to the great sorrow of her friends and relatives, and to Moab itself, where Vicki was born and raised.
Recently I stumbled upon her photos again and contacted the publisher of the new MWG edition, Ken Sanders, who remembers the day better than anyone. Ken agreed to record his memories of the day, accompanied by Vicki's wonderful black and white images.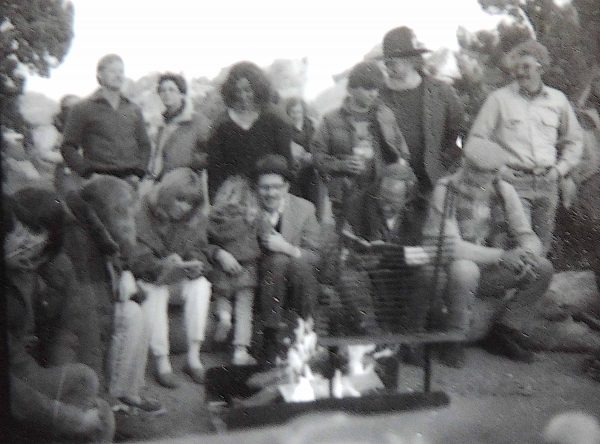 John Wesley Powell was born March 24, 1834, and it was this date I chose to celebrate the publication of the R. Crumb illustrated edition of Edward Abbey's comedic masterpiece, The Monkey Wrench Gang. My fledgling publishing company, Dream Garden Press, was established in 1980 and I had talked Ed Abbey into letting me base a line of calendars on his work (the Edward Abbey Western Wilderness Calendar). I had now received his permission to bring out a new hardbound edition of his novel, The Monkey Wrench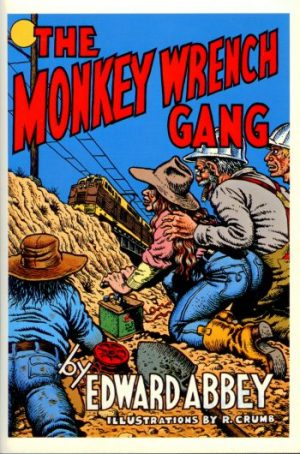 Gang. Abbey to Sanders, "Ken, I don't know who owns the rights to the hardbound, just go ahead and publish it. I won't tell anyone." As it turns out, Ed owned the rights all along, and just didn't know it.
I decided to make it a Tenth anniversary edition, the novel having first been published in 1975. The initial 5,000 copies failed to sell out, and the unsold copies were remaindered. I had also decided to bring out an illustrated edition, and I wanted famed underground cartoonist R. Crumb to do the artwork. Abbey was dubious, and Crumb initially turned me down cold. We went through several artists in several years, (including Jim Stiles and Rob Brown) but, in spite of Ed's reluctance, I could see the R. Crumb caricatures of Abbey's characters in my mind's eye, and I wanted Crumb. Being the genius that I am, this time around, I sent Crumb a paperback copy of the book and offered him a fair bit of money. Once Robert Crumb read it, he was all in. I recall a letter from him early on, asking me if in real life there were individuals like the MWG actually going around and doing some of the activities that Mr. Abbey portrayed in the book. "Yes, Mr. Crumb," I assured him, "there were."
There were bumps along the way, Ed did not like Robert's initial portrait of Bonnie Abbzug! But after five years of working on the project, the 10th anniversary edition of the MWG with R. Crumb illustrations was finally happening. Autograph parties, in addition to the big Moab Publication Party, were arranged at the University of Utah Bookstore and my old Cosmic Aeroplane Books in SLC, along with a series of signings at the Nature Company, a small earth-friendly chain in California.
In the mid nineteen eighties, Moab was still shaking off the hangover from the halcyon uranium mining days and had yet to become the 21st century steroidal tourist-crazed fast food restaurant/chain motel hell that it is today. In part I chose Moab for the semi-quiet backwater it still was in those days. That, along with the presence in Moab of river runner extraordinaire and long time pal of Edward Abbey's, the legendary Ken Sleight, of Seldom Scene Smith fame in the MWG. Ken had moved from Green River to Moab, with his wife Jane and they owned and operated Pack Creek Ranch in the LaSal Mountains, southeast of Moab. He had a bookstore on the north end of Main Street, where the Abbey Crumb MWG signing was to take place.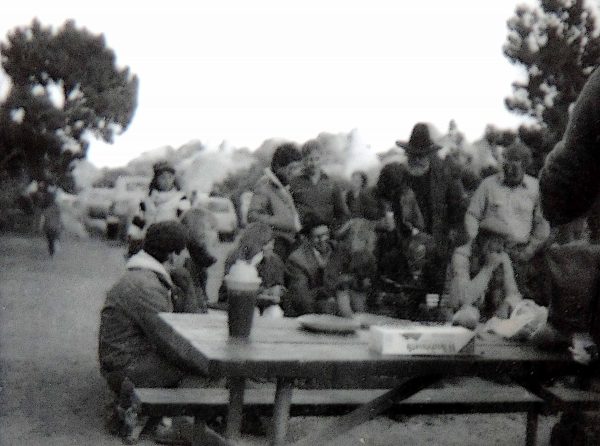 I arranged a meet and greet rendezvous at Courthouse Towers in Arches on the day of Major Powell's birthday, where fans and the media could meet Abbey & Crumb. Interest in the event had been overwhelming. Later that evening we had the group campsite at Devils Garden reserved for an "invitation only" dinner to be provided by Jane Sleight. That afternoon, Ken Sleight would lead a horseback ride down Courthouse Wash towards Moab. The autograph party itself would take place the next day at Sleight's book shop on Main Street. That was to be the plan…
Abbey, at the time, was doing various lectures at universities around the west, because he needed the cash. Ed booked his flight from Tucson to Montana, through Salt Lake City, whereupon he would disappear for a couple of days, sneak down to Moab for my event prior to heading up to Montana, where he would give his famous speech on cowboys and cows, all the while brandishing a six shooter dramatically from the podium while announcing there would be a question and answer session after his remarks, if, there were any questions. Other than he was actually supposed to be at the university for those two days, and they were frantically searching for him the entire time, our plan worked beautifully.
R. Crumb was a different matter. Robert had reluctantly agreed to do the signings in the first place, and insisted that I had to fly his family out with him. So Robert, Aline Kominsky Crumb and their then three year old daughter, Sophie Crumb, all came to Salt Lake City. Crumb had an aversion to small planes and refused to fly to Moab with Ed Abbey in one. So Ed was dispatched to Moab in that small plane, and I drove Robert, Aline and Sophie to Moab, along with my then seven year old daughter Melissa, to act as playmate, baby sitter and big sister to Sophie Crumb. Mileage from Salt Lake City to Moab is 235 miles, the same number as the famous uranium, U-235.
I had been fielding inquiries from the media about my extravaganza for weeks. Reporters wanted to know who or what "Moab" was, and how to get there. By the time of our arrival at Courthouse Towers, there were half a dozen television crews present, dozens of newspaper, magazine and other print media journalists; including People and Time Magazines, (the Zephyr wouldn't be born for another four years, its first issue coming out as Ed Abbey died in southern Arizona).
Abbey and Crumb met for the first time at Courthouse Towers on March 24, 1985, surrounded by fans and media. Mutt and Jeff they were. The long lean desert rat Cactus Ed, and the decidedly urbanish R. Crumb, with white shirt and vest, homburg hat, shiny shoes, and always the spectacles; they provided quite a visual contrast. But they got along extremely well. I was nervous about how it would go, not well, I thought. At some point during the frenzy at Courthouse Towers, by pre-arrangement, Ken Sleight led a group of horseback riders down Courthouse Wash towards Moab, and I bundled Abbey and Crumb and drove them away from that chaotic scene in order to give them some one-on-one time. Another friend, Ernie Bulow from Gallup, New Mexico had gone into Moab to get some fixins' for lunch and I told him to meet us at the deserted parking lot at the entrance to the Fiery Furnace. The Sleights were hosting the dinner party at the Arches group campsite later that evening and some downtime seemed imperative. With Abbey and Crumb in tow, we headed towards the deserted Fiery Furnace parking lot.
The town of Moab was, from the 50s to the 80s, an ugly town surrounded by incomparable landscape and beauty. Do you know of another town with its town dump secreted in large slickrock fins, where beautiful sunsets occur nightly? Into the 80s it was just beginning to come out of the go-go days of Charlie Steen's and the entire Colorado Plateau's uranium frenzy and subsequent boom and bust cycles. It was inhabited by leftover uranium miners, cowboys, hippies, dirtbags, river runners, lesbians and vegetarians. Not to mention the nascent industrial tourist. And, oh yes, mountain bike tracks were far more common than mountain lion tracks. Hey, even Ed Abbey had a mountain bike!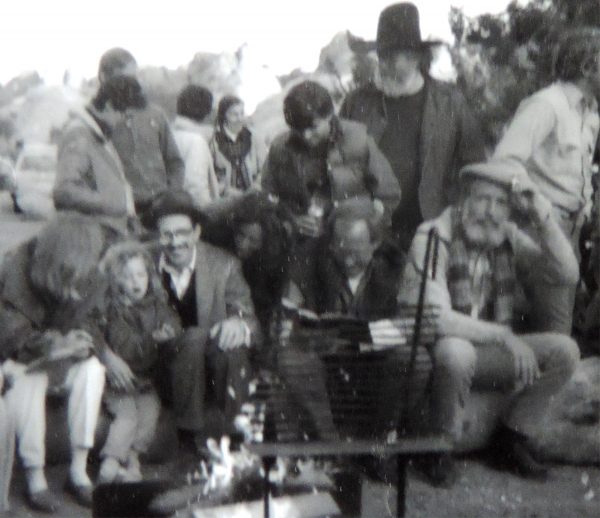 The "Friendship Cruise" down the Green River & up the Colorado to Moab was in its twilight years, the four wheeled Jeep Safari was just getting rolling, and there was barely a single traffic light on Main Street. For bars, you had Woody's, a paradise for former uranium miners and cowboys. There was the Poplar Place in the old adobe: home of hippies, yippies, dirtbags and Park Service employees, and my own personal favorite; The L-Ray Club. It had the best neon sign in town and no customers, well none that I ever saw, but they opened at 10:00 am.
The Westerner, on Main, was the quintessential greasy spoon, serving it up 24/7; a kindred spirit to the long gone and much lamented Bill & Nada's of Salt Lake City. Milt's Stop N Eat on 4th East & Millcreek Drive was my personal favorite, although it was tough to score a stool, with only ten of them in the joint. And for breakfast, La Hacienda, on the north end of town, with an egg breakfast named Mulligan's Way, after a brilliant local photographer, Steve Mulligan. The only chain in town in those days was the Pizza Hut, but I never ate there.
Charlie Steen's MI VIDA was open then as a restaurant, with that name, high upon its hill, it looked like a uranium tailings pile and probably was. There was also The Grand Old Ranch House. But my favorite upscale dinner place, and by upscale I mean that the food was edible and that you could always get a drink, (Utah state liquor laws be damned!) was Buck's Steakhouse, also on the north edge of town. There were some cowboy places on the south edge of town, but I never frequented any of them.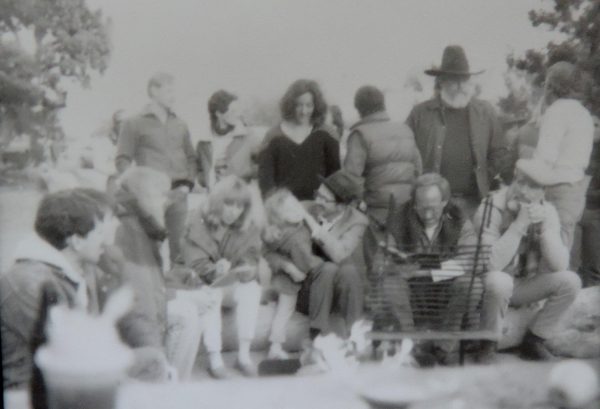 Back then, Moab real estate, with U-235 and all, was dirt cheap. I bought a nice house on an acre of land with a well, right in Moab, for $30,000! But that's another story. Around this time frame, early 80s, Ed Abbey tried to foist off five acres in Castle Valley on me, for the $5,000 he had paid for it years earlier. Not having fallen off the turnip truck yesterday, I not only refused him, but ridiculed him mercilessly. You can see how my general wisdom in everything spills over into real estate as well.
I share my memories of these days gone by in Moab and environs, not merely as the nostalgia of an old man, but in an attempt to articulate to you 21st century beings, how it came to pass that myself, Jim Stiles, Edward Abbey & Robert Crumb, Ernie Bulow, and a cast of hundreds, maybe even a thousand, came together In Moab and Arches for two days back on John Wesley Powell's birthday in 1985. And in particular how, Abbey, Crumb, Bulow and myself, found ourselves eating lunch in the red rock grabens of the Fiery Furnace, alone, except for the no see-ums and occasional flies.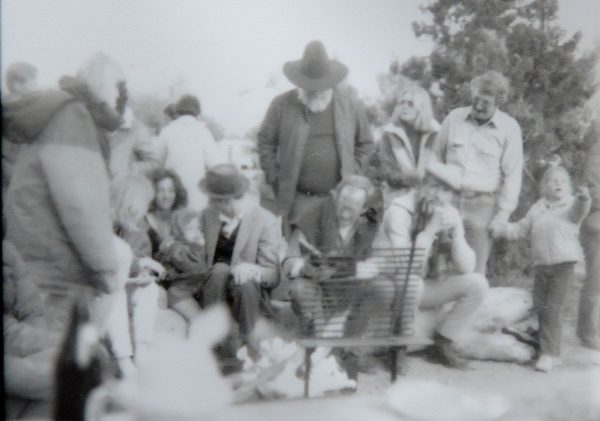 The four of us shared lunch in the red rocks of the Fiery Furnace, with only the occasional raven disturbing the silence. I then took Crumb on a walk through the Fiery Furnace to show him some of the country he had been drawing for the book. Abbey begged off the walk, he was to deliver a speech in two days for the University of Montana and had not yet gotten around to writing it. So I took Robert Crumb and Ernie Bulow on a memorable walk through the fissures and the slot-like canyons of the Fiery Furnace.
Later that evening, the Sleights cooked supper for a supposedly smallish invited group of folks at the group campsite at Devils Garden, at the very end of the road. Ranger Stiles (yes, that ranger Stiles) appeared and informed me that so many people were driving into the park for the Abbey/Crumb/Sleight dinner, that the single 23 mile ribbon of bitumen that led from the visitors' center far below, to the Devils Garden, had become gridlocked and traffic in the park had been brought to a standstill! This was a problem? Apparently, the Park Service thought that it was.
So we commandeered a legion of folks who had vehicles and were still sober enough to drive (the night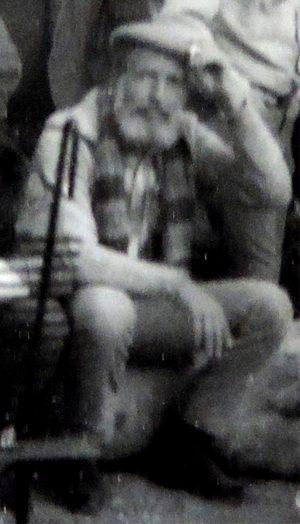 was young) and formed an informal, ahead of its time, uber-like ride sharing service, and began shuttling guests (invitees and party crashers) to Devils Garden. The Park Service had been shunting vehicles off into various parking lots such as The Fiery Furnace and Sunset Point, as well as holding cars down below at the visitors' center, once the road had been gridlocked. Hundreds of folks made their way to the group campsite and Jane Sleight miraculously fed them all. Edward Abbey and Crumb, with daughter Sophie always at his side, held court from their perch upon a fallen log, directly in front of a blazing fire, well at least a smoky fire.
The next day I went to Ed's motel room, adjacent to Sleight's bookstore to accompany him to the autograph party. I found him sprawled on his bed, fully clothed, writhing in pain. He was passing a kidney stone. I offered to cancel the book signing event but Ed stated that he'd just eaten a bunch of painkillers and that he wasn't going to feel any better or worse whether he was lying in bed, or sitting on a chair at Sleight's bookshop signing books. He refused to let me cancel the event. Bless him. He asked just one thing of me; if he were to pass out, to take him to the Moab Hospital and shoot him full of Demerol! For the next two hours, Abbey and Crumb signed hundreds of copies of MWG, and the highpoint, for Ed, was when a beautiful young woman wearing a MWG t-shirt asked him to sign her shirt. She was wearing it at the time! I would submit to you, that we sold more books in Moab that day than at any time in the history of the town!
Both the autograph party and the dinner turned out well, and everyone was happy. Except perhaps for the NPS and Ed Abbey! I drove Ed back to Salt Lake later that day. We stopped for a cheese and salami and bread lunch, on the Old Thompson Road, north of Moab and Arches. Ed grimaced in pain from the kidney stone. He continued on his journey to Montana, and the speech that became Sacred Cows and Horses; the same speech he wrote that day in the Fiery Furnace. All 5000 copies of my first edition sold out. I still keep the book and the t-shirts in print to this day. Of all my publishing projects over the years, this was the most successful and the one I am most proud of.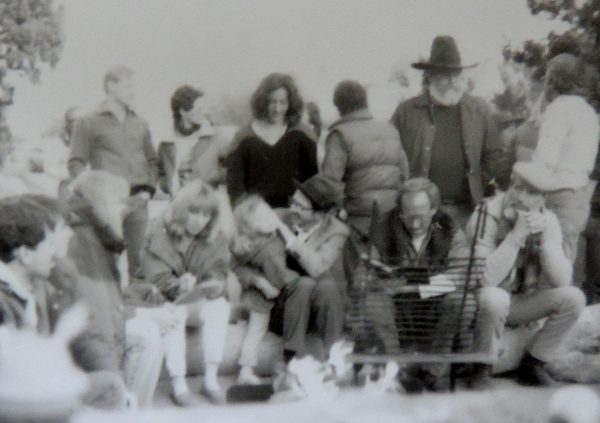 A few years later, R. Crumb and family, along with his ever growing 78rpm record collection, would move permanently to France. Robert traded a sketchbook for a chateau in the south of France. Sophie Crumb is an artist in New York City. Almost exactly four years later (March 14th,1989) Ed Abbey was gone, dead at the age of 62. Taken out to the Sonoran desert that he loved, he was buried there under a pile of rocks by his friends. His last words were "lots of rocks."
Bear in mind that this tale is a highly truncated version of the events of more than thirty years ago. A "Reader's Digest" version, if you will. I have in mind a more fleshed out narrative entitled "R. Crumb Meets The Monkey Wrench Gang." That I hope to live long enough to write. As I write these words, Ed Abbey would be turning 90, as he was born on January 29, 1927. Happy birthday, Ed.
Ken Sanders is the proprietor of Ken Sanders Books and  founder of Dream Garden Press, in Salt  Lake City.  He is a longtime river runner and wanderer of the Colorado Plateau. For the past ten years he has been a rare books and manuscripts appraiser for the popular PBS show, Antiques Roadshow.
To comment, scroll to the bottom of the page.
Don't forget about the Zephyr ads! All links are hot!
Save
Save
Save
Save
Save