It's a fact that Arches National Park is exploding at the seams. Heavy marketing, an eager Industrial Tourism business community, and a recent return to relatively cheap gasoline prices have all contributed to massive increases in park visitation. Tourists at Arches were well past a million in 2017, with expectations that it could reach two million in the next few years.
In fact, all of Moab/Grand County is seeing out-of-control numbers as tourists and recreationists overwhelm infrastructure and degrade its once peaceful quality of life.
Several months ago, the National Park Service announced that it was considering dramatic changes in the way the park allows visitors to gain entry. Not only did they propose a significant increase in its entrance fee—up to $70 per car—it even suggested that visitation to the park during peak periods would be limited by a reservation system. After almost a hundred years, it would become necessary to make a reservation, perhaps months in advance, just to enter Arches National Park.
The business community is not pleased with the idea and has vehemently opposed the Park Service strategy. Then, a few months ago, a voice from Moab's past proposed an entirely new way of approaching the overcrowding issue. It was Michael Liss, the former project manager for Cloudrock, the controversial high-end development that gained so much attention in the early 2000s.
Liss is now a spokesperson for "Arches for the People," a group of citizens who oppose the NPS plan. Instead of high fees and reservations, Liss proposes the construction of a 2000 car parking lot on the site of the old Atlas Mill, a new solar-powered visitor center at the same location, a fleet of shuttle buses for the masses and special electric cars for those with the resources to rent one. "Let's do something incredible," Liss proclaimed at a meeting to hear varying views on the Park Service plan.
It's not the first time Mr. Liss has tried to do "something incredible" in Grand County. For those readers who were not in the area almost twenty years ago, here's what happened…
Johnson's Up on Top is a mesa just south of Moab that for decades was mostly used for winter grazing. But in 2000 a plan for that remote mesa was introduced to Moab citizens after months of secret negotiations by the developer, the State Institutional Trust Lands Administration (SITLA), and local elected officials.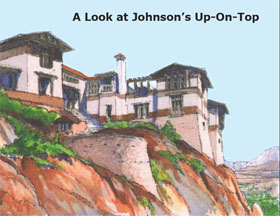 Cloudrock, as originally proposed, called for three luxury lodges with 198 rooms, 50 condos and 75 home sites. Lots…yes…lots… would start at $600,000. According to the Cloudrock Development Proposal, assembled by the project coordinator Michael Liss and obtained by The Zephyr in 2000, the plan was stunning. It reported:
Our intention is to create a world-class wilderness destination resort community in the American Southwest for people who enjoy the beauty and cultural legacy of the region. The centerpiece of this community is the Cloudrock Desert Lodge, an intimate luxury wilderness lodge that will set the tone and standard for the entire community…We expect our guests to return time and time again, finally deciding that this is where they want to build a second or third home…We plan to spend the time, money and creative energy necessary to create a real estate development that will deliver top prices.   
As to who might be a candidate for a Cloudrock future, the proposal could not be clearer:
We will use a highly-targeted approach, planning intimate get-togethers at the homes of our friends and initial clients, as many second home real estate purchasers are often as interested in who their eventual neighbors might be as in the property itself.
The marketing plan promised that:
Johnson's Up on Top will be marketed as a vacation community for affluent families and individuals. The Moab real estate market does not currently serve this segment well, with most developments targeted to a somewhat lower economic bracket….the lodge and condominium units that will comprise this mesa village will form a dense complex in the spirit of the Italian hill towns like Siena and San Gimignano…The Phase III condominiums will be built in the spirit of the Anasazi Cliff Dwellings of Mesa Verde.
Clearly, Cloudrock was selling itself to the wealthy, but more specifically to high-end visitors and future home buyers who also considered themselves "environmentalists." Liss was quick to point out the easy access to national parks and wilderness areas, some adjacent to Cloudrock itself.
There was a time when the environmental community might have been appalled by such an extravagant scheme. How could such an opulent, consumptive and arrogant plan even dream of winning the acceptance of environmentalists? But even in 2000, in the new "Amenities Economy," anything was possible.
As the Cloudrock development became better known and was required to submit itself to governmental and public scrutiny, the Glen Canyon Group of the Sierra Club weighed in on the issue and addressed its concerns to Michael Liss in a February 2001 letter. (We first reported this information in The Zephyr in 2001 and in "Brave New West.")
The Sierra Club made it clear that, "It is our consensus that the best thing for Johnson's is no development at all."
But, the Club had no intention of putting up much of a fight. They wrote:
"We realize you are making efforts to ensure that Cloudrock meets standards above and beyond Grand County's….We realize you are well on your way to completing the preliminary plat, and incorporating changes becomes more difficult with the passage of time. Never the less, we hope you will be receptive to our concerns…"
What kind of concerns did the Sierra Club have and what were their requests? Besides setting structures farther back from the rim of the canyon, Binyon and Weisheit made the following demands: "coloring roads to match the surrounding soil…parking lots colored to match the surrounding soil…utilizing medium to darker earth-tones, and non-reflective materials on all structures…outdoor lighting should be kept to a minimum…"
They were literally cosmetic in nature.
The Sierra Club also encouraged restrictions on OHVs…"Next to cows, (this is) the most damaging thing currently happening on the mesa. Please be explicit in not permitting their use on the mesa."
For the Sierra Club,  keeping out cows and OHVs was an acceptable trade-off for a massive multi-million dollar "wilderness" resort lodge and scores of condos and homes built on $600,000 lots. On behalf of the group, the letter was signed by Jean Binyon and John Weisheit.
Liss's reply could not have been more accommodating, "I would be happy to discuss our project with you and members of your Chapter," and he added enthusiastically, "I am a member of the Sierra Club and greatly respect the work being done around the country."
No other environmental group in Utah chose to express an opinion.
Eventually, the Great Recession of 2009 pushed Cloudrock to a back burner, though a version of it, at some point, could still rise from Johnson's Up on Top, as market conditions become more suitable to that kind of extravagant proposal.  In 2018, similar high end development plans like the recently debated "Sky Ranch" in upper Spanish Valley prove that the concept, if not the actual project, is alive and well in Booming Moab.
BACK TO 2018.
In much the same spirit as Cloudrock, Liss's plan still allows those with the required financial resources to drive their own private vehicles into the park, though he admits they will "pay a lot more."
With prospective Cloudrock clients, Liss targeted,  "affluent families and individuals." At Arches, the same strategy would apply—only the most affluent park visitors will have unfettered access to the park. He insists that those with more moderate resources may be able to rent an "electric jeep" to tour Arches. The remaining masses will be crammed into shuttle buses for the 46 mile round trip.
Liss also recommends a "public-private collaboration" of sorts that would allow the construction of a museum on the old Atlas site. And in a nod to the numerous "adventure" companies in Moab, he advocates for an on site "expedition center," where those companies could get a first shot to pitch their products and services to the thousands of tourists seeking an alternative to a shuttle bus. It's all about the money. How much revenue can Arches National Park generate for the ever-booming Industrial Recreation economy?
* * *
While the response from the NPS has been cool, Liss was reportedly applauded after his initial presentation (he told the Moab Times, "I couldn't believe they clapped."). He shouldn't have been surprised. Since Cloudrock was first proposed, almost twenty years ago, Moab has become a cash cow for investors from around the world and none of them want to see any measure that might damage or restrict future growth in Moab/Grand County.
In 2018, simply invoking renewable energy themes, with nothing more specific to validate the idea, can appeal instantly to a social media-driven world that forms inflexible opinions and alliances, based on little more than memes and sound bites.
So..even though Arches is a "front-country" park and only boasts one four-wheel drive road in its entire 76,679 acres,  Liss pushes for an electric Jeep to transport visitors. And even though the NPS spent millions to construct a new visitor center barely a decade ago, Liss proposes abandoning the new visitor center and replacing it with another one, a mile down the road.
How many natural resources went into the construction of the current visitor center?  Is that a wise and responsible use of our dwindling natural resources? What's the size of that carbon footprint?
And finally, in an apparent effort to broaden the appeal of his message, Liss wraps himself in the banner of the old "sagebrush rebellion," via one of that movement's most celebrated leaders, Moab's Ray Tibbetts. Ray's family came to Moab over 100 years ago. His father, Bill Tibbetts, is remembered in Tom Court's great book, "Last of the Robbers Roost Outlaws." (it is currently being serialized in The Zephyr)
In a letter to the local weeklies, Liss proclaimed, " We are the Rebels of the Sagebrush Rebellion 2.0. This time, our tools are not bulldozers, but instead are iPhones, Apps and self-driving vehicles."
Ray died last year, and I cannot imagine what he'd say (or do) to Mr. Liss if he was still with us. It might be "something incredible."
Jim Stiles is Founder and Co-Publisher of the Canyon Country Zephyr.