If there is one issue that most of the polarized citizens of San Juan County, Utah can agree upon, it's that very few of them want their communities to wind up like Moab, Utah.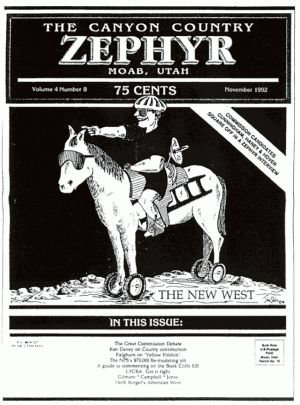 The fear of "Being the Next Moab" even grips the souls of the little community that's already halfway there. While banking its future on the mega-contributions and tireless marketing and promotion of the outdoor industry's corporate giants–Patagonia, North Face et al–the recently incorporated city of Bluff, Utah still insists that it can extract all the benefits of an Industrial Recreation economy and simultaneously avoid the pitfalls and impacts that have decimated almost every other community in the New West of 2018. Many Bluffites believe that good planning and zoning and a solid "sustainable" vision for the future will protect their little community from a Moab-like fate.
Okiedokie.
But while Bluff continues to reside in a state of delusional denial, its conservative neighbors Up North have been more blatantly opposed to a massive tourist influx. They have made those concerns the centerpiece of their opposition to the original 1.3 million acre Bears Ears NM proclaimed by President Obama in the last days of his presidency. Many still worry that the massive marketing campaigns by the outdoor industry and mainstream environmentalists could forever change their quiet communities. Blanding and Monticello do not want to be the next Moab.

But sometimes the future can sneak up on a community. The threat of a future than nobody wants can be implemented so slowly and methodically that the threat doesn't seem serious enough to take seriously. And in this case, the story is unfolding without being noted or reported.
Last week I was startled, but not at all surprised, when I read a
San Juan Record
headline
reporting, "Crews Building 11 Miles of Bike Trails" in the national forest near Monticello. The reporter Merri Platt
noted
that volunteers, under US Forest Service supervision:
"…spent the day 'grubbing out' a 1.2 mile section of single-track mountain bike trail. The 34" wide swath will soon connect other sections of trail that will stretch from Loyds Lake to the already existing trail system at the Monticello Uranium Mill Site. 
"Nearly eleven miles of single track mountain bike trail is in the process of being built. The project is funded with a grant that was secured by Monticello City two years ago, when Natalie Randall was the city recreation manager. Similar trail systems are also under consideration in the Blanding and Bluff areas."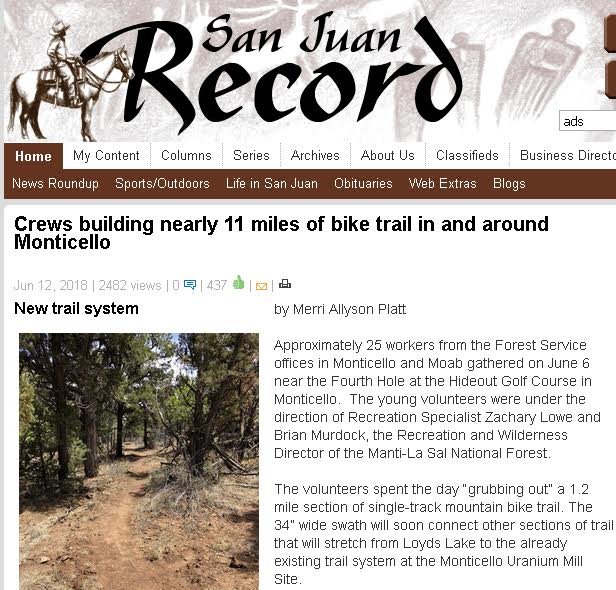 The article explained that the project was funded by grants obtained by Monticello City and that the trails are being designed by Moab Trail Mix's Scott Escott. Escott has played a major role in creating and constructing hundreds of miles of bike trail in Grand County. He and a handful of other recreation industry enthusiasts have helped to transform Moab and vicinity. Now he brings his "skills" to San Juan County.
Platt wrote:
"This is the first trail system in San Juan County and is designed by Scott Escott. The foundation for Escott's expertise comes from serving for ten years as the Trail Mix coordinator for Grand County, a group which combines resources and manpower from the Moab City, BLM and Forest Service for building mountain bike trails….Escott has also designed trails for several Utah State Parks, including Dead Horse Point, Goblin Valley, Escalante, Green River, and a proposed Goosenecks Trail that was put on hold with the designation of the Bears Ears Monument."
DEJA VU IN MOAB
Why does none of this surprise me? Over four years ago, I wrote a long investigative piece for The Zephyr, called "Moab is Assimilated. Bike Borg Moves South." It warned San Juan County citizens that the same forces who turned Moab into the nightmare it has become, are now looking South…and licking their chops.
In trying to predict what might happen in the future to San Juan County, I wrote this, over four years ago:
'(If the Bike Borg Moves South), San Juan County residents might be surprised to see a new level of cooperation between the non-motorized recreation community and (public land agencies) in San Juan County.

'At a September 2013 public meeting in Sedona, Arizona , Grand County Trail Mix trails coordinator Scott Escott bragged about his organization's extraordinary success in constructing new single track bicycle trails on public lands near Moab. He pointed to more than a decade of work, "building trust" with the BLM. "And now we have another line of trust," Escott proclaimed. "What Trail Mix has gained from this is that the BLM defers to us when it comes to the actual trail building. They trust us and do not question us on trail alignment and construction. This trust is the basis of our partnership."'
'Escott noted that their biggest critic at BLM, Katie Stevens, had observed their trail construction. According to Escott, "Katie called it the Appian Way, after the work of the ancient Romans which still exists today." He could not have been prouder. Will that kind of enthusiasm lead to similar single-track/bike-only trails in San Juan County?'
So years later, the construction of this trail system, now on USFS lands, does not surprise me. In April 2014 the Borg story was re-printed in the San Juan Record and now appears in the current edition of San Juan County's history magazine, "Blue Mountain Shadows." I would hope that those who read the story then, and especially the Record's editor, might have taken note of my warning and seen this latest trail building announcement as more than just a benign press release. Because in that story lies a big chunk of San Juan County's future.
It's remarkable how few people realize the extent of single-track trail building in southeast Utah. As recently as last month, when I mentioned the plethora of bike trails in Grand County, a Salt Lake City environmental activist shot back, "Moab mountain biking (is) based on a road network left over from atomic-age uranium mining."
That might have been true a decade and a half ago, but no longer. In 2018 a massive network of single-track bike trails is being constructed at a furious pace, often with tax-payer dollars and it's all part of a grander scheme to create the kind of Industrial Recreation Economy its most rabid proponents have dreamed of for years.
Just a year ago, a very candid article was posted on Moab's Rim Tours web site, called "How Moab built 150 miles of single-track in just 10 years." In the story, author and former SUWA staffer Franklin Seal explained that while Moab had been called the  "Mountain Bike Capital" for many years…
"…by the early 2000's, other mountain bike destinations, like neighboring Fruita, CO, had become famous for their newly developed singletrack trails, and leaders of Moab's mountain bike community knew they had to do something to keep up.."
The mountain bike industry found a willing accomplice in the BLM. But the fact is, as stated in the article, the new trails were built to help boost what enviropreneurs saw as a flagging mountain bike economy. They simply wanted to bring MORE people and more tourist dollars to the area. And their plan worked–look at Moab today.
Take the time to read the Rim Tours story. Seal explains how, "the sagebrush rebellion-inspired debate over the fate of Utah's federal lands, made any thought of creating brand new trails, or converting motorized routes into non-motorized routes, difficult…"  Biking enthusiasts feared that their trail system would never happen. But the article continues:
"Happily for Moab and the mountain biking world, cooler heads prevailed. In December of 1999, with leadership from the Grand County Council and the City of Moab, and representation from all the relevant public land agencies and recreational user groups (motorized and non-motorized,) a new committee was created and started holding meetings open to the public. It was called Trail Mix.
"2007 was a watershed year for Trail Mix. It included the submission for public comment of the Non-Motorized Trail Mix Master Plan (approved in April 2008)….After that, it was as if the singletrack 'flood gates' were opened."
The Grand County Council included Kim Schappert who came to Moab in the late 80s. She was the co-founder of "Mountain Bike" magazine and early on advocated for a recreation economy-driven agenda for Grand County; on the  Moab city council, Kirstin Peterson, the owner of Rim Tours, likewise shared Schappert's vision to transform Moab.
Escott called that period, "kind of the start of the 'Bridge of Trust' with the BLM." He told author Franklin Seal that, 'When the RMP came out, it said, 'Here's 150 miles of mountain bike trails, and we'll be your partners,' " Seal reported that the partnership between BLM and the bikers generated a lot of government support.
Escott explained to Seal that,  "I think what a lot of people don't realize (is that the BLM)  supply for us archaeology, paleontology, they write the EAs, if we have wildlife issues, soil issues, they build us parking lots. If I need a bobcat or a bulldozer or whatever, they're there for us. They are our partner because we are fulfilling that RMP (Resource Management Plan)."
* * *
Escott is right. The BLM does provide all those services for this special interest group and they are indeed fulfilling the mandate of the Resource Management Plan. Political activists like Schappert sought public office, won, and used that influence to pursue and fulfill their agendas—in this case,  to create a vast network of bike trails and associated infrastructure–at a cost of millions and millions of dollars.
The web site cbklunkers.com honored Schappert several years ago, inducting her into its "hall of fame." They reported in part that:
Kimberly would be elected to the Grand County Council where she became the first public figure to advocate for bicycling in Moab. While in office she formed Trail Mix, an advisory committee to the County Council made up of various trail users working to improve the non-motorized recreational and transportation opportunities throughout Grand County.

Eight years later Trail Mix… has many success stories to brag about including the writing and adoption of the Grand County Non-Motorized Trails Master Plan and the development of many new trails.
And the web site noted that as Executive Director for the Moab Trails Alliance, "a non-profit she helped to form in 2003, she works tirelessly writing grants, doing land management liaison work, coordinating projects with Trail Mix and baking cookies to keep work crews as psyched as she is about the effort Moab is making to maintain its reputation as a mountain biking mecca."
BACK TO MONTICELLO…2018
That's why this latest development, the plan to create a new single-track system in San Juan County, should be setting off alarms everywhere. THIS IS HOW IT REALLY STARTED IN MOAB, and as author Seal noted…it only took ten years.
I can honestly and with great regret say that when it came to reporting those changes in Moab, The Zephyr and I really dropped the ball. In the early 2000s, I recall hearing that the new Grand County Councilwoman Kim Schappert had big plans for Moab's recreation infrastructure and we even discussed it briefly during her campaign. The political ad that Schappert ran in The Zephyr reflected our serious differences of opinion. In her political promo, she proclaimed:
"Unlike the publisher of The Zephyr, I am optimistic about Grand County's Future."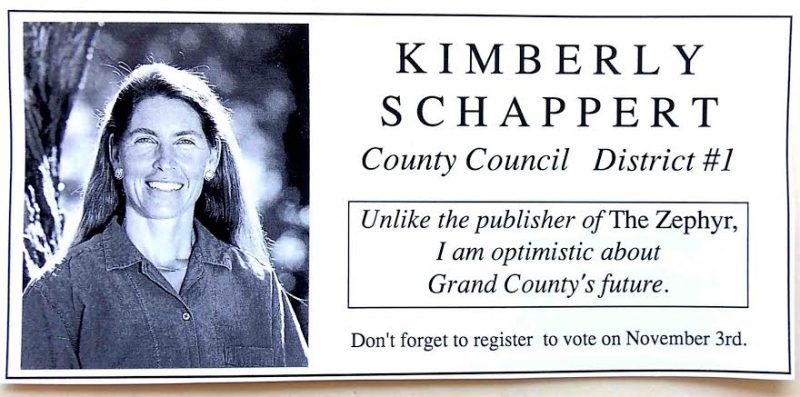 It was certainly a fair assessment of our divergent visions for Moab, and a couple years later, I packed up and moved to Monticello. I continued to hear reports of bike trail building–legal and illegal–especially from one US Forest Service source, but I failed to act. Reporting the ongoing and frenetic construction of these trails may have made no difference whatsoever, but looking back I wish I had tried harder to keep Grand County citizens informed of what was happening under their very noses.
In fact, when construction began on the multi-million dollar "elevated bikeway" in 2013, I contacted the BLM to ask about environmental assessments and efforts to involve the public in the process. The BLM's Katie Stevens informed me that there had indeed been an EA and a public comment period—in 2004—more than eight years earlier, and that no one commented. No one. THAT's how projects like this succeed. Apathy.
Now, as the same forces who pushed to transform Moab and Grand County into an Industrial Recreation Hub turn their sights on San Juan County, I hope government leaders, the local media, and the county's citizens keep a close eye on this potential bombshell.
Here are some questions to ask…
* Whose idea was it to pursue a network of bike trails near Monticello?
* Who decided this trail system should extend to Bluff and Blanding?
* Did Monticello City initiate an invitation to Moab Trail Mix's Scott Escott to discuss trails? or did he make first contact?
* Have other recreation activists contacted Monticello's Department of Parks and Recreation or San Juan County's Department of Economic Development and Visitor Services, such as the non-profit "Public Lands Solutions?" Four years ago, its executive director Ashley Korenblat made a presentation to the San Juan County Commission to promote an industrial tourism agenda. Is that organization involved? Has the Moab Trails Alliance been in touch with San Juan County?
* When Natalie Randall applied for grants to fund bike trail expansion, are such requests proved in advance by the Monticello City Council or do department heads have autonomy to pursue funding like this without oversight?
* Now that Ms. Randall works for the county, can she likewise pursue grants and funding for more bike trails without the consent of the commission, or must she advise them of her agenda?
* Do the trails being currently constructed stay within the city limits of Monticello? If not, how can city funds be used in the county without approval by the county commissioners?
* The article states that plans for trails in other parts of the county are underway. With whom have the trail builders discussed these plans and do they already have approval to proceed?
* And if they do have the authority to continue their trail building, how will the construction of these trails be funded? Will the taxpayers of San Juan County find themselves contributing to a massive bicycle trail system that many of the county's residents don't want in the first place?
* Should there be some kind of collaborative effort by the local, state and federal governing bodies to determine the cumulative effect of these trails?  In the early 2000s, politicians like Schappert worked closely with BLM and other federal authorities to include 150 miles of single-track trail into their 2008 Resource Management Plan (RMP). Is a similar provision the unspoken goal in San Juan County? But to do it one piece at a time?
I believe these are fair and honest questions and I hope an effort will be made by the San Juan Record and others to find the answers. I could only locate two previous articles in the SJR, both 2016 press releases by the city of Monticello, that mention the current single-track construction. Since the author of the SJR story about the new singletrack trails is the spouse of Andy Platt, the business coordinator at San Juan County Economic Development and Visitor Services, that information should be fairly simple to acquire. Natalie Randall, who acquired the trail grants when she was director of Monticello Parks and Recreation is now the director at SJC Economic Development and Visitor Services.
But Randall is also the co-owner, with her husband, of Roam Industry. According to their web site:
"Roam Industry is to be the focal point of human powered outdoor adventure in San Juan County, Utah. By offering the best in gear, activity, remote accommodations, and services. Our mission…is to be the leading source in backcountry adventure as well as wilderness skills and education in San Juan County Utah. Our hope is to be a source to clients we bring to the area as well as the local community."
* * *
Ultimately it may well be that San Juan County embraces full-fledged Industrial Tourism as the solution to its economic woes. I believe it will change the way of life for almost all of its residents in ways that most of them will later come to loathe. But the citizens must be the ones leading themselves to the future, not a relative handful with a hidden agenda. The only way the citizens can make those choices is to be privy to all the facts.  They can't make honest and intelligent decisions without them.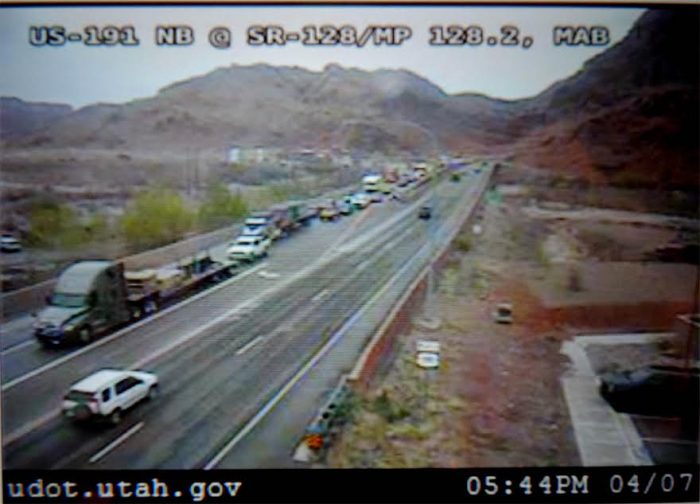 Many San Juan residents feel that the Bears Ears National Monument proclamation would cause an avalanche of tourists and investors to the area, and the numbers of tourists has already jumped dramatically in a year. The investors, the ones who make tourism profitable, are always looking for the 'recreation hook,' the must-see activity, the iconic formation, or the "adventure they can't find anywhere else' —the enticement to make the tourist dollars flow.
This beginning of a massive singletrack system is San Juan County's Trojan Horse—on wheels–and if you're not alert and prepared to fight it, the Trojan Horse is going to run right over what's left of rural San Juan County and leave you wondering how all this happened, in the relative blink of an eye.
Jim Stiles is Founder and Co-Publisher of the Canyon Country Zephyr.