For those of you who have been regular Zephyr readers for years, I don't need to introduce Herb Ringer to you. Herb's brilliant, historic photographs of the American West have been a regular feature in The Zephyr for almost as long as this publication has existed. And he was a dear friend.
I met Herb when I was a ranger at Arches in 1980 and our relationship grew over the next 20 years. Herb became family to me. He was born in New Jersey in 1913, but had traveled to Reno, Nevada in 1939 to seek a divorce. He instantly fell in love with the West and wanted to experience, as he put it, "the western life." He returned to New Jersey, eventually brought both his parents back to Reno with him, and there they remained. His father passed away in 1963, his mother in 1972.
The Ringers spent every spare moment of their lives exploring the American West, and Herb, an extraordinary amateur photographer, documented those journeys until his own passing in December 1998.
In the late 80s, Herb started giving me his photograph collection. In the beginning he shot only black and white film, but after World War II ended, Herb was one of the first to embrace Kodachrome color transparency film. Seventy five years later, those images are as vibrant and rich as they were the day the film was developed. Eventually, his collection of 35 mm and 2.25 transparencies numbered in the thousands.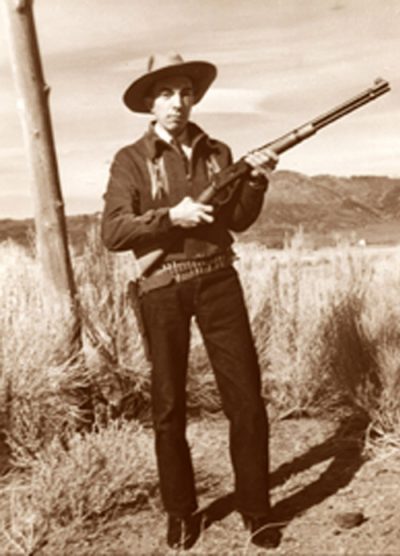 In addition, Herb kept meticulous diaries and records of his trips. His library of books on the history of the West's most scenic landmarks is stunning. Herb saved everything. His legacy to us is his extraordinary talents as a photographer and his love of history. His trust in me to preserve his life's work is one of the greatest gifts ever bestowed on me.
For a while, Tonya and I have wanted to return to his beloved Nevada, and other places in the West that were cherished and revered by Herb. We wanted to take his photographs and memories with us, first to pay tribute to him but also to see what has changed–and what has survived–from the time Herb first arrived in Reno, in the fall of 1939.
More specifically, we wanted to use his images as a guide to find the precise location where he first took aim with his camera and recreate the scene, standing in his shoes as it were. The results have been interesting–sometimes amazing, and sometimes heartbreaking.
In this first part of our trip West, we revisited Austin, Nevada along US 50, then his last home of 25 years in Fallon, Nevada. We detoured to nearby Virginia City, where Herb first photographed the old mining town in 1941. And lastly, to Reno, where he and his parents worked and lived from 1939 to 1973.
AUSTIN, NEVADA
Herb first passed through Austin on his first trip west, on his way to Reno to secure a divorce. In 1939, the road was a narrow, two lane road, though most of it, even then, was paved. Herb said he averaged about 50 mph on a good day. His finances were limited and he watched every penny and he often slept in his car during the journey to Nevada. His records of those early trips are meticulous.
This Main Street image of Austin is looking east, after what appears to have been a significant snowfall. It was probably taken in the early months of 1942.
AND NOW…
Austin was our first photo-re-shoot stop and it was easy to find the precise location of Herb's 1940 photo.Note the buildings on the left side of Main. Most of them are still there almost 80 years later.
FALLON, NEVADA
A hundred miles west of Austin is Fallon, Nevada. In 1972, Herb's mother, Sadie Ringer, died of a stroke at age 92. His father had died of cancer a decade earlier and now, at age 60, Herb found himself alone for the first time.
In 1954, Herb and his parents had purchased what at the time was one of the largest house trailers in the United States (more on Herb's "Smoker" trailer in a minute). For almost 20 years, they had rented a space in Reno, not far from downtown. But after Sadie's death, Herb decided to leave Reno. He had the Smoker re-located to a small trailer park in Fallon, 60 miles east of Reno. It was there that Herb spent his last 25 years.
He had always liked the slower pace that Fallon offered and Herb took this photo of Main Street in 1944…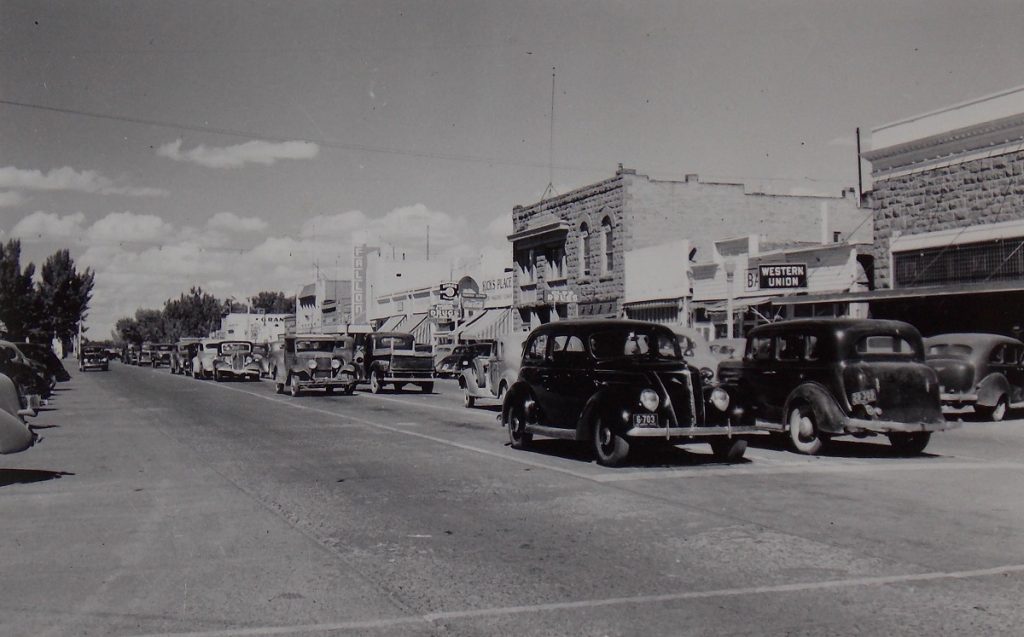 AND IN 2019…
Again it was easy to find Herb's precise 1944 photo location. Many of the original buildings were still standing 75 years later, including the Fallon theater, which even used the same neon marquee sign.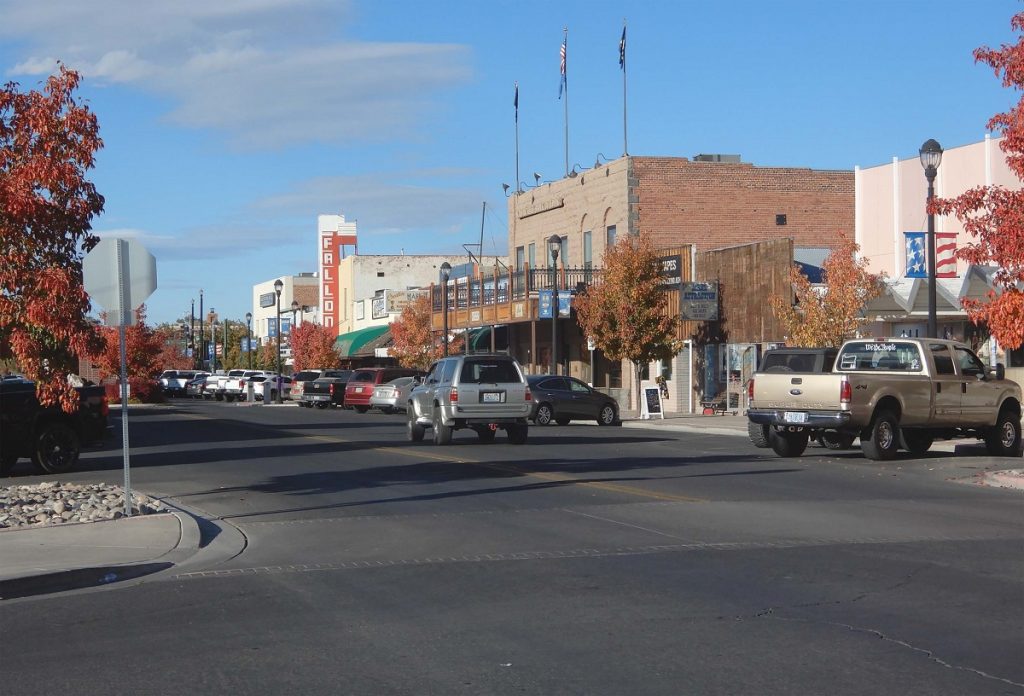 HERB'S SMOKER…
I had worried that the trailer park where Herb lived in Fallon for so many years might be gone now. As real estate prices continue to soar, trailer parks like this have become targets for land developers, and landlords often can't resist the temptation to sell out. Herb's little trailer home was tucked away in a shady grove of trees just a block behind the Stockman's Casino on US 50, now the 'main drag' through town.
Here's a photograph I shot of Herb's Smoker, back in 1994.
But…we were pleased to find the trailer park still there, AND Herb's trailer. The new owner had given it a new coat of fresh white paint, but 65 years after the Ringers first bought it, Herb's Smoker is still home to someone. And the shade tree has survived as well.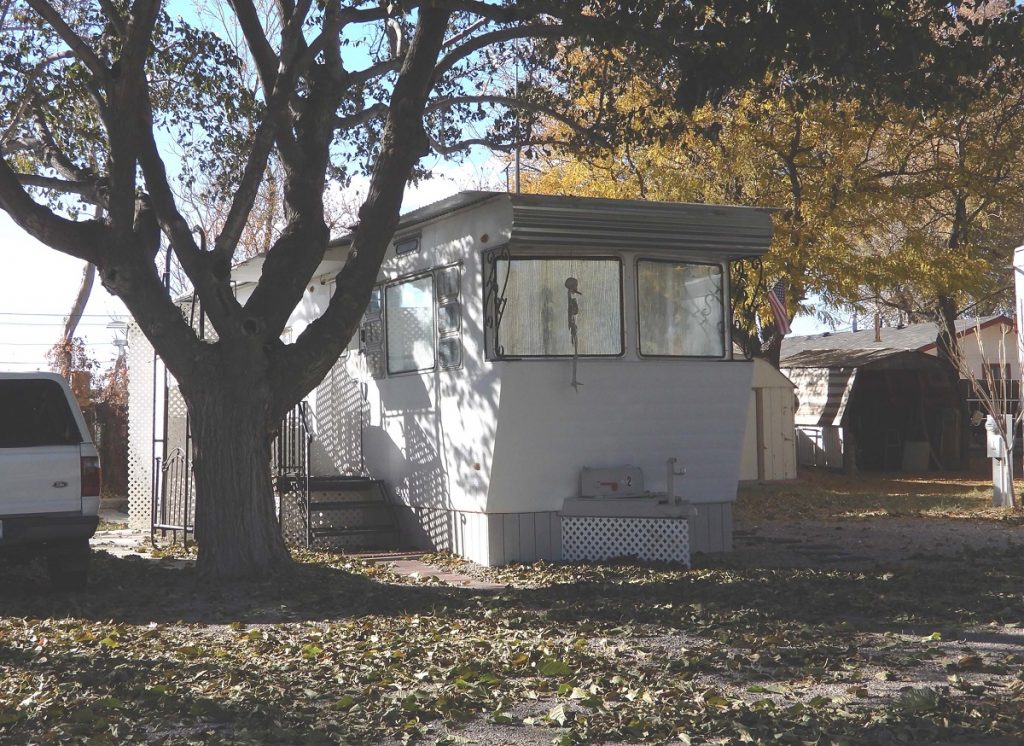 VIRGINIA CITY, NEVADA
According to Herb's 1940 "Guide to Nevada," published by the Works Progress Administration (WPA), Virginia City was already a ghost of what it had once been. From its boom days in the 1870s, the city's population had shrunk to 948 in the 1940 census. "Only a few houses are left from the bonanza days," it notes. "Yet enough still cling to A and B streets to vivify the days when Virginia ladies delicately shook their hands above their heads to render them properly white and bloodless before receiving guests."
Herb took his parents to Virginia City not long after they joined him in Reno and took several black and white photographs of a mining town now in decline. Its 'main street' was and is C Street…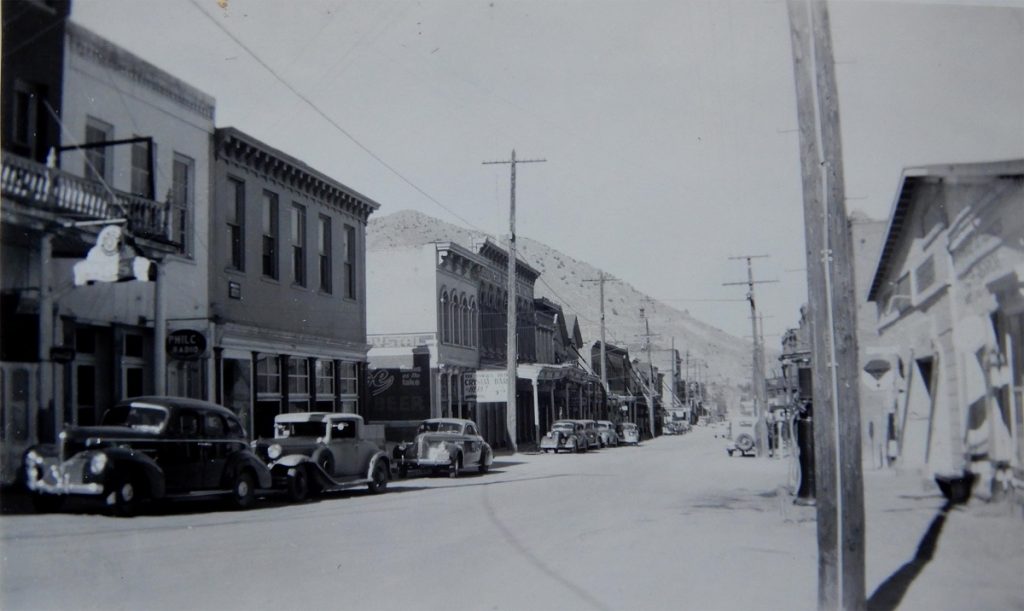 Almost 80 years later…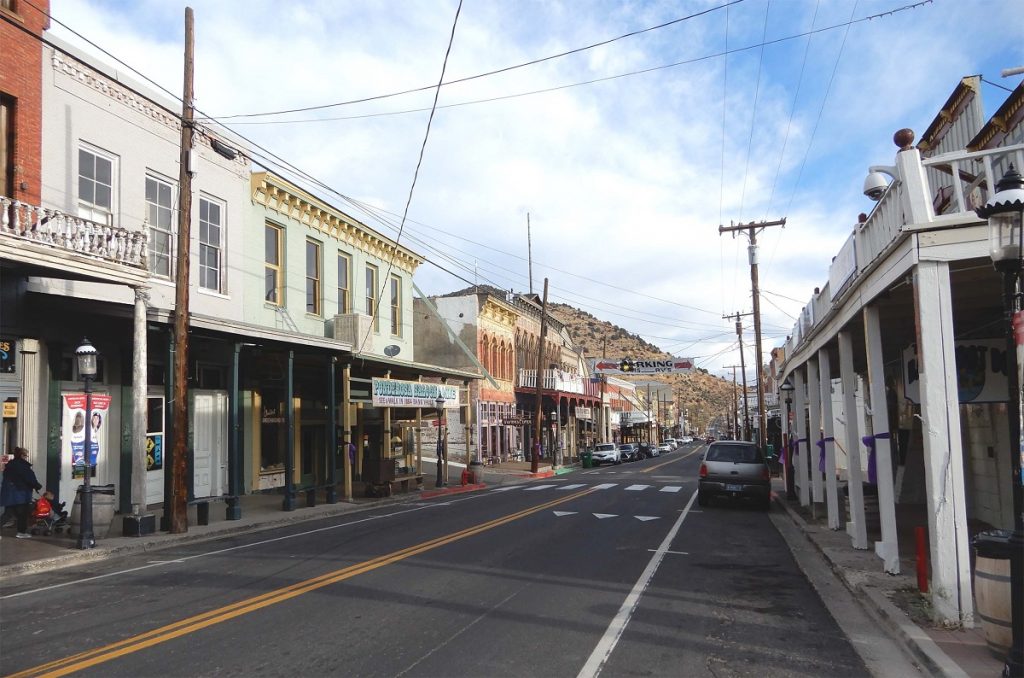 Herb's mother and father stood in front of the Crystal bar on C Street, noted for its stunning crystal chandeliers.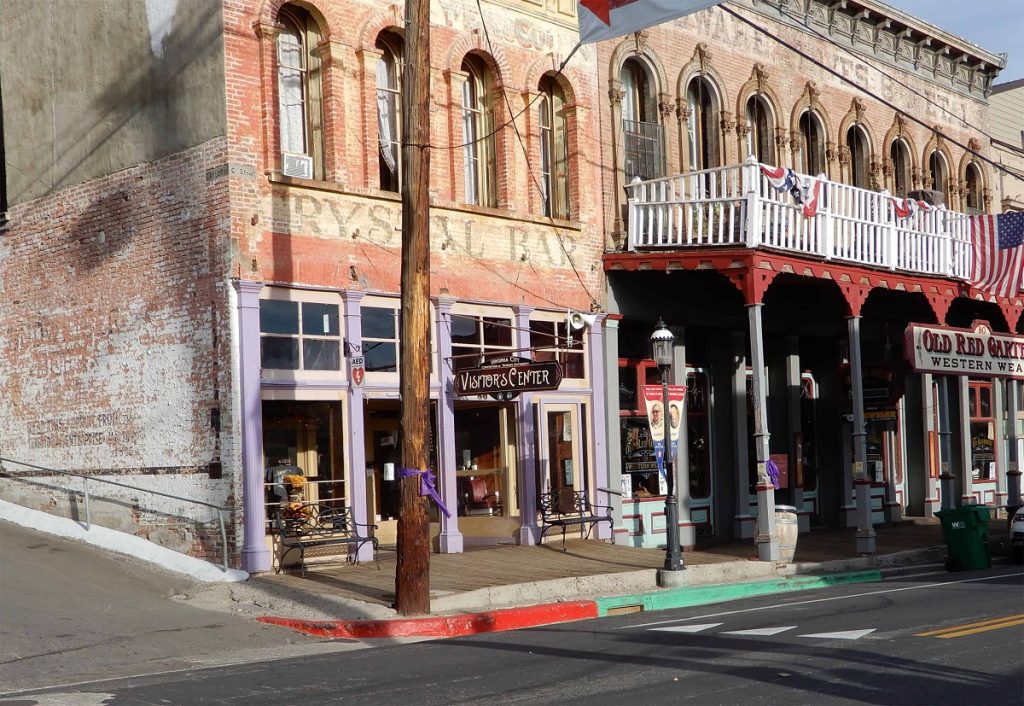 In 1941, Herb photographed the spectacular chandeliers for which the bar was named, along with a couple of disinterested patrons. The WPA Guide noted even then that, "the fixtures are as suggestive of the past as are their formal displays. One in particular has awe-inspiring early lighting fixtures, lamps of red and green dripping with pendant prisms in tiers."
Decades later, the chandeliers are as brilliant as ever.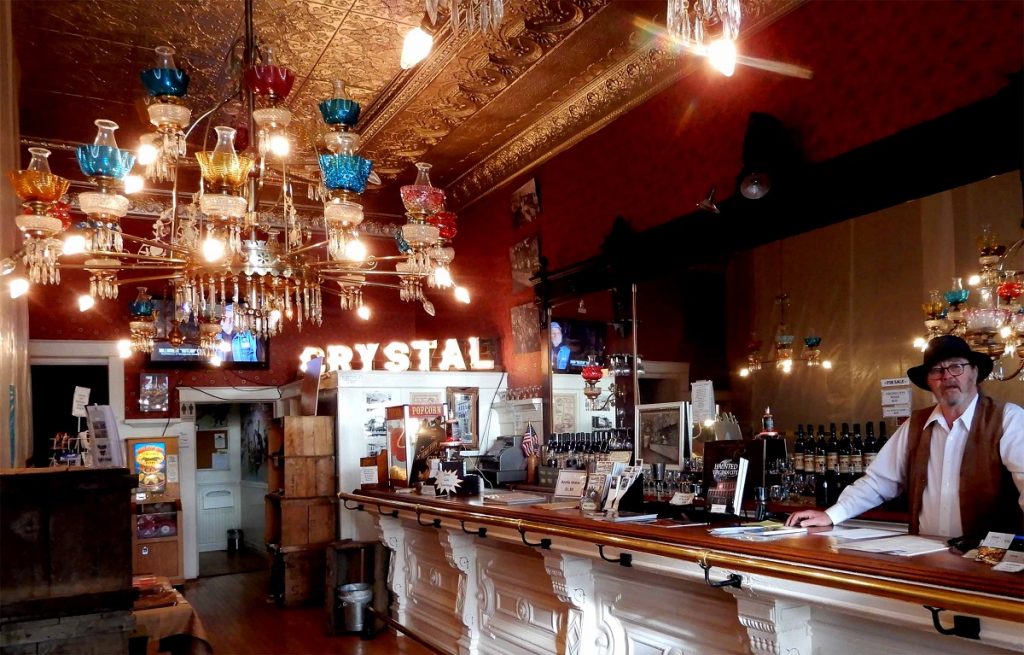 RENO, NEVADA
From Virginia City, it's less than an hour's drive down Geiger Grade to Reno. As we descended from the Summit, our view of Reno, ten miles distant, was drastically changed from the view Herb must have taken in when he first followed that same road.
Tonya and I were in search of several landmarks from Herb's past as we rolled into Reno on its famous Virginia Street. Our first goal was to find the Midway Hotel. It was Herb's first "home" when he came to Reno in late 1939. One of my most treasured Herb artifacts is his handwritten account of life at the Midway, as he waited for his divorce to be finalized. He called it: "Notes on Reno and Vicinity," and it's like a stream of consciousness accounting of day-to-day life there. Among his observations…
"Fight in hotel. Jimmie Driscoll and Jimmie Haas.
Attend baptist Church. Woman faints.
Three people die from lethal gas from hotel room in Reno. Fumigation.
Tex Kennedy drunk in my room talking. Stole Jimmy Driscoll's clothes in exchange for debt J.D. owed. Later threatened to knife McC…
Mrs. Ryan relieved him of knife. Wanted me to go to Mexico with him. Work on an engineering project or ranch."
Click Here for more 'Notes on Reno and Vicinity'…
We set out in search of the Midway with a scanned image of Herb's 1939 photo, but I couldn't remember the information that Herb had included on the back of the snapshot. I was under the impression that the Midway was on Virginia St, but we couldn't find any telltale landmarks. When we got home, and retrieved the original photograph, I discovered I was off by four streets. The Midway was on 4th Street just north of downtown.
A quick Google Street view showed us the Midway's precise location, except, sadly, we realized that it had been torn down. Note the building to the right of the Midway in Herb's photo and the still surviving structure in this Google view. The Midway is no more. But thanks to Herb, its rich history survives.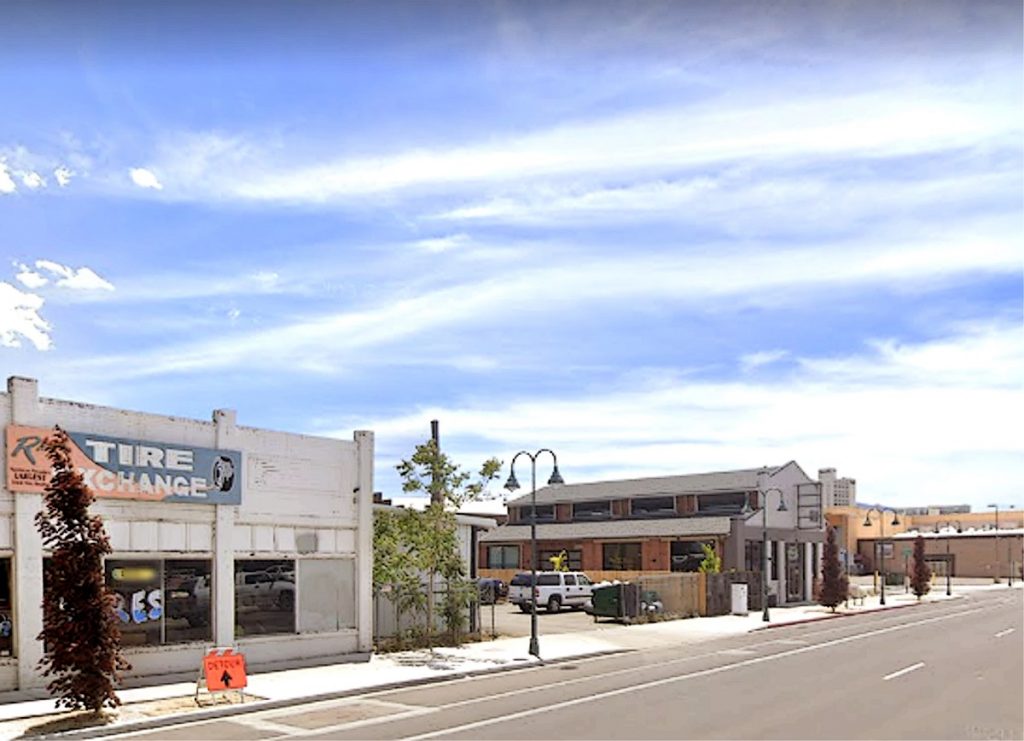 Our next destination was the "Old Orchard" trailer court, off Virginia Street. We had an address and these images: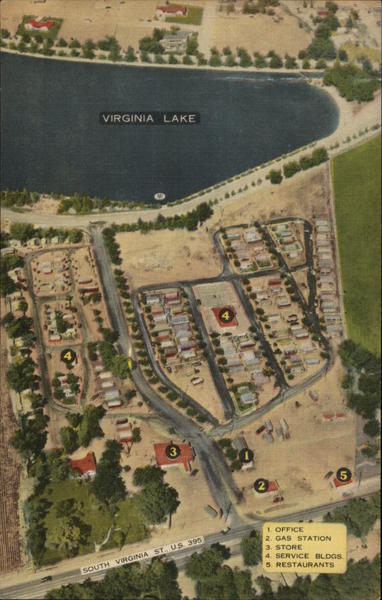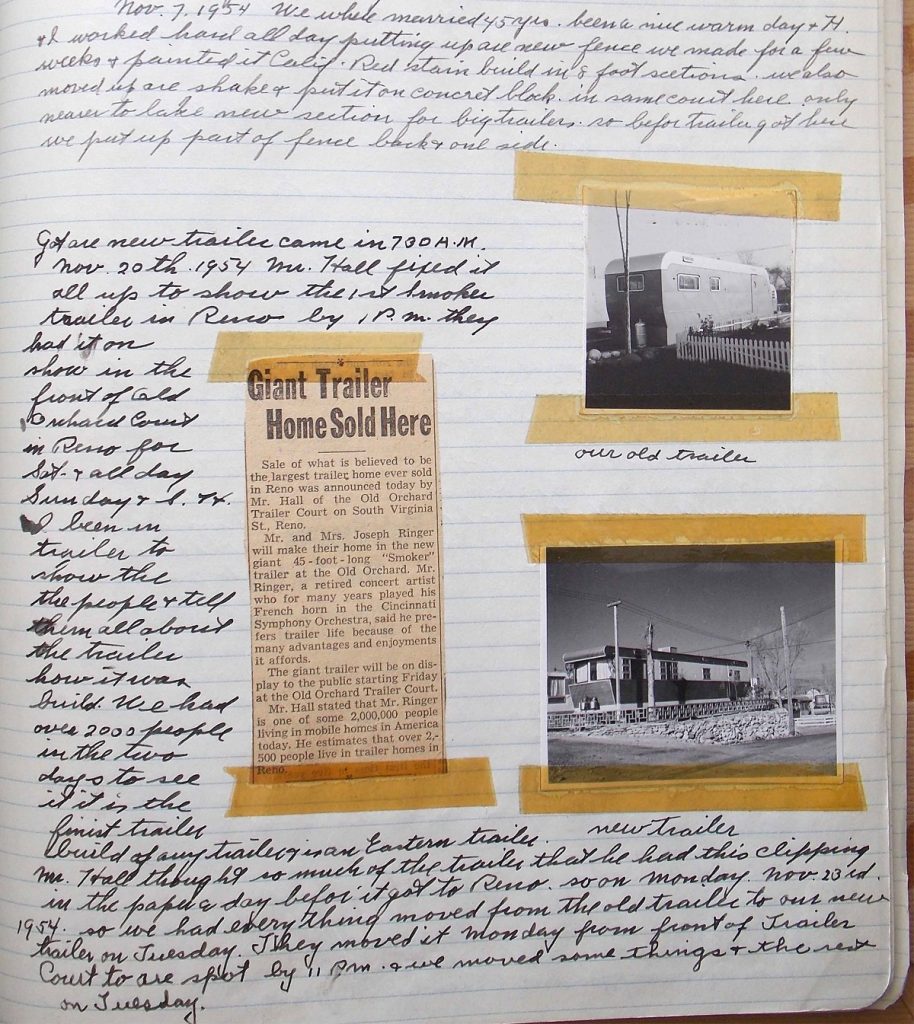 But nothing remained of the Old Orchard Court. In 2019, a series of strip malls occupy the location of the Ringers' longtime home.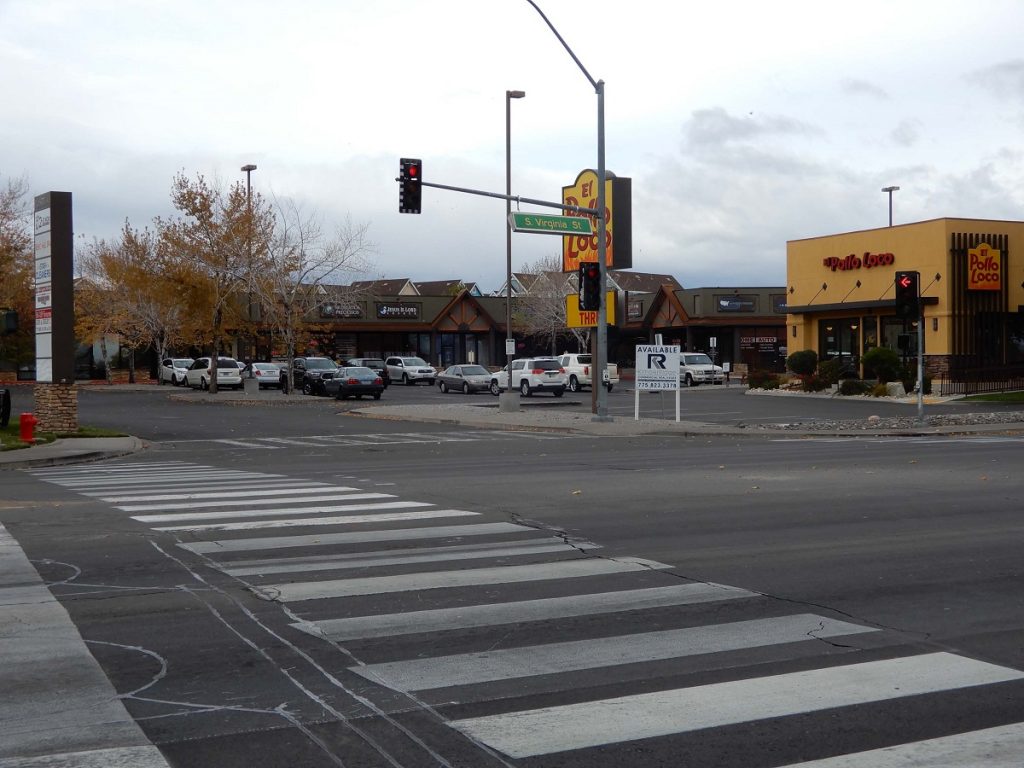 DOWNTOWN RENO
As we headed toward the city center, it was obvious that Reno's downtown area had been transformed over the decades. We found this remarkable telephoto image that Herb took in the late 1940s. The Riverside Hotel and the Courthouse have still survived the massive development, but from this distance it appeared that little else remained. The Mapes Hotel, the large building on the right that is so prominent in Herb's image was abandoned in the 80s and torn down in 2002. It was the place to stay when Hollywood stars and performers came to Reno. During the filming of "The Misfits" in 1960, the movie's lead actors—Clark Gable, Marilyn Monroe and Montgomery Clift— all occupied suites there.
WASHOE MARKET
Herb and his parents worked for years at the Washoe Market, later "Hansen's." But we had little hope of finding the original building. So much of downtown had been demolished. Harold's Club was gone. The Mapes. Most of the smaller buildings had been razed over the years.
But we knew that the Washoe was on Virginia Street and we had spotted a street number on Herb's original photo. So we knew we'd be able to find the original location, whether the structure had survived or not.
And there it was. Most of the building was obscured by a hideously ugly facade, and it had become a "Discount Liquor and Cigarettes" store, but somehow, after all these decades, the Washoe Market building is still there.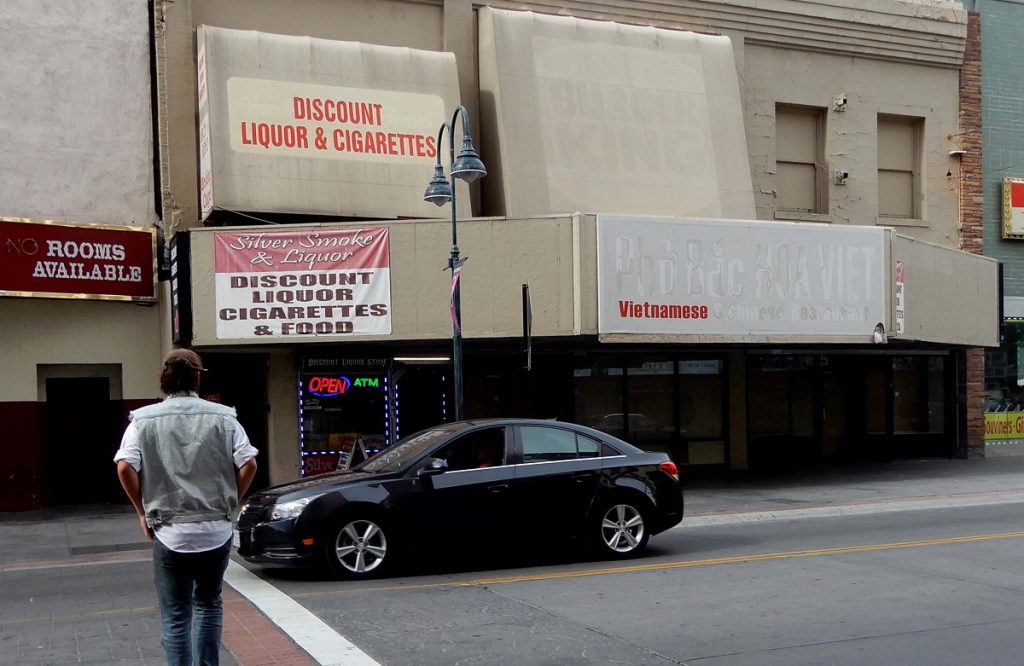 THE RENO "BIGGEST LITTLE CITY" ARCH
Reno's iconic gateway sign confused us at first. We found what appeared to be the old sign but it was in the wrong location. A quick search told us that the original "Biggest Little City" sign had been taken down and placed in storage for years but had later been reassembled on an adjacent street.
The new bigger, grander Reno Arch was in its original location on Virginia Street. We had several Herb images of the arch, two taken at night and a third daytime black and white photo, that Herb had taken just east of the downtown area. Here is the daylight picture. If you look closely, you can see the Riverside Hotel in the distance beyond the sign. Harold's Club is gone. As we walked east on Virginia Street we crossed over the railroad tracks, now beneath an overpass and running twenty feet below street level. That was the clue we needed to find the precise location of Herb's picture. Note the railroad crossing sign; the tracks still crossed Virginia St. in 1944.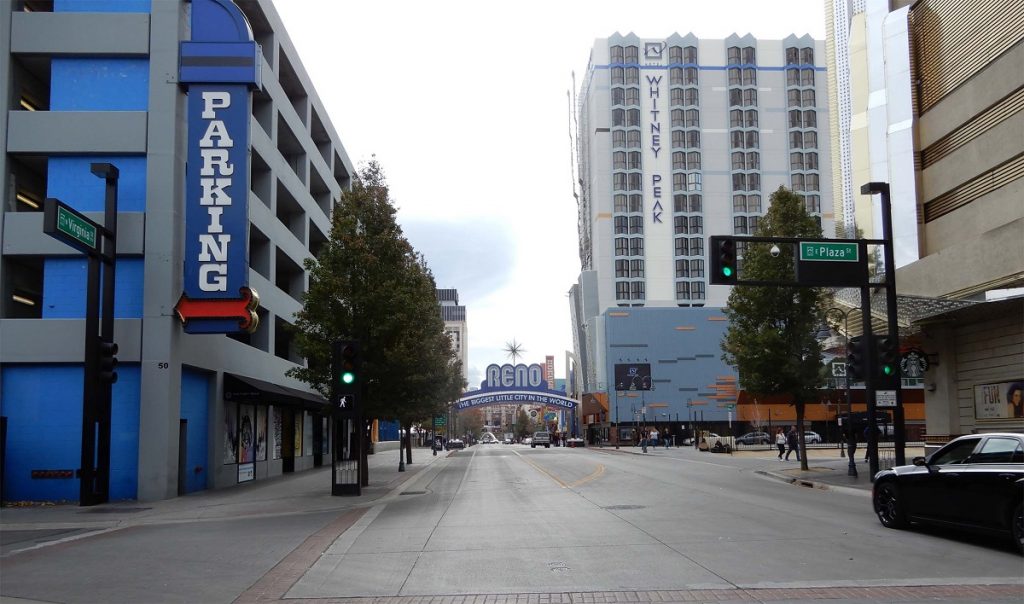 This night view of Virginia Street was taken by Herb in the autumn of 1944. Note the banner above the street which reads, "Bunker for Congress." It was a campaign banner for Democratic candidate Berkeley Bunker who was elected to Congress in November.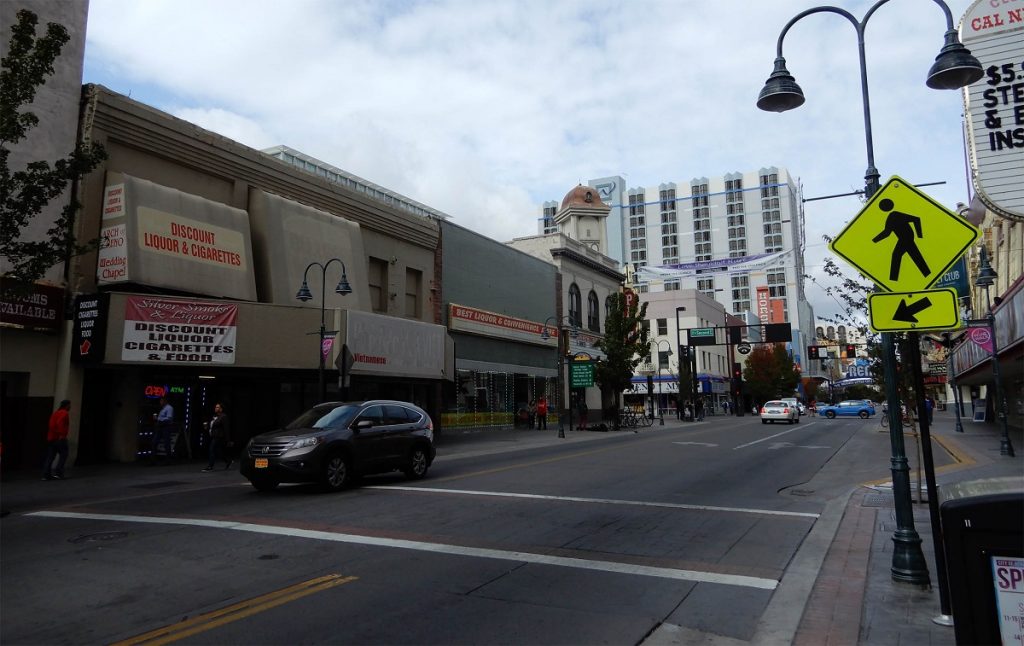 Finally, we made our way to the Truckee River and a scene Herb first shot in the early 1940s.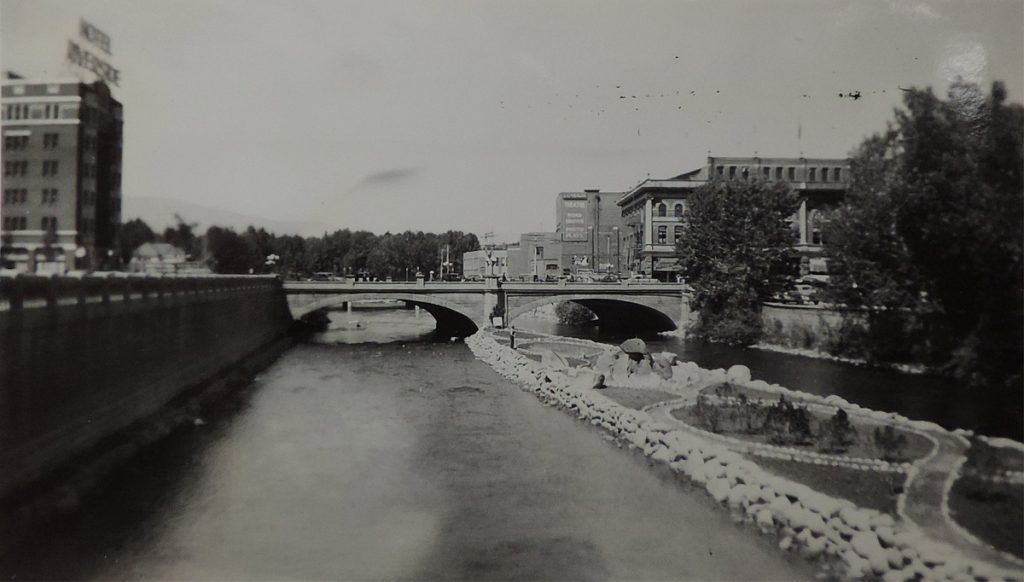 Note the island and gardens in the center of the river in this image. A massive flood in 1955 destroyed those gardens and attempts to restore it were abandoned. A new three span bridge at Virginia Street replaced the one seen in Herb's earlier image.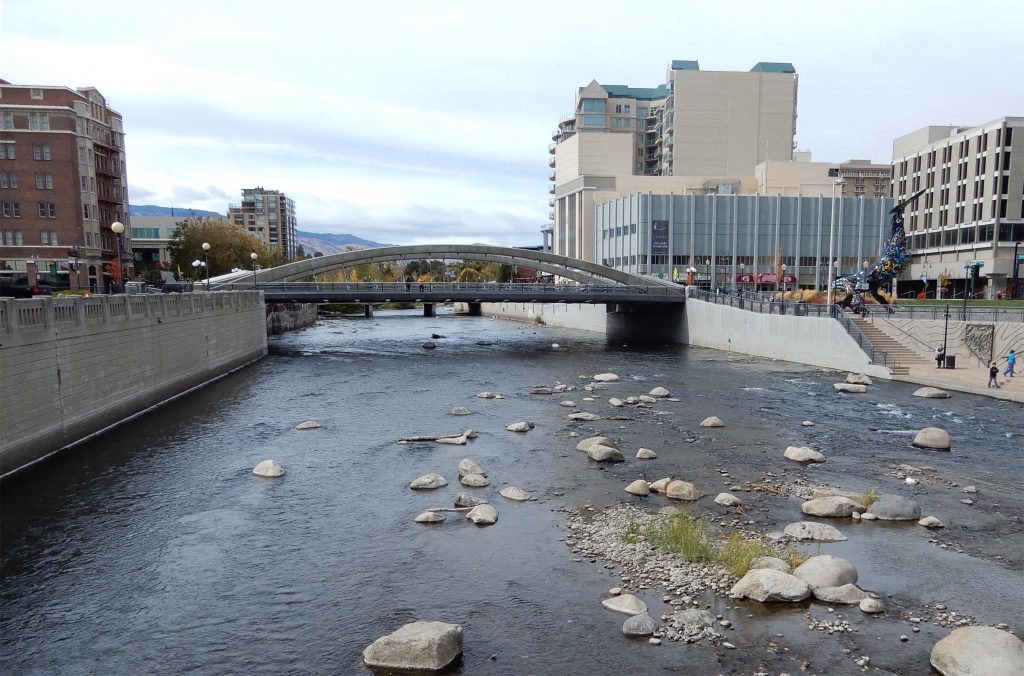 NEXT TIME: We revisit Herb's photographs at Beatty, Nevada and the ghost town of nearby Rhyolite…
Jim Stiles is Founder and Co-Publisher of the Canyon Country Zephyr.
To comment, scroll to the bottom of the page.
Zephyr Policy: REAL NAMES ONLY on Comments!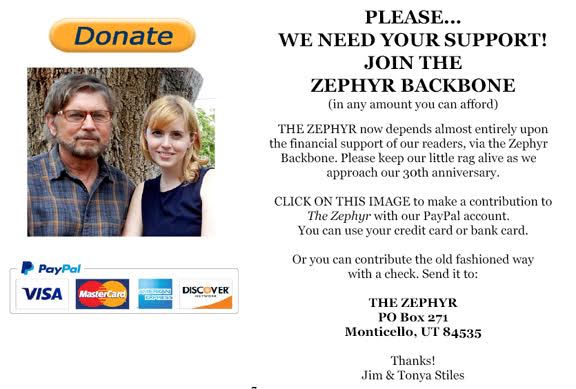 Don't forget the Zephyr ads! All links are hot!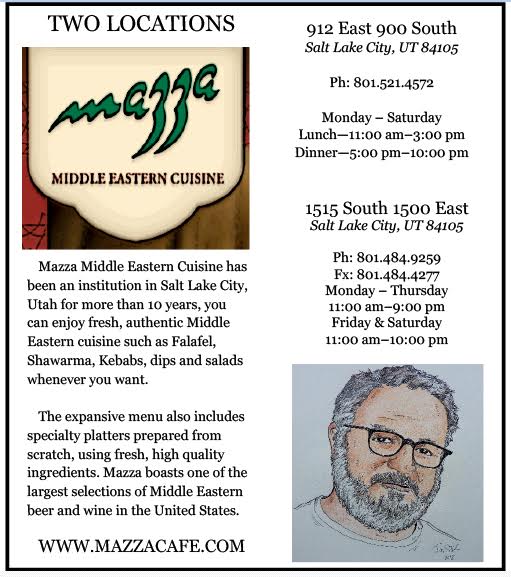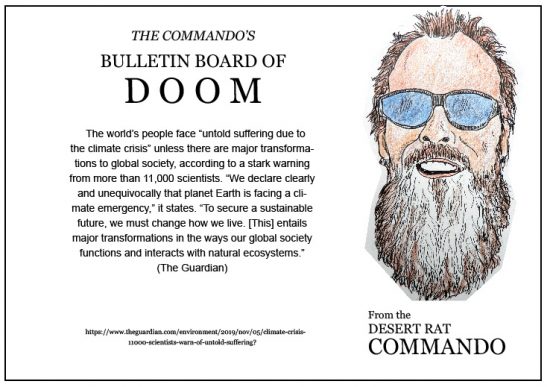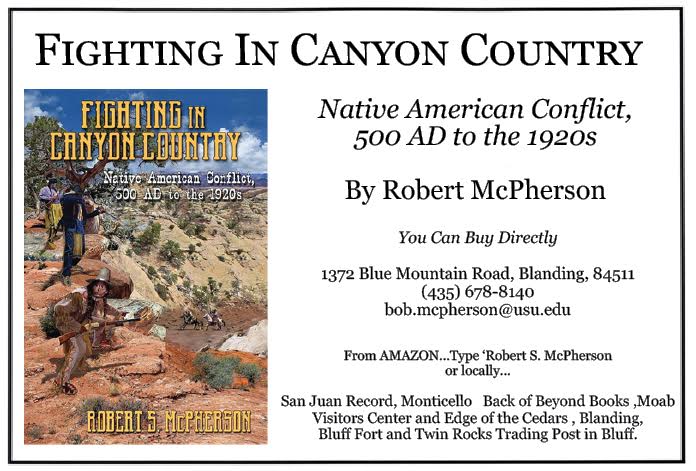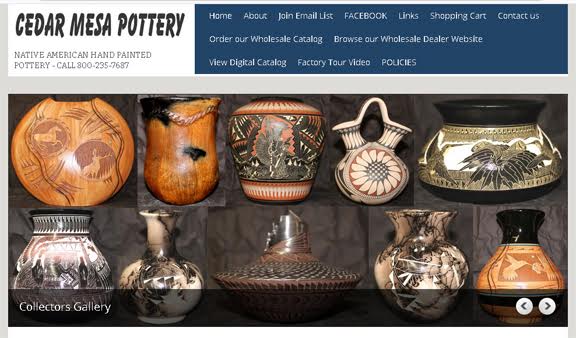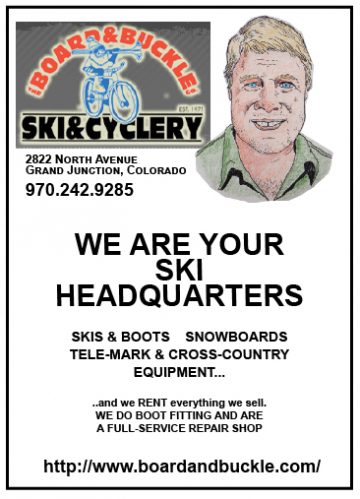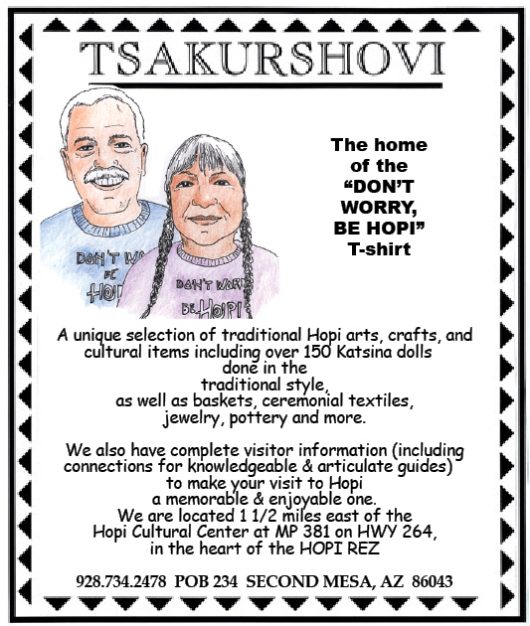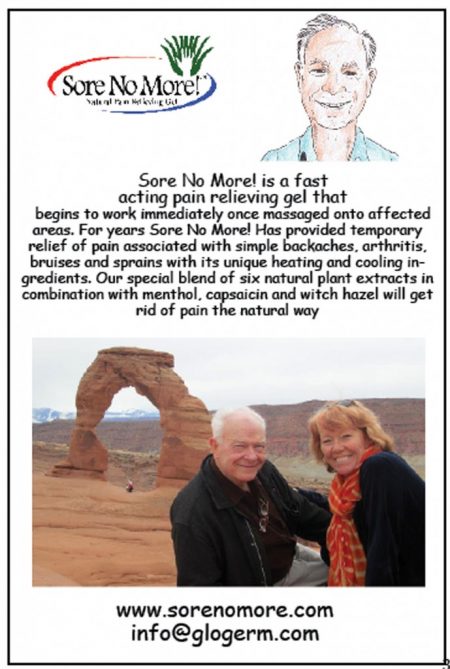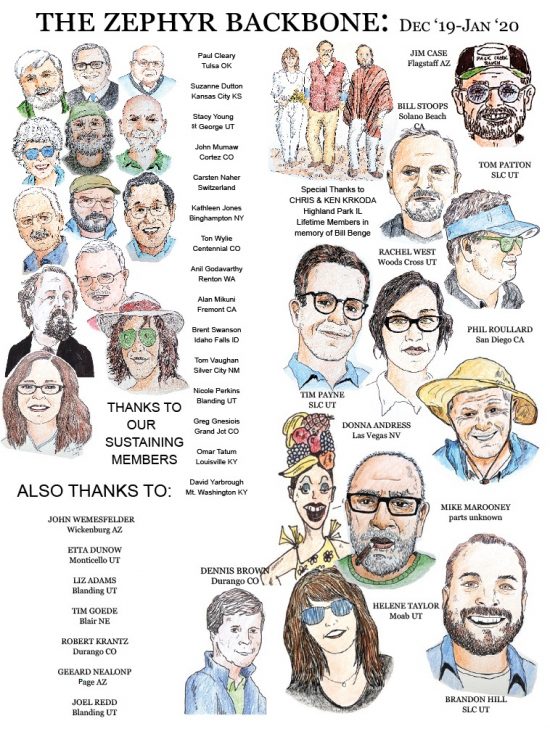 Zephyr Policy: REAL NAMES ONLY on Comments!