THE POLITICAL MARK MARYBOY
- Ken Sleight, Sept. 1998
San Juan Commissioner Mark Maryboy daily faces the challenges of his job amid growing political controversy. He has worked feverishly to secure and protect the rights of Native Americans and the poor. But he is being buffeted on all sides. The problems encountered are extremely difficult in themselves, but in San Juan County a serious breakdown in the structure and process of the San Juan government has occurred.
The race issue remains San Juan County's deepest and most enduring problem. Despite all efforts to increase understanding and expand opportunities, Indian people and the whites still lead separate lives, Tension and hostility exists; racial disorder has divided our people.
But who is this Mark Maryboy who must tackle such humongous issues and search for just solutions? I admit to a bias of sorts in the following account as we have worked together on many issues and have become good friends. The reader must analyze for himself the information I now record.
Maryboy was born on December 10, 1955 at St. Christopher's mission near Bluff, Utah. He was the fifth of eight children, all of whom were raised in a Navajo hogan. This setting was of significance to me as I had previously visited St. Christopher's back in 1953 and chatted extensively with Father Liebler.
Mark attended BIA boarding schools in Kayenta and Aneth at varied times, even though it was hard for him to be separated from his parents during those periods. Government schools were difficult for him as there seemed to be a deliberate attempt to destroy the Indian person that he was.
Angry and resentful because of harsh treatment, he ran away from boarding school while in third grade. His parents then enrolled him and his beloved brother, Herbert, in the public school at Bluff. They were the first reservation Navajo students to attend public school in San Juan County.
Upon graduation from San Juan High School in Blanding, he attended the University of Utah, majoring in history with a minor in business. He garnered a B.A. degree in 1978.
Some time after graduation, he returned to the Navajo Reservation to put his talents to work to help his people. Working as the Director of Education for the Utah Navajo Development Council, he supervised Headstart, Adult Education, and vocational education programs. He created teacher training programs and a special class for teen mothers.
Not alone in his endeavors, he married the engaging Rosylyn Johnson, who is also a graduate of the University of Utah and a State of Utah Social Worker on the reservation. They have one daughter, Blair, who attends the Montezuma Creek Elementary School.
And Maryboy is a damn fine athlete with a special interest in the rodeo, specializing in bull and bronc riding. Having competed in his early years, he was an accomplished boxer. He surprised me when he said his latest interest is fly-fishing.
In 1987, Maryboy, then age 31 and politically ambitious, ran for San Juan Commissioner. This was the first election after the county was divided by Justice Department decree into commissioner districts. He won the election and became the first and only Native American county commissioner in the state of Utah.
Now an elected official, he realized even greater inequities in services given to his Navajo constituents. The Navajo people were bringing in more money for the county than they were receiving back in services. He mixed it up with the other commissioners, often battling the always capable right-winger Calvin Black during hotly contested commission meetings. He spoke out quietly but effectively to point out the injustices of it all.
It was at the beginning of his stint as commissioner, that I first met him. At that time the Air Force was routing its bombers at extremely low levels over Montezuma Creek and the Navajo country. The noise from the aircraft was deafening and irritating and threatening. As I was actively campaigning against these military actions, Maryboy phoned me for for support and information.
From that point on, I worked with Commissioner Maryboy on many projects. As we share much the same philosophies regarding most political and environmental issues, it was a natural course.
The Utah Inter-tribal Coalition sponsored a celebration in Salt Lake City called "WE ARE ONE VOICE WEEK." I remember attending one of the meetings in January 1990, concerning the Wisconsin County Association's attempt to influence other county commissions in helping to draw up legislation that would destroy Indian treaties. Tribes from five states planned to attend the protest. I decided to attend also.
On January 22 of that year, Utah Indian tribes marched up State Street in Salt Lake City to the Capitol seeking redress of their problems. Maryboy, clothed in a traditional bright red robe, led the contingent of marchers. Speeches were given; the Legislature was addressed. Maryboy called for the return of money from the Utah Navajo Trust Fund that had been squandered away by the State of Utah. The Indian people were being heard and much publicity was gained nation wide. It was a successful and momentous day. Marching with them was an exhilarating and rewarding experience.
He pressed for continued investigation of the Utah Navajo Trust Fund. The fund had been established by Congress for the welfare needs of the Utah Navajos. The Utah State Legislative Auditor General revealed a mishandling of the trust money. After the report was published, the Navajos filed a complaint against the state of Utah to recover many of the Trust's squandered funds.
The differences between the Navajos and the Mormon community were so strong, that in 1997, the San Juan Commission set up a committee to study whether or not to divide the county on reservation lines into two counties. A blue-ribbon committee was set up. Hired were professors from the University of Utah to research the proposed split. Public meetings were held with the citizens to discuss the concerns of both cultural groups. After much discussion nothing was done as it would cost too much to split.
Maryboy has been an education advocate for many years. He publicly charged the San Juan School District with discrimination in the distribution of the county school funds. Through his, the courts, and other leaders's efforts, funds were finally made available to build a high school at Navajo Mountain and to establish a bi-lingual learning program.
On Sep 15, 1990, the Southern Utah Wilderness Alliance (SUWA) sponsored a wilderness conference at Pack Creek Ranch near Moab. Maryboy had been invited to address the group. "Since I am a history major," he said, "I began to research the difference between the Navajo and the Mormon perspective on wilderness, and its philosophy, which I believe to be the essence of Nature...the Navajo view of Nature compared to the Mormon view of Nature is like circles as opposed to squares."
Maryboy charged that "domestication" was the "watchword" of the Mormons. He quoted Brigham Young: "There is a great work for the Saints to do; progress and improve upon and make beautiful everything around you. Cultivate the earth and cultivate your minds. Build cities, adorn your habitations, make gardens, orchards, and vineyards, and render the earth so pleasant that when you look upon your labors, you may do so with pleasure, and that angels may delight to come and visit your beautiful locations."
Then Maryboy observed wryly: "It is an interesting religious notion that angels would not be willing to visit God's creation until man had improved upon it."
A "culture bias" continues today among many San Juan people, he said, "with such force that the existence of my people, the Navajos, may be lost in two more generations if we are not successful in preserving the circle of life."
With that, he determined to work even the harder. His influence since that day has ever increased. He ran again for his commissioner seat and won. And then in March 1990, with his encouragement and leadership, five Utah Native Americans entered the political race to become the first all-Indian slate of candidates for county office in America's history. (I joined with them and ran for the State House seat.) The name of our campaign was Niha Whol Zhizh, Navajo for "IT'S OUR TURN!" The symbol of the campaign was the arrowhead of strength inside the rainbow circle of protection. Though cooperation, the ideas brought forward evoked a circular pattern of action.
Despite the strength of Maryboy, we didn't get the vote we needed. The white community, of those that voted, gave the Indian candidates and myself less than nine percent of their vote. The remainder of the votes came from the Indian people who gave us about 80% of their votes. But still, even in defeat, we thought this the beginning of a new political era in San Juan County.
"ITS OUR TURN!" was a good slogan, though it sounded a bit radical to a number of people. Many whites feared the Indian peoples were about to take over and all hell would then let loose. But the slogan merely meant that justice was due. Surely, it sounded less radical than the slogan, "POWER TO THE PEOPLE!"
It's an uphill battle. The San Juan County political institution tends to be an insider game. There is an inside clique. Barriers are erected to prevent those outside their own circle of power from influencing decisions. Some of this inside group are elected. Others so included come from corporations, colleges, churches, clubs and political parties.
The downside of this is that these insiders have shut themselves off from new blood and fresh ideas that would rejuvenate the whole institution. While the inside power base jelled among the whites, Maryboy was building his own base. In November 1990, he was elected to the Navajo Nation Council as a council delegate from the Aneth area.
He sat on the Advisory Board of the College of Social & Behavioral Science at the University of Utah. He is currently the chairman of the Navajo Nation Council Budget & Finance Committee.
Maryboy met President Clinton in 1992 at the Democratic National Convention at Madison Square Garden. Maryboy delivered a prayer in Navajo at one of the sessions. He was a delegate to the United Nations Conference for Indigenous peoples in Geneva, Switzerland in July 1992. He was appointed to serve on the Utah Advisory Committee for the United States Commission on Civil Rights in 1993. He was appointed by President Bill Clinton to serve on the National Advisory Council on Indian Education in 1994.
One reporter, Nancy Lofholm of Grand Junction's Daily Sentinel, quoted Maryboy: "We have been pushed into a society we have no handle on. Understanding the way the system works---this is the thing the majority of the Navajo people have no concept of. We are novices. We're still in the process of learning. Someday, we are going to learn and things will be different."
In San Juan County, some white residents have been openly hostile to Navajo participation in county politics. On June 4, 1998, Maryboy wrote a letter to a Mormon stake president in Blanding expressing his chagrin at Mormon philosophy after receiving unwarranted and hostile letters from one of the church's members. In that letter he writes:
"San Juan County has a long and unfortunate history of discrimination against Native Americans. Discrimination has been found in education, voting, government services and other important areas. Many of the people involved in this unfortunate state of affairs are LDS. There is a strong strain of racism in the LDS religious philosophy, and some of that involves Church attitudes about Native Americans. When people who discriminate come from this type of background, it is proper to inquire whether exposure to this philosophy during their upbringing has influenced their behavior when they get into positions of authority as adults. I hope the Church will advise and guide its members about discrimination and the effect it has on everyone."
In 1998, Maryboy took a position against the hauling of nuclear waste from New York to the White Mesa uranium milling plant. Commissioner Maryboy was the only commissioner that supported public hearings regarding the matter and stated that he would call for such in his district. Then on July 9, the Navajo Utah Commission passed a resolution opposing the expansion of the milling operations that would include the milling of additional kinds of radioactive materials and also called for hearings to be held. And the Navajo Utah Commission supported Maryboy:
"We are aware that two San Juan County Commissioners support the expanded mill operations and oppose the bolding of public hearings on the matter. We regret that Bill Redd and Ty Lewis do not feel the obligation to allow the provision of all necessary information to their constituents. But we thank Commissioner Maryboy for standing up and supporting the need for public hearings, so that the decisions which will affect our children, grandchildren, and great grandchildren might be made on the basis of all available information."
These two white commissioners (Ty Lewis and Bill Redd) did nothing to see that the citizens had the information they needed. Rather, governmental and corporate institutions have suppressed that information. Much is now being conducted in secret behind closed doors.
But change is in order. Some say, "You can't change such things." That's nonsense. Almost everything has evolved and changed in the past. We now have the opportunity to guide that change.
Maryboy has pledged himself to a program of shared values between the Indian peoples and the whites. Politics and government are the instruments through which we must address these values. We must pursue them together - creating excellent public schools, protecting the environment, preserving livable communities, enforcing the law equitably, administering justice.
He still thinks there is time to put our political institutions into working order. I also think we can, but we must launch a sustained attack on government behind closed doors. We must tear away the veil of secrecy that prevails. Public business must be done publicly, in full view. We must clean up our act.
I encountered an old country proverb the other day: "If you want to clean up the stream, get the hog out of the spring." It's apt here.
* Editor's note: That member threatened to sue this publication if we even mentioned her/his name. Sort of cowardly, we think, but it's the 1990s and a litigious world out there.
Ken Sleight is a regular contributor to the Zephyr and a regular thorn in the side of white politicians in San Juan County.
Chris Smart is editor of City Weekly Magazine and clings hopelessly to the past in Park City, Utah.
Rick Best lives and works in Plague, sometimes called Page, Arizona.
Owen Severance lives 'somewhere on the Colorado Plateau.'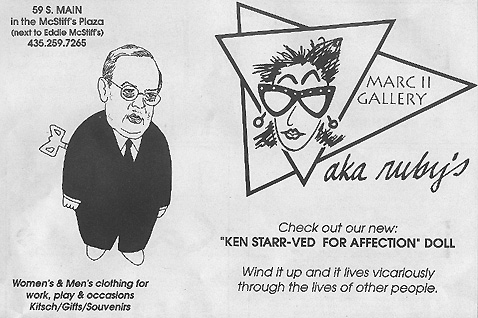 To Zephyr Main Page October-November 1998