AN EXCERPT:
The Department of the Interior notes that it is the manager of 20 percent of the nation's public lands, and a further 1.7 billion acres off its shores. Interior notes that, "Within the Southwest, our Bureau of Land Management manages 30 million acres of public lands with solar potential. We have set aside 1,000 square miles of BLM lands in 24 solar-energy study areas and are evaluating these lands for appropriate development."
Meanwhile, the Bureau of Land Management, which has taken the point on fast-track solar projects, notes that as of the end of 2010, "there are 147 solar applications pending. Of those, 104, comprising 1 million acres, are "first-in-line" applications." (As of the end of 2011, the total number of major renewable energy projects approved by Interior totaled 22, including 13 commercial-scale solar energy facilities).
TO READ THE STORY, CLICK THE PIC…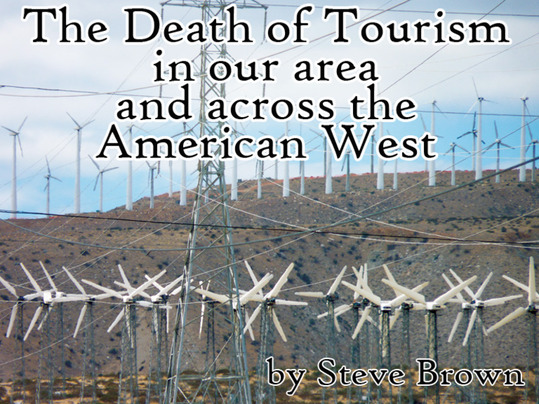 TO READ ALL ZBLOG POSTS, CLICK 'THE ZEPHYR' AT THE TOP OF THE PAGE.
http://thesunrunner.com/2012/05/09/the-death-of-tourism-in-our-area-and-across-the-american-west