AN EXCERPT:  In a world of large numbers, try wrapping your head around these digits: This year, the world is expected to set a new record with the sale of 80 million cars and trucks.
Let me put that into perspective:
– Annual sales: 80 million
– Daily sales: 219,178
– Sales per hour: 9,132
– Sales per minute: 152
So by the time you're done reading this, the world will have added another 300-500 vehicles.
TO READ THE STORY, CLICK THE PIC…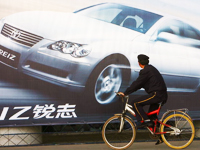 TO READ ALL ZBLOG POSTS, CLICK 'THE ZEPHYR' AT THE TOP OF THE PAGE.
http://www.cnbc.com/id/47375478