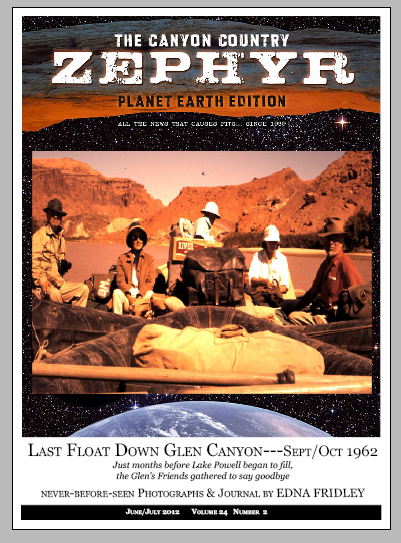 After 4AM June 1, you should be able to access the new issue
by clicking the cover.
HERE IS WHAT'S COMING:
TAKE IT OR LEAVE IT…Jim Stiles
Glen Canyon, 50 years after the Dam
About the Grand Canyon Trust, 'A Just & Healthy Future,' & Doug Meyer's Honest Response
The Rise and Fall of Hair…A History
SOWING CLOVER…Tonya Stiles
The Trouble with 'Women's" Issues
The Poetry of DAMON FALKE
'When October Comes'

AN HONEST RESPONSE TO BILL HEDDEN, THE GCT &
'A JUST & HEALTHY FUTURE for the 100%' ….Doug Meyer
also…A Look at the GCT's Board of Directors &
Links to one of America's Most Controversial 'Environmentalists,' DAVID BONDERMAN
AT ACOMA: PUEBLO SACRED HUMOR & DOMINANT HIERARCHIES
…Scott Thompson
HERB RINGER'S AMERICAN WEST
Shorty Yarberry at the Grand Canyon
LAST FLOAT DOWN GLEN CANYON : September-October 1962   #1
Journal and Photographs by EDNA FRIDLEY
LOSING SOLITUDE…Martin Murie
'Destinations' (2004)
WELCOME to the DIMFORMATION AGE…
Notes from the desk of NED MUDD, reporting from the crawlspace of history
THE WILDER WEST
The Art & Wit of DAVE WILDER

POINTBLANK:
FRIENDS & FREEDOM…Al Cornette
MOAB'S CONCENTRATION CAMP
From the Zephyr archives...LLOYD PIERSON
THE FACEBOOK WEST (Do you 'LIKE' it?) …Jim Stiles

PORTRAITS OF MOAB 1989.1993  #4    Photographs by Jim Stiles
MY PERSONAL HISTORY: Life & Times in SE Utah …Verona Stocks
'My Life as a Sheepherder, part 1′
VLACHOS' VIEWS…A PHOTO JOURNAL   Paul Vlachos
TO READ ALL ZBLOG POSTS, CLICK 'THE ZEPHYR' AT THE TOP OF THE PAGE.