April 2014
 THE ZEPHYR CELEBRATES ITS 25TH ANNIVERSARY ON APRIL 1.  
 Please Help Us Keep It Going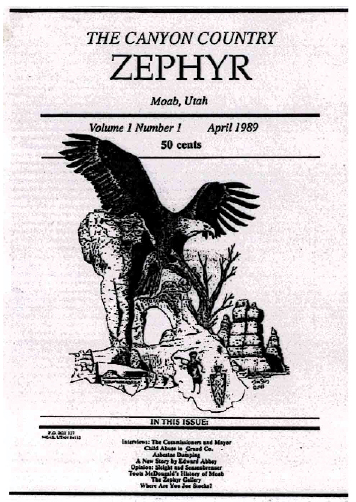 Dear Readers…
 As The Zephyr posted its April/May 2014 issue, we marked our 25th anniversary. WE MADE IT. We have weathered every storm, endured for a quarter century on a shoe-string budget, and all the while maintained our integrity and our honesty. We think that is what true journalism is all about.
For the first time, The Zephyr is supported mainly by the small individual contributions of our readers. YOU and a relative handful of loyal advertisers keep this publication alive.  We hope that as we move into the second quarter century of existence, you will continue to support us. Who knows…we might even make it to 50.
 And be sure to read the 25th Anniversary Issue–it will include many old photos and Zephyr Toons, re-posted past essays and stories (some not seen in more than two decades), Edward Abbey's LAST original essay, published on the day he died, and a very personal (and long-winded) narrative from the publisher—how we got from there to here.
Thanks again for your kindness, support and good wishes…
Jim & Tonya Stiles
 PS…To all of you who already support The Zephyr, THANKS.
 Here are some of the ways you can support The Zephyr…at whatever level works for you.
THE BACKBONE…..
1 YEAR/ $100…..3 YEARS/ $275…LIFETIME/ $1000
THE BB5.0….$50…..THE BB2.5…$25…..THE BB1.0…$10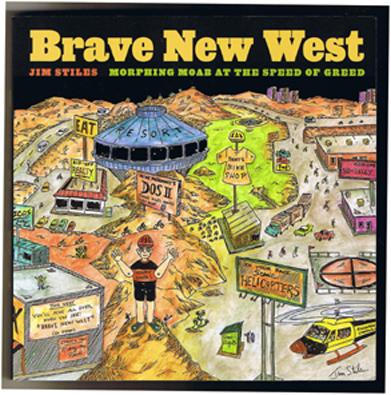 New & Renewing Backbone Members at the $100 level (or higher) receive a signed copy of Stiles' "Brave New West: Morphing Moab at the Speed of Greed."   
If you already have the book, let us know and we can send you a DVD of the documentary film, also called 'Brave New West,'  about The Zephyr. It aired on public television and was produced by 'High Plains Films' in Montana. 
(And the cartoon of course…for the strong & the brave)
We are also looking for A FEW GOOD ADVERTISERS!  with new very low rates. As low as $150 a YEAR.
Contact Stiles for rates. cczephyr@gmail.com
You can pay with your credit card and PayPal at our website–
 Or we are happy to accept your checks:
PO Box 271,  Monticello, UT 84535
   Thanks again and keep reading…