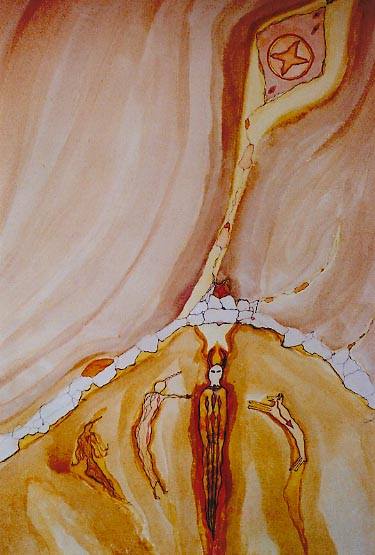 'CHROMATIC CONTRASTS' at the ADDISON ROWE GALLERY
Santa Fe, NM— Chromatic Contrasts, an exhibition highlighting painters Beatrice Mandelman, Raymond Jonson, and John De Puy will open at Addison Rowe Gallery (229 East Marcy Street) on May 8, 2015 with a reception from 5 to 7:00 p.m. The show will close on August 7, 2015.
This exhibition focuses on Beatrice Mandelman (1912 – 1998), Raymond Jonson (1891 – 1982), and John De Puy (b. 1927), and their differing use of color.
Raymond Jonson's work became exceptionally bright and colorful after he adopted acrylic paint in the 1960s. This medium gave his work a vibrating quality that endowed his paintings with a unique depth and movement.
Beatrice Mandelman began utilizing white in her paintings extensively during the same period. Beginning with an array of colorful drips, splatters, and thick brush strokes, Mandelman would then use white to edit this playful arrangement into a subtle, yet commanding composition. John
De Puy's paintings are neither representational nor abstract, but an emotional interpretation of the landscape. His juxtaposition of color suggests mountains and skies, and the gradations within these works provide a distinct vibration and strength. All three of these artists use color in a different manner, and yet all three achieve vast expanses within their paintings that echo the skies and vistas of the Southwest.
Contact: Matthew Rowe FOR IMMEDIATE RELEASE
Tel. 505-982-1533
Cell: 505-480-6026
Email: matthew@addisonrowe.com
THE ADDISON ROWE GALLERY
229 East Marcy Street, Santa Fe, NM