I was raised on matinees, on Saturday afternoons.
Lookin' up at Hoppy, Gene and Roy…oh boy!
And I was raised believin', the best a man can do
Is a be rootin'-tootin', straight shootin' cowboy buckaroo
—–Mason Williams & the Sons of the Pioneers
That's how it was for me. As a little kid, I grew up in a neighborhood where there weren't many other children. Billy Springstead was, at seven, four years older than me and didn't really want to be seen "with a little kid." So I learned to entertain myself. On Saturdays I was glued to the television, and eagerly awaited one Cinema Cowboy hero after another. Later I'd go out on the sidewalk and re-enact the episodes I'd just watched. I even did my own Western background music, the lavish orchestrals that always accompanied a good horse opera. Oddly enough, all these years and decades later, my favorite musical genre is…you guessed it..the soundtracks to great Westerns. I've run off more than one girlfriend, simply because I refused to remove my "Lonesome Dove" CD from the car stereo. I need my own soundtrack.
I also love the great laconic dialogue that comes from a good Western. And so I've gathered here some of my favorite lines from my favorite Westerns. It's not a complete list, by any means—I don't even think I have a Top 10 list here…maybe a Top 7? I'm not a movie critic and am not about to bore you with critic-ese about the fabric and texture of a film. I simply know what I like and these are the films that sustain me when I need a good jolt of Cinema West.
So, here's Volume 2  of the great Western movie lines I love the most…JS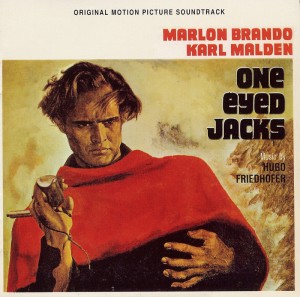 ONE-EYED JACKS (1961)
Marlon Brando (Rio) Karl Malden (Dad Longworth)
My pal Judge Lewis Paisley introduced "One-Eyed Jacks" to me, just a few years ago. The Judge is a connoisseur of good cowboy dialogue and knew I could not resist Brando's over-the-top lines. And of course Brando could play it over the top–this is the only film he ever directed and clearly, he decided to take it to the limit. You've got to love a Western in which the leading actor can, with unheard of earnestness, call the Bad Guy, "A gob of spit."
"My home is any place I throw my saddle down, I guess."
Rio tries to seduce a young woman…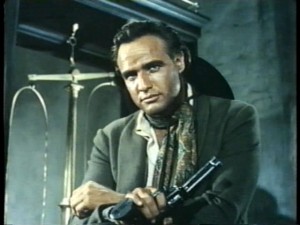 "I never did get much upbringin' as a kid and the manners I learned was in a saloon. Didn't have much chance to be around ladies like yourself…I'm sorry Senora. Just hope you don't think too bad about me when I'm gone….my mother give me this ring just before she died. It'd mean a lot to me Senora if you'd wear it for me. It'd make me feel a whole lot better."
More eloquence from Rio..
"Remember a little stick place just this side of San Felipe? Remember when you was drunk and you killed that lady's goat?
Ben Johnson tries to interest Rio in a bank robbery..
"How would you like to get rich, once and for all? You could stand a piece of change couldn't you? Fourteen days ride from here there's a town. And in that town is the fattest bank you ever saw. And it ain't nuthin' but a cheesebox…Word's goin' around you're lookin' for Dad Longworth…Hear there's dirt between yuh. Now if that's true, I can tell yuh where you can find him…You want me to keep talkin'?
"Now here's where the fun comes…it'll tickle you. The sheriff in that town is Dad Longworth. Now we gonna do some business?"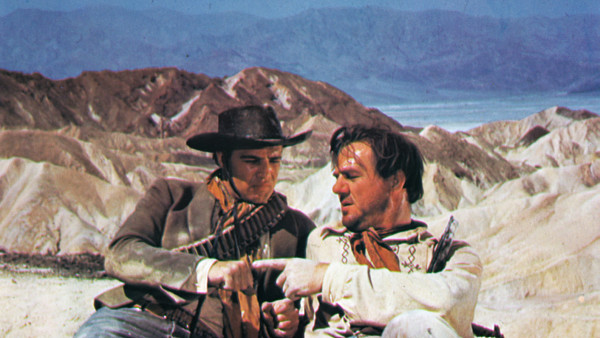 Rio's expressive vocabulary…
"You get up, you big tub o' guts!"
"We took to scufflin' and he come out from behind there with that scattergun. Yeah…he didn't give me no selection."
"Get up you scum suckin' pig! I want you standin' when I open you up! Get on up! You got right on the edge…you mention her once more and I'm goin' to tear yer arms out!"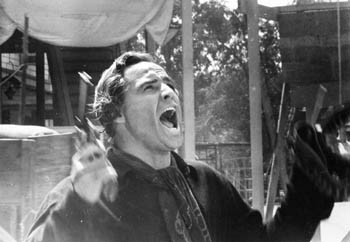 Dad Longworth to Rio…
"Rio, you've been tryin' to get yourself hung for ten years and this time I think you're gonna make it."
Rio to Dad…
"You're a one-eyed jack around here, Dad, but I've seen the other side of yer face….know where I spent the last five years? Rottin' my guts out down in that pen in Sonoma…what do you think of that?"
"You gob o' spit!"
Here is the link to "I've Heard About You, Shane, #1:  'THE SHOOTIST" (click the image)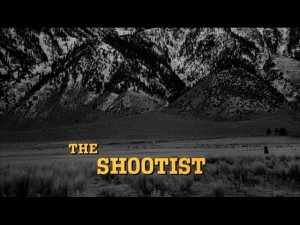 The Feb/Mar Z (click the cover)