AN EXCERPT:    How do you paint a portrait of a saint?  One answer: you leave bits out.
You paint Saint Sebastian on the tip of the arrow, John's head upon a plate, Mary stunned by the light of of the angel. You don't  paint Sebastian brushing off dandruff, John yelling at his local baker, Mary spanking JC, saying, "You just think you're God's gift…"
And so what do you do with Tim DeChristopher? We have our first answer. At long last, I got a look at the new movie about DeChristopher, "Bidder 70," by Beth and George Gage.
To the environmental movement, Timothy of Salt Lake has become Saint DeChristopher. You know his deeds: the Patron Saint of Bureaucratic Monkeywrenching, founder of a sect, quickly accumulating acolytes who are willing to go to jail just like he did.
Portraits of Tim DeChrisophter will naturally verge on hagiography.
TO READ REILLY CAPPS' REVIEW OF 'BIDDER 70,' CLICK THE IMAGE.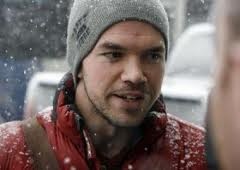 TO READ ALL ZBLOG POSTS CLICK HERE
TO READ THE JUNE/JULY Z CLICK HERE