ZEPHYR COMMENT:  Are you kidding me? Is nothing sacred? Will anyone in the mainstream environmental community oppose this kind of recreational use in a national park?  This is an utter disgrace…JS
AN EXCERPT:     A small group of mountain bikers set out on an exploratory mission down a stretch of Utah's Green River last autumn in search of remote and untarnished riding territory. Floating on inflatable rafts retrofitted with bike racks, the team navigated 68 miles of water between the towns of Green River and Mineral Bottom, armed only with a topo map and the roughest idea of which places they wanted to scout.
The crew—Diamondback riders Kelly McGarry and Eric Porter, along with photographer Haruki Noguchi, filmer Justin Olsen and a river-rat guide named Stephen 'Chalupa' Darrigo—spent nine days on the journey, encountering riverbank vermin and a slew of previously unridden terrain.
The arid arroyos to the north of Canyonlands National Park yielded more mind-blowing riding than any of the group had expected—from miles of pristine, animal-trodden singletrack to natural halfpipes in slickrock slot canyons and giant, Rampage-scale spines.
TO VIEW THE WEB PAGE, CLICK THE PIC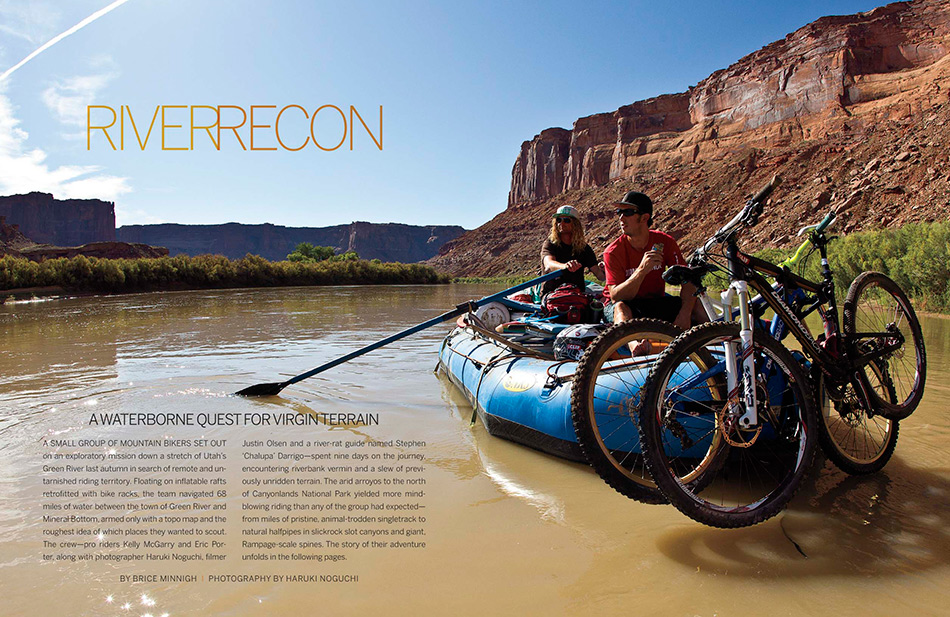 TO READ ALL ZBLOG POSTS CLICK 'THE ZEPHYR' AT THE TOP OF THE PAGE.
TO READ THE CURRENT ZEPHYR CLICK HERE
http://www.bikemag.com/news/video-green-river-recon-featured-in-july-issue-of-bike/