Here's another story, from the Washington Post, about the Appeals Court ruling that strikes down efforts by the EPA and the Obama Adminstration to reduce emissions. Among those companies who challenged the EPA is Energy Future Holdings in Texas, owned by TPG Capital, whose founding partner, David Bonderman, sits on the boards of directors of The Wilderness Society and the Grand Canyon Trust. If we replaced the name "Bonderman" with "Koch Brothers" in this story, what kind of response would this article receive from the "progressive," environmental community?
AN EXCERPT FROM THE ARTICLE:    EPA officials calculated that by 2014 the requirements would yield health benefits for 240 million Americans, including D.C. residents, and save between 13,000 and 34,000 lives a year. The agency predicted that in two years this rule, in concert with others, would cut sulfur dioxide emissions nationwide by 73 percent, compared with 2005 levels, and reduce nitrogen oxide emissions by 54 percent.
But Southern Co., EME Homer City Generation and Energy Future Holdings Corp. units in Texas challenged the rule, saying they could not meet the new requirements in time.
CLICK THE LOGOS TO READ THE ENTIRE STORY: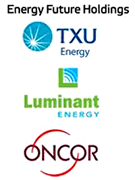 http://www.washingtonpost.com/national/health-science/federal-appeals-court-strikes-down-obama-air-rule/2012/08/21/50af1caa-eb9c-11e1-b811-09036bcb182b_story.html?socialreader_check=0&denied=1