Indian activist Russell Means died earlier today.  Below is a link to hear his address to the 2012 Dakota Conference on Wounded Knee 1973.
AN EXCERPT:

Sioux Falls, South Dakota
Saturday, July 28, 2012
In February of 1973, Oglala Lakota Indians and members of the American Indian Movement seized and occupied the town of Wounded Knee, South Dakota. For the next few months hostilities ensued, resulting in both Native American and U.S. officials' deaths. Russell Means, an Oglala Sioux activist, was indicted on charges related to the event but was never convicted. Mr. Means speaks about his experiences at Wounded Knee forty years later at Augustana College and highlights the history of Native Americans in the U.S., specifically his personal struggles with the American government.
click here to view the video…look for 'playlist' on right side of screen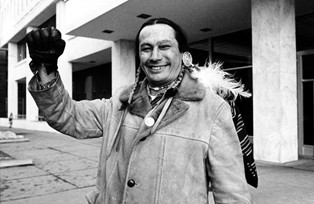 click here to read the current issue
http://www.c-span.org/Events/Wounded-Knee-1973-Forty-Years-Later/10737432361/