In the last couple days, I've received several emails and messages from readers who saw or read news reports about a recently arrived Moabite named "Sketchy Andy."  His real name is Andy Lewis and he was the guy who shared the halftime stage with Madonna at the Super Bowl—he was the toga-clad tightrope walker.  Now Sketchy is taking his rope show to the canyons of Southeast Utah.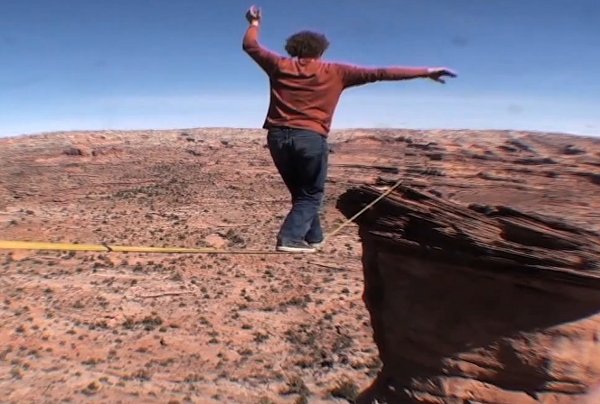 For those of us who regard these slickrock domes and arches and canyons with reverence and awe and respect, Sketchy Andy's abuse of them is…well, not really a surprise. But still sickening.  One reader noted,"What's truly offensive is that the news broadcast (On KSL–see link below) seems to glorify and praise this behavior. Just another self-satisfied, thrill-seeking idiot."

http://www.ksl.com/index.php?nid=1017&sid=19266026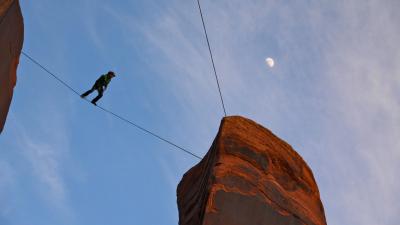 This email arrived this morning.  In part it said, " I cannot tell you how upset I am at the Yahoo news report today of the new sport of "ultimate rope swinging" through Corona Arch. Nor only is this a desecration of modern ideals but I know this is a blatant disregard of the ancient ancestors of the Moab Colorado River region. This area is a sacred place. If you have ever been there, and I'm sure you have, I cannot believe what has happened. This would be akin to letting someone build a roller coaster inside Delicate Arch…I have spent countless hours in contemplation and meditation at and under the arch, I have met several people from all over the world and have had engaged in conversations about what we experience at this place and how it has changed our lives."
The Moab Media reported Sketchy Andy's exploits in this week's 'Times-Independent. About meeting Madonna he said:
"It's pretty cool to be thrown into the spotlight like that. Madonna is a pretty cool girl," Lewis said. "She's shouted me out in the news for being on the tour multiple times, so I'm going over [to New York] to hopefully figure out some kind of deal. I'm excited… It would be pretty fun, I think."
And he has big plans for the canyon country of Southeast Utah:
"I've been trying to do progressive work [in Moab] to make slacklining allowed in our parks, but I am struggling to have the time to be in contact with all the people I need to talk to. Moab is the mecca for high lining and lowlining…It's been a hard road the last couple of years. People thought I was wasting my time with the slacklining, and now people see that I have made my own niche market and that's really cool to see my family and friends are fully supporting me," Lewis said. "I'm getting a lot of social support, too, from companies, news… it's cool to finally get your ideas out to the world. This has opened up a lot of cool experiences."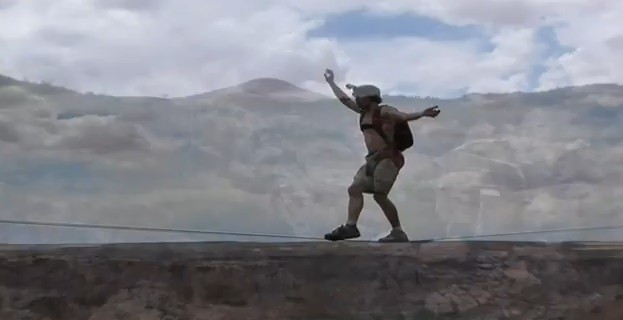 So…does anybody in 'New Moab' have a problem with this? Is THIS what Moab's become?  Do Moabites really think this is 'cool?'  Where does the environmental community stand? Or is this just one more component of the "amenities economy" that good environmentalists have to embrace? One critic of all this wrote, "What can I do, what can any of us do, to insist that the belays that have been placed at this arch be removed and that measures are taken to keep people from jumping and yelping from this sacred place as others of us are there only to seek solace, and spiritual guidance through meditation of seering red rock burning stone that meets with dazzling brilliant blue sky which purifies the soul?"
In New Moab, that's a very good question.
JS