In the far north of Australia, Kakadu National Park sprawls across almost 8,000 square miles. The wildlife habitat is stunning. The park descends from a high stone plateau to forest woodland. There are monsoon rainforests and flood plains marked by thousands of billabongs, and mangrove-fringed estuaries. The park stops at the coastal beaches of the Arafura Sea.
Jeffrey Lee resides in a small corner of this great park. He is a 36 years old Aboriginal, and the sole member of the Djok clan. He is also the senior custodian of the Koongara uranium deposit, a piece of land surrounded by the park but not a part of it. The French company Arvena wants to mine 14,000 tons of uranium and claims the deposit is worth $5 billion.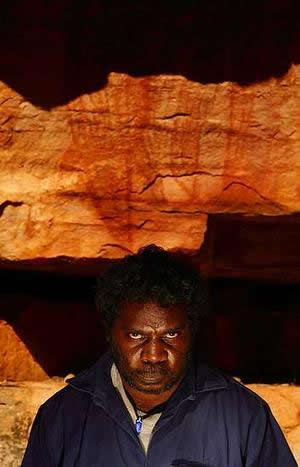 But years ago, then Australian prime minister John Howard announced that no new mine would be approved in the Northern Territory without the consent of the traditional owners.
And so, Jeffrey Lee, who stands to become wealthy beyond his comprehension simply said "no."
The Sydney Morning Herald asked him why. Here, in part, is what he said:
"This is my country. Look, it's beautiful and I fear somebody will disturb it. There are sacred sites, there are burial sites and there are other special places out there which are my responsibility to look after. I'm not interested in white people offering me this or that …… it doesn't mean a thing….I'm not interested in money. I've got a job; I can buy tucker; I can go fishing and hunting. That's all that matters to me.
"There's been a lot of pressure on me, and for a very long time I didn't want to talk or think about Koongarra. But now I want to talk about what I have decided to do because I fear for my country. I was taken all through here on the shoulder of my grandmother …… I heard all the stories and learnt everything about this land, and I want to pass it all on to my kids."
Mr. Lee took the SMH reporter to a rocky jut of land that oversees the Koongarra deposits. It is a sacred place. He believes a blue-tongued lizard still lives here and cannot be disturbed. Rock paintings, hundreds of thousands of years old, memorialize the blue reptile. Lee calls it a djang—a place of "spiritual essence." Jeffrey Lee has closed the place to the 230,000 tourists who visit Kakadu annually.
"My father and grandfather said they would agree to opening the land to mining, but I have learnt as I have grown up that there's poison in the ground. My father and grandfather were offered cars, houses and many other things, but nobody told them about uranium and what it can do.
"It's my belief that if you disturb that land bad things will happen …I can't allow people to go around disturbing everything."
Because of Jeffrey Lee, the Koongarra deposit has its best chance yet of being incorporated into the park. And he can keep hunting and fishing and being the wealthy man that he truly is.
2012 UPDATE:
JEFFREY LEE AM: HONOURED ON AUSTRALIA DAY 26 JANUARY 2012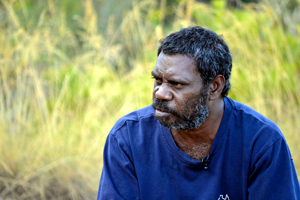 Kakadu traditional owner, Jeffrey Lee, has been honoured in today's Australia Day awards as a Member of the Order of Australia. The prestigious award recognises his services to conservation, and particularly his advocacy to secure the inclusion of his ancestral lands of Koongarra in the Kakadu World Heritage Area.
Koongarra's stunning woodlands and rock art sites lie in the shadow of Nourlangie Rock, one of Kakadu's most popular visitor destinations. It was excluded from Kakadu National Park's original boundaries in 1979 because of its potential uranium resources.
Last year Jeffrey, the senior traditional owner of the Djok clan, flew to Paris to make a personal – and successful plea – to the UNESCO World Heritage Committee to declare Koongarra as part of the Kakadu World Heritage Area.
http://kakadu.com.au/
And finally, this link from February 6, 2013–ABC News Australia:
A long battle won: Koongarra added to Kakadu