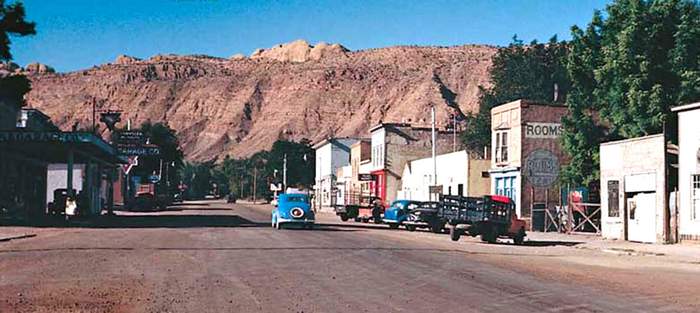 SERIOUSLY…WE NEED YOUR SUPPORT RIGHT NOW.
Last week The Zephyr completed its 27th year of continuous publication. The changes that have occurred—to our publication, the town of Moab, Utah, and to the world—since 1989, are almost unfathomable.  Our planet and our lives bear little resemblance to the place we once knew.  As for my beloved Moab, I can only paraphrase Ed Abbey…
"No…but I can tell you where it was."
But The Zephyr stays involved and continues to report the changes. Our 15,000 word investigative report, "What's Past Is Prologue," about Moab's recent political controversy, has generated intense interest. We thought it was important to pursue this story when no one else in the Utah media would touch it.
And more than any other publication in southeast Utah, we continue to chronicle the history of the places and people who once made the Colorado Plateau such an interesting place to live. I am slowly working through thousands of new images, taken in the 1940s, 50s and 60s, by Herb Ringer, Edna Fridley, and Charles Kreischer. The collections are priceless and we hope you feel the same. Our plan is to share them with you. And after 30 years in the canyon country, my collection of images is slowly being archived as well.
But with the exception of a handful of longtime advertisers, we now survive on the financial support of our individual readers. As ads dwindle, we must ask our readers to step up and help. Every component of The Zephyr web site is free to everyone and, as long as we stay alive, it always will be. But we can't keep going without you. If just a small percentage of our readers join the Backbone, we can keep those proverbial beans on the table.
So please, if you think The Zephyr still has value and still makes a difference–if only a tiny one—consider supporting our little publication. We're not quite ready to disappear. Not quite.
Thanks,
Jim & Tonya Stiles
Here's how you can keep us going…
WHEN YOU JOIN THE BACKBONE or RENEW YOUR MEMBERSHIP,
you'll receive a complimentary signed copy of BRAVE NEW WEST
by Jim Stiles or a DVD of the documentary film, "Brave New West,"
from High Plains Films. (Let us know which you prefer)
And if you send us a good head & shoulders photo of yourself, Stiles will cartoon you for the Backbone and send the original to you with the book.
One year Backbone membership: $100
Three years: $275 
(NOTE: You can also support The Zephyr with smaller contributions…follow the link below) 
You can use your credit card through PayPal at our web site:
Or we still take checks:
PO Box 271, Monticello, UT 84535
Thanks…
And find us on: