Study on vast area of rubbish in north Pacific ocean finds it is beginning to impact on ecosystem
AN EXCERPT:
Marine insects in the Pacific Ocean are changing their reproduction habitats in response to environmental changes from the accumulating amount of rubbish in the north Pacific subtropical gyre, also known as the great Pacific garbage patch, according to researchers.
The patch has increased in size 100 times since the 1970s, including its swath of microplastic particles of less than 5mm diameter. The marine insect Halobates sericeus, a species of water skater, is now using the microplastic debris as a surface to lay its eggs, said a study by the Scripps Institution of Oceanography at University of California San Diego, published on Wednesday in the Royal Society journal Biology Letters.
TO READ THE ARTICLE, CLICK THE PIC…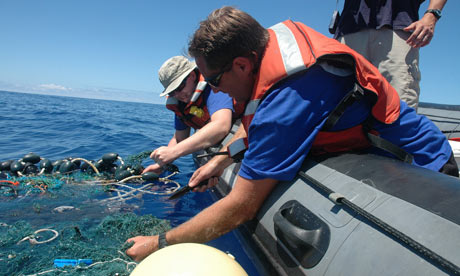 TO READ ALL ZBLOG POSTS, CLICK 'THE ZEPHYR' AT THE TOP OF THE PAGE
http://www.guardian.co.uk/environment/2012/may/09/pacific-garbage-patch-insect-habits