Zephyr Extra:
NOTE: This is a followup to a story that appeared in the Aug/Sept issue of The Zephyr. Read that story here. 
On August 4, Grand County Councilwoman Mary McGann proposed to change the name of Negro Bill Canyon near Moab via a letter from the council to the U.S. Geographic Bureau on Names. The council rejected the motion on a close 4 to 3 vote.The debate appeared to be over, but McGann and other supporters of the name change say the issue is not dead—they'll bring it back, again and again, until every last sign of "Negro Bill" has been removed.
While Grand County has had more than its share of polarizing political fights over the years, none has been as personal or as vitriolic as this one. Though most participants in the Negro Bill controversy, from either side, have kept their opinions civil and fact-based, attempts to wage a candid but respectful discussion have often been sidetracked by the "bombast and invective" hurled from both sides of the political spectrum.
On the one hand, there still exists a relative handful of closet racists out there who have felt re-energized by the debate. They cling, wrongly, to the idea that those who support the name "Negro Bill" in its historical context are, in fact, as dyed-in-the-wool bigots as they are. It's been liberating for these misguided few and they've been emboldened to start writing the 'N-word" itself, especially on social media—as if finally, the people are moving to their side. They'll find no allies here.
But another vocal minority has come forward, also via social media, with a unique wrong-headed intolerance of their own. I refer to those who think that just supporting the name, "Negro Bill"  in its historical context, is a blatant act of racism and bigotry. They cannot differentiate between using the word "Negro" in day-to-day language and limiting its use to historical names and places. The accusations were outrageous at times and were usually the work of internet trolls, who seem to take delight in generating disharmony and anger. One of the more loathsome commenters ranted, "This issue really brings the Klan element out of the closet," suggesting that anyone who supported keeping the name was likely to be found wearing white pointy sheets after
midnight
. It was its own form of shameless intolerance, with an ironic twist.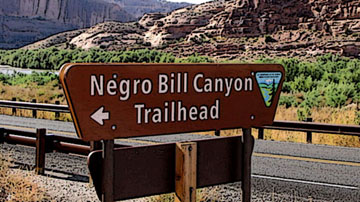 The heart of this argument is not whether the word "negro" should be used in daily conversation to describe African-Americans. Nobody is remotely suggesting that.  The question is, or should be, is it proper to use the term, Negro,' in its historical context?  For example my wife and I visited the "Negro Leagues Baseball Museum" in Kansas City last month. It was created in 1990 by a black man named Horace Peterson. He founded the 'Black Archives of Mid-America' to document the history of African-Americans in the Mid-West. Starting a new organization, he used the term 'black.'  Of course. But when they subsequently started the museum and moved to its permanent location in 1997, they retained the "Negro Leagues" name because that's what it was called when it functioned as a viable business for 50 years.
And here's the real irony. What makes this debate so unique, of course, is the fact that the push to change
the name comes predominantly from middle class white people. Among the most ardent defenders of the word "Negro" in its historical context is Jeanetta Williams, President of the Salt Lake City Chapter of the NAACP. For several years, she has repeatedly expressed her support for leaving the canyon's name as it is. She told the Associated Press, "We don't want to lose the history."
On July 21, Williams posted on her facebook page, "Renaming Negro Bill Canyon is back in the news using excuses to change the name. The NAACP wants to leave the name as it is to preserve history. Julian Bond, NAACP National Attorneys, Dr. Ronald Coleman, U of U History Professor and others support our efforts on keeping the name as it is. The Grand County Council will meet…to further discuss this issue. The (UNCF) United Negro College Fund remains that and has no intentions of changing their name."
Williams asked her followers, "Anyone wishing to show support of the NAACP in retaining the name "Negro Bill Canyon" can email today to: council@grandcountyutah.net or call their council administrator at (435) 259-1347 immediately. Thank you in advance."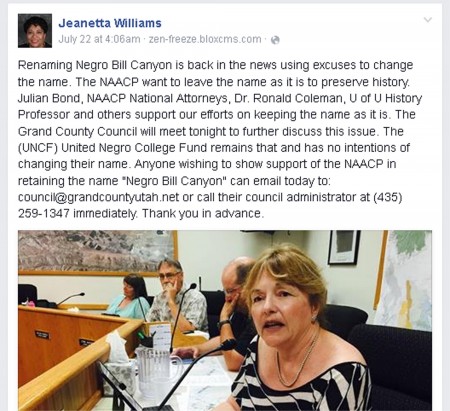 You'd think it would be difficult to reject her opinion. No one has stronger civil rights credentials in the Rocky Mountain West than Jeanetta Williams. She has given her life to activism and to civil rights issues and has been recognized time and again for her efforts.
Jeanetta Williams was elected to the national board of directors of the NAACP and served there for six years. In 2000, she was instrumental in changing the name of Utah's 'Human Rights Day' to 'Dr. Martin Luther King Jr. Day.' In 1997,Williams received the Utah Women's Achievement Award from the Governor's Commission for Women and Families. In 2001, the University of Utah named her one of the state's 25 outstanding women activists. She was the 2006 NAACP/SLC recipient of the Rosa Parks Award and she was the first recipient of the YWCA Racial Justice Award.With that kind of history and a lifetime devoted to matters of racial inequality. It would almost seem impossible to challenge her knowledge and commitment. But that's precisely what Grand County Councilwoman Mary McGann did, and then some.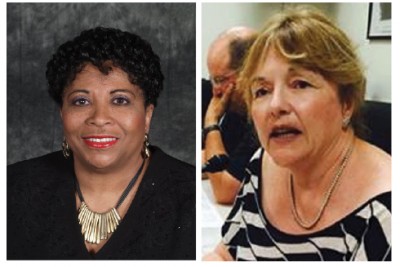 At the August 4 council meeting, McGann rose to address her fellow members and explained her reasons for seeking the name change. She said, "I believe it should be changed because, one, it is offensive and a symbol of oppression for many people. Two, I believe the name Grandstaff Canyon would be a more historically correct name. And three, the present name tarnishes Grand County's image." And she added, "To begin with, the word Negro is offensive and is a symbol of oppression for a large number of people."
Then she advised the council of her conversation with Jeanetta Williams. Here is a verbatim account of her comments re: Ms. Williams:
"Jeanetta Williams is the president of the Tri-State NAACP (and) says the name "Negro" is not offensive. That is her opinion. Not a fact. Because others have the opinion that it is offensive and a symbol of oppression. I spoke to Jeanetta Williams. The conversation started by me thanking her for taking the time to speak with me. Then we began our discussion on the word Negro Bill, er, Negro. She stated her position was that it was not offensive. I said I realized it wasn't offensive to her, but wasn't it offensive to some? She said no. I asked her, if it wasn't offensive, why did the US Army apologize for using it and removed it from all their written material?
"Rather than answering my question, she attacked me. 'Don't you have better things to do? Aren't there bigger problems in Moab, like affordable housing?' (she asked).  I told her I was an award winning teacher and I knew how to multi-task. And I drew the conversation to a respectful end. I believe she attacked me because she could not answer my question."
Mary McGann had expressed her own opinion ("not a fact.")
Dissatisfied that the Salt Lake City Chapter president of the NAACP disagreed with her motion, McGann attempted to find support at the national level. McGann told the council, "They (NAACP/DC) said they were very sorry Ms. Williams would not support me, but it was their policy not to interfere with the various branches of the NAACP."
Having failed to persuade the NAACP/SLC branch to support her and after failing to convince the national office to repudiate the opinion of one of their own chapter presidents, McGann still thought she had a chance to win the council vote, despite opposition from Utah's most prominent Black leader.
In a series of email exchanges with The Zephyr on August 6 and 8, McGann wrote, "I was out and about when I got the return phone call (from NAACP/DC) at that time Elizabeth Tubbs had called me and said she was voting in favor of the change so when they the DC NAACP called back and said they were sorry I wasn't concerned because I thought I had the votes and didn't pursue beyond a three minute phone call."
If I'm understanding her comment correctly, McGann "wasn't concerned" if the national office of the NAACP supported the name change or not, as long as she thought she had the votes to pass the name change motion—in that case, the NAACP's support on any level didn't matter.
Later, McGann also showed second thoughts on her interpretation of the NAACP/DC call. During her presentation to the council, she implied that the national office was behind her ("They said they were very sorry Ms. Williams would not support me.") But on August 6 she wrote to The Zephyr, "The exact words were, 'We are very sorry, but Jeanetta Williams is the spokes person for your area.'  Did they mean  they were simply sorry because I wasn't supported or were they sorry because they supported my position?"
Or were they just being polite?
I asked McGann for the name of the person she spoke to so I could clarify the matter, but she replied, "I didn't write down numbers or names."
On August 8, in another email exchange, McGann had second thoughts about her second thoughts. She wrote, "The manner she (the women from the national NAACP) said, 'We are very sorry…' left me feeling as though they or she at least agreed with me… If I hadn't been confident in my vote I would have pressed her further.  Because of the manner in which it was said, I do not feel the need to clarify my statement.  Sense (sic) it was a non-recorded phone call it comes down to just my word."
And McGann added, "I did not ask the women I spoke to what her position was or was she speaking for the NAACP or just herself.  Initially I wasn't planning to mention the phone call.  I decided to after Ms. Tubbs told me the day before the vote she'd changed her mind."
While McGann may find some ambiguity in the NAACP/DC's phone call, there is nothing ambiguous about McGann's opinion of Jeanetta Williams. I asked Councilwoman McGann if she felt Williams' comments about affordable housing constituted the 'personal attack' she referred to in her presentation.
McGann wrote, "The comment on affordable housing was not what constituted a personal attack, it was the manner in which she spoke to me. It was aggressive, condescending and rude.  Plus she never answered my question, which was, 'If it is not offensive to some why did the US Army apologize, in November of 2014, for using the term Negro and have it removed from all their written materials?'"

McGann's reference to the US Army is about outdated language used in contemporary literature, and not about historical language used in a historical context. It shouldn't have a bearing on this argument. And that finally is what I sought from Councilwoman McGann. I asked, "Do you think there is a difference between actually calling someone a Negro in 2015 and allowing a place name to stay the same because of its historical context? If you don't think there's a difference, can you tell me why?
Here was her written reply:
"I started questioning the appropriateness of the name over ten years ago when a young third greater (sic) of African American descent told me the name made her sad because when they passed it on the school bus some of the boys would say, 'There's your canyon Negro.' Then they would laugh.  The name in its present form is offensive to some not all but enough to make the change. The name lost its historical content when Lady Bird Johnson had it changed from Nigger Bill to Negro Bill."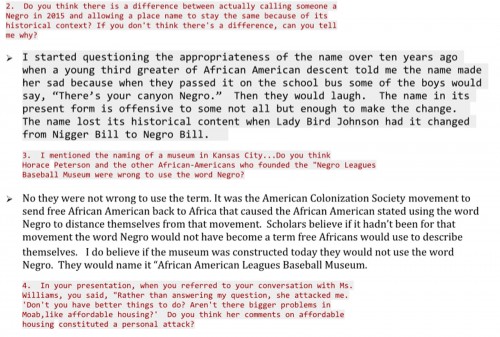 In the end, McGann and her supporters insist there is no difference between calling someone a "Negro" in 2015 and referring to a canyon called "Negro Bill," in memory of Moab's earliest black resident, despite opposition from even the NAACP. County elections are next year and with four seats up for grabs, McGann hopes to prevail sooner or later.
But for what it's worth, I pass along these few lines from an article I read recently by Greta Christina from The Humanist. She observed:
'If we care about racism…there's something we need to do. It's enormously important. If any other action we take is going to be useful, we need to take this one. And sometimes, it can be really freaking difficult. We need to shut up and listen…And listening means not talking. It doesn't mean jumping in with arguments about topics we know little about. It doesn't mean waiting patiently until the other person has stopped talking, so we can say whatever we were going to say anyway.'


Listening…Something to consider, at least.
Jim Stiles is Founder and Co-Publisher of the Canyon Country Zephyr.