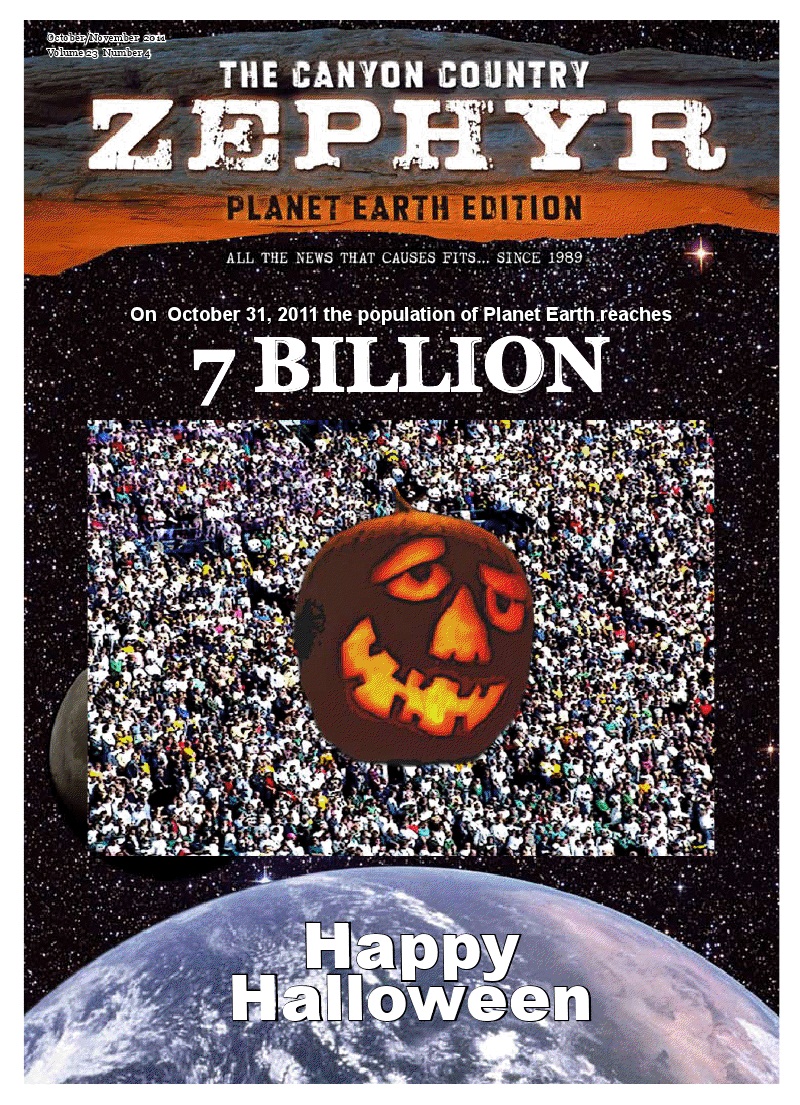 TAKE IT OR LEAVE IT: UTAH WILDERNESS DEBATE…part 1
"Does Anybody Still Care?"
–By Jim Stiles
The Utah Wilderness Debate reminds me of the Vietnam War. For those of us who lived through that strange time, it was one of those stories that was always there. Every day for 20 years. We grew up with Vietnam, it was always in the headlines, we participated in it on one level or another—either for or against—and for many of us, it seemed as if the story and the war would go on forever.

SOWING CLOVER
–By Tonya Stiles
But, on our wedding day, we won't be two citizens of the world. We will be citizens of our family, of a small community of people we love, and of a tradition which has somehow endured despite all the forces which would render it irrelevant. Like sowing clover, as wars rage and greed consumes around us, we have to place our faith where life flourishes regardless of economies and nations.
This is what stymies despair.

THE DOG OF THE MONTH!!!   MAGOO…
Yes that's a true story about the little autistic girl who said DOG when we put him in her lap, and her Mother cried! He was very popular because of his size and the fact that he didn't shed.
ON THE CONSISTENCY OF BULLSHIT…an ever-swirling tale
–By Scott Thompson
My concern is that dousing people's brains in ever-swirling bullshit about a massive danger to the stability of the planet's climate cannot be good for their mental health.

"IT'S THE AESTHETICS, STUPID"  
–By Jim Stiles
...while mainstream Greens worry about the aesthetics of ATV abuse and oil and gas impacts, they support an "amenities/recreation" economy and an "outdoor industry" that, by definition, requires the massive consumption of natural resources.
THE WILDERNESS QUANDARY or Does "Pretty" Make Wilderness?
–By Lynn Jackson, BLM retired
*  Quit focusing on the manipulation of public opinion and stick with facts and legal definitions.
*  Quit trying to demand that all "pretty" places should be designated  wilderness.

GAINING PERSPECTIVE: Volume 7
TWO YEARS in the KINGDOM of MOROCCO
–By CHARLIE KOLB
Ramadan, the month of fasting in the Islamic faith, is one of the strangest things I have yet encountered in my time here. No other event throughout the year so thoroughly affects my life, and the lives of those around me. Ramadan turns our world upside down.

LOSING SOLITUDE: THE STATE OF NATURE…part 2
–By Martin Murie
Time passed and high tech arrived on a fast track, along with drastic trimming of staff and more grandiose visitor centers where people could buy books and gather around a diorama to listen to a ranger spill words or watch a video

THE WILLOWS of JARA CREEK…following ghosts along the Old Spanish Trail       
–By Loch Wade
I walked there because I followed the ghostly path of the Old Spanish Trail. I walked there alone, save for the not always pleasant company of two llamas, named Jasper and Chalcy. These creatures had been impressed, with a steadily growing resentment, into carrying my gear and supplies for a month-long excursion along the historic path.

HERB RINGER'S American West:  Salt Lake City in the 1950s

THE BULLETIN BOARD of DOOM:
Thousands of younger pines and cedars will be cut down this fall to restore many of the park's original scenic vistas that in previous decades were managed by natural and controlled fires.
DAY of SEVEN BILLION
–By Kathleene Parker
If there is anything spookier than the Halloween date, it is that Big Media and big economic forces, by early summer, were already busy telling us that (1.) population growth is nothing to worry about, (2.) the real problem is a lack of babies, the absurdity—on a planet gaining 78 million people a year—of the "birth dearth"; and the absurdity (3.) that population will somehow magically stabilize mid-to-late century.
MY PERSONAL HISTORY #1: Life & Times in SE Utah    
–By Verona Stocks
My formative years were spent under circumstances not much different from those of my Grandparents.  Southeast Utah and the western slope of the Colorado was untouched by the whole ninetheenth centuary, because the treaty with the Indians was not signed until 1877.

CLINGING HOPELESSLY to the MAPS: Shell Hwy Map, 1934
THE WILDER WEST: The Art & Wit of Dave Wilder
POINT BLANK: THE HOUSE ON ALMOND AVENUE…
You can never go home again…
–By Greg Gnesios
We pulled up to the Almond Avenue residence last month to find it boarded up and empty.  The garden was dry and neglected. A notice on the window warned us to stay away.

INSTANT MOAB!   The Polaroid Wizardry of Terry Knouff