Gauge:
The Champaign Dog from the Land of Lincoln
Submitted by Lisa Braddock
Gauge was rescued from an animal control facility that would not allow him to be adopted even though he showed no signs of aggression or any other problem.  Simply because he is a Bully Breed–an American Bulldog–he was scheduled
to be euthanized. Luckily, a shelter worker knew he was super-friendly, and committed to helping the 85 pounds of sweetness and smiles. 6 months after joining our pack, he required surgery to correct a problem with his back legs. Recovery was slow, but his pack mates kept him company. He did great and loved the water therapy.
Today, watching this happy boy zoom around the farm with the other dogs, one would never know he'd seen any dark days.
His favorite things are sleeping in the sun, eating, going for walks, making friends, playing with this pack-mates and a good game of stick following by an 8 minute zoomie attack!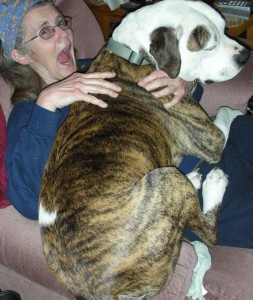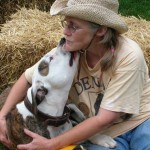 Lisa Braddock
Rural Champaign County, Illinois
DOES YOUR DOG…OR CAT…OR TURTLE
OR HAMSTER…OR…HAVE WHAT IT TAKES
TO BE:
'DOG OF THE MONTH?'
Send us your pictures and your stories
to: cczephyr@gmail.com
To read the PDF version of this article, click HERE
Don't forget the Zephyr Ads! All links are hot!