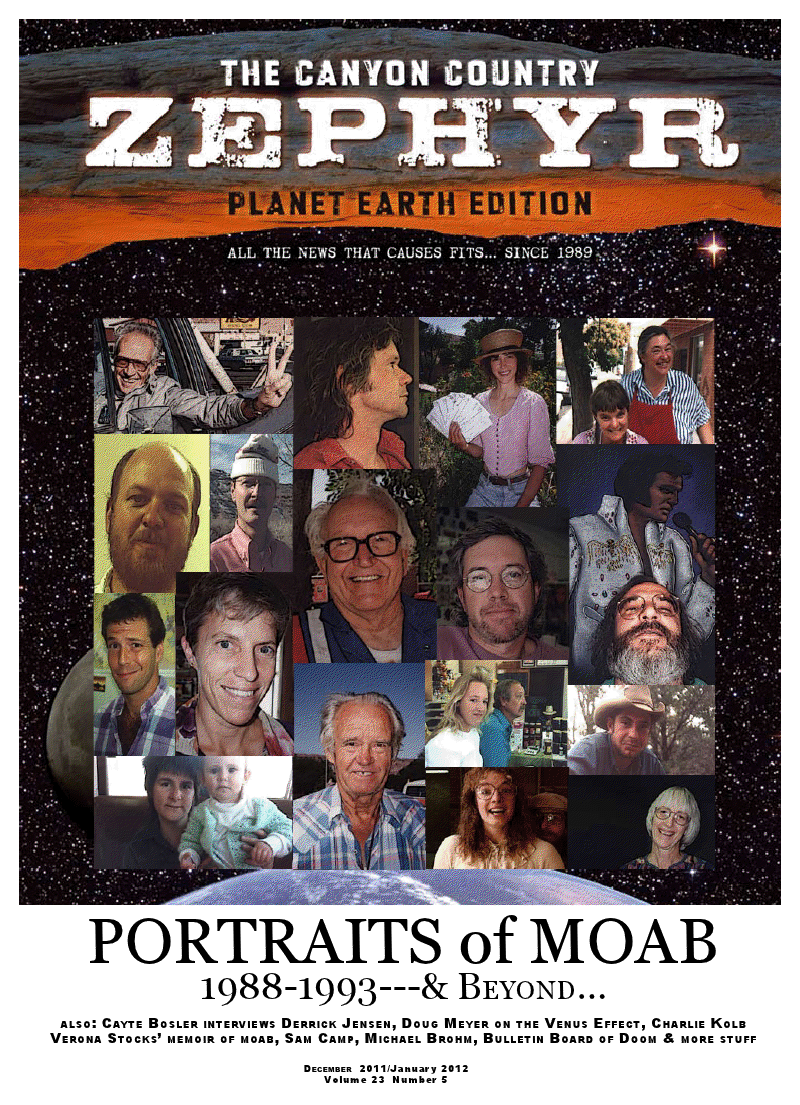 2/3…TAKE IT OR LEAVE IT….By Jim Stiles
THE 'OCCUPY MOVEMENT': 
* Just WHO is Occupying WHOM?  ("I'm shocked! I'm shocked!"
* The 99% at War with Itself
* Occupying Wall Street vs Occupying Wal-Mart—the root of the problem
MY WORST…AND BEST CHRISTMAS…THE POPULATION CRISIS & THE TWO-EDGED SOLUTIONS
4/5…SOWING CLOVER…Tonya Stiles
6/7……THE DOG OF THE MONTH!!!   GAUGE…
The Champaign Canine from the Land of Lincoln
8/9…..An Interview with Derrick Jensen
By Cayte Bosler
Twenty books later, I still can't completely believe that this culture is as insane and destructive as it clearly is. I don't understand why people can't see this or think it's okay to kill the planet.
10/11…Homo sapiens: Been There, Done That, Going Somewhere Else …Scott Thompson
The terrible aspect of humanity getting the pink slip is that almost none of the many-millions-to-billions of people in future generations who are likely to die will bear any responsibility for having caused the holocaust
12/13…BONFIRE of the VANITIES (quotations from 'The Inferno')..By Doug Meyer
Do you see how screwed we are? In any scenario without geo-engineering, from full-on burning of fossil fuels, to total global economic collapse, climate forcing can only increase!
14/15…THE CALM BEFORE THE SWARM #1…Moab Utah in the late 1980s
Jim Stiles
In the summer of 1987, the economy of Moab and Grand County hit rock bottom. A few years earlier, as uranium prices plummeted, the Atlas Vanadium Processing Mill north of town closed its doors for good. The mill, which had at one time provided hundreds of jobs now lay silent. It seemed as if the mainstay of Grand County's economy had vanished overnight and Moab was ghost town bound.
16/17…….. PORTRAITS OF MOAB (1988-1993)  photographs by Jim Stiles
20/21…MY PERSONAL HISTORY: Life & Times in Southeast Utah
Verona Stocks
Dad chewed tobacco and we had some goats.  When Dad and Mother went after water and left Mary and me alone, Mary would get out a plug of tobacco and give each goat a chew, they liked it.  She finally figured if the goats could chew tobacco and not spit she could too.  She tried it, soon she turned green…
24/25…GAINING PERSPECTIVE…volume 8  "HOLIDAZE"
TWO YEARS in the KINGDOM of MOROCCO…..CHARLIE KOLB
Many years, many memories, and, though this is may give away just how young I am, never before have I spent a Christmas away from my family and home in the Rockies.
26/27…THE BULLETIN BOARD of DOOM…including:
The wind farm industry has been forced to admit that the environmental benefit of wind power in reducing carbon emissions is only half as big as it had previously claimed.
28/29…CEDAR HILLS DAYS…Sam Camp
When I look over at that roomy, wrap around porch, I remember sitting out there on warm summer nights, drink in hand, watching those great storms move in with ground shaking thunder amongst a chorus of crickets and cicadas.
30/31… PORTRAITS FROM PERM…
Photographer Michael Brohm travels to Russia again
34/35…PORTRAIT of a CANYON COUNTRY NIGHT SKY…Dan Norris
36/37…THE VIEW FROM ABOVE: Aerial images of the Natural & the Un-Natural
38/39…THE WILDER WEST: The Art & Wit of Dave Wilder INCLUDING:
Occupy Christmas
'Twas some months before Christmas when all through the Land/People took to the streets with signs in their hands.
They were fed up and poor, with good reason to holler/For their Republic was stained by the rule of the Dollar.
40/41…  THE ZEPHYR GETS MARRIED!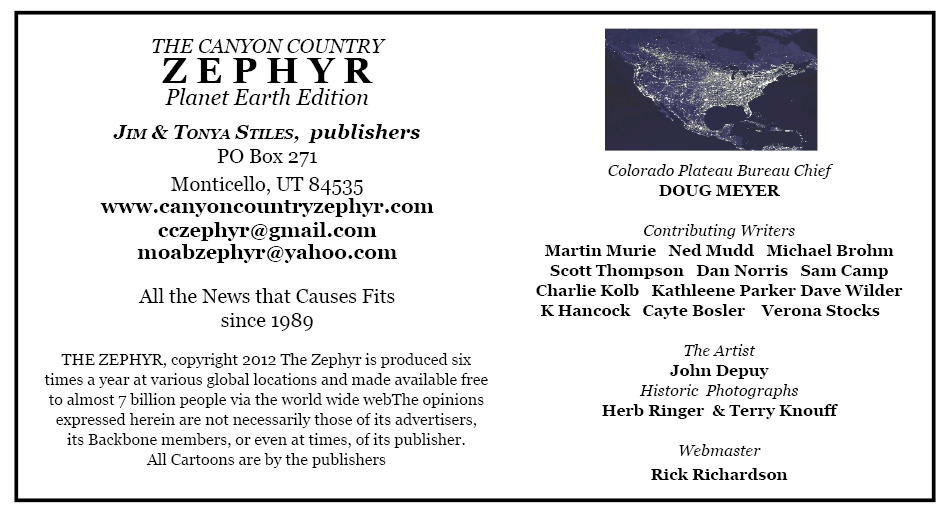 To see the PDF version of this page, click HERE