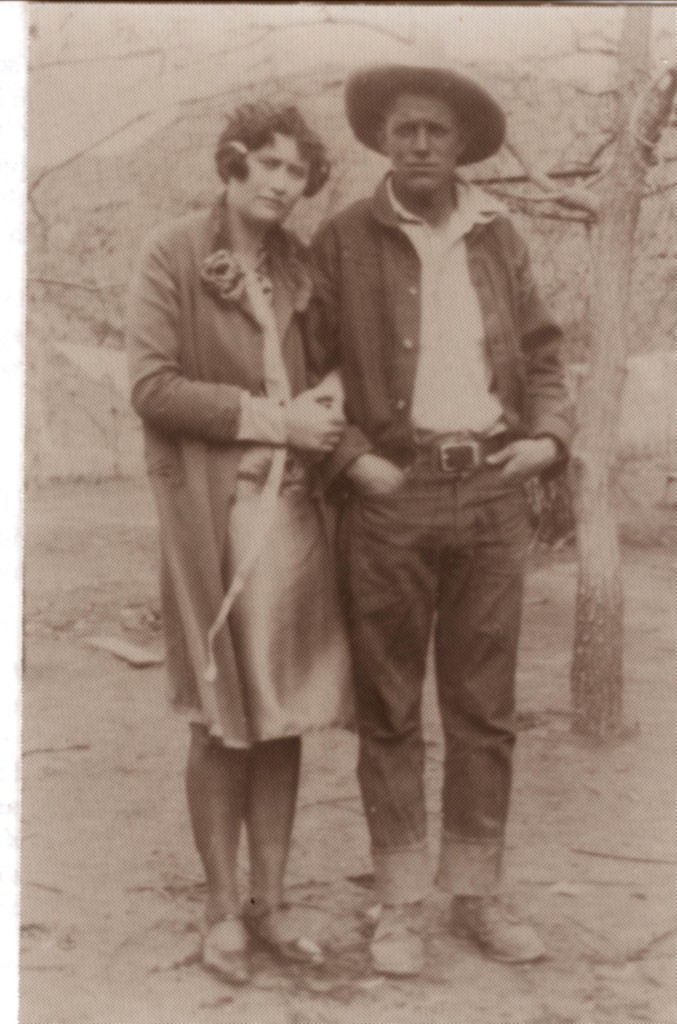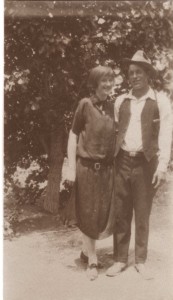 Mary was married July 3, 1924.  Jack was working for Beeson's at that time, they had practically adopted him anyway.  July 24, 1924 Jack and Mary took me to Castleton for the 24th Celebration.  They had a little Model T Ford, they called it the Bug, it had no fenders and no top.  Went the long way around, to Thompson, Cisco, back to the Dewey bridge and down the road to Castleton.  The river road was impassable because of high water.  The roads were not paved, they were very sandy.  Imagine what we looked like when we reached Castleton.  Anyway we had fun.
I started packing fruit for Lances in mid-August.  Mary and Jack went to the mountain to have a honeymoon.  Mary got very sick, she had typhoid fever.  Dad and Mother had to go up there to take care of her, they left Annie, Neva, Margaret, Felix and Felicia on the ranch for me to look after.  That was alright with me I had taken care of them all through the winter of 23 and 24.  Then someone brought Nick to me, he was 5 years old.  I was working almost every day for Lances but some days I got home early and packed fruit for Murphys.  Then some days when Lances had just sent a load out Petersons were a little slow and I packed fruit for them.
How I ever found time to make school dresses for the girls I do not know, but I did make them plus I cooked for us all and milked one cow.  Felix and Nick carried in the wood and the drinking water.  Nick took care of the chickens and Felix fed the pigs.  The girls helped with the housework.
One Sunday we had an order to get out in a hurry and Tom and Otho had not picked enough apples to fill the order, I was packing the fruit in boxes so I sent the kids to pick more apples.  I heard a commotion in the orchard and went to see what the trouble was.  It was Uncle Heber's step son throwing apples at the kids.  I told him to stop, he said "make me" he was 15 and he was a head taller than I was.  I caught him and twisted his arm behind his back.  He said he would leave the kids alone so I turned him loose.  He started throwing apples again I chased him to the Mulberry trees before I caught him.  I twisted his arm behind his back, Felix came up with a rope and we tied that boy up good and solid.  We left him there for about two hours before Uncle Felix said we better turn him loose.  He never bothered me again, or any of the kids when I was around.
About the time school started Jack brought Josephine off the mountain for me to take care of.  I was quite sure I had my hands full with the other kids.  She was 3 1/2 years old and I had a job and was planning on going to school as soon as the fruit season was over.  Nick would be six in October so I sent him to school with the other kids.  Felix was glad of that, he resented walking to school with a crowd of girls.  Now him and Nick was together like he thought they should be.  Felix and Felicia were eight.  I had to take Josephine to work with me but she did not cause me any trouble until the kids came home then she whined after Neva until finally I spanked her.  I think it was the only spanking she ever got from anyone.  She was really a very good little girl.  Uncle Felix and Grandma looked after her some of the time.  Uncle Felix did get a big bang out of Nick and Josephine they were both so witty.
I did pack fruit for Petersons too when they had a big order to get out in a hurry.  The fruit was packed in boxes then put in trucks to haul to Thompson to load on a train to be hauled to towns where fruit could not be raised.
I liked working in the fruit and the pay was good.  Dad did not have a job and it was time to start the kids to school.  Mary was on the mountain a very sick young woman, Dad and Mother had to stay with her and she could not be moved.
I had to start my sisters and brothers to school, and I used almost all the money I had to buy clothes for them.  Four girls and two boys.  I could make the girls dresses.  Then I had to buy my school clothes also.  The money I had did not go far enough.  The fruit season was over.  They were able to bring Mary off the mountain and Aunt Pearl came to Moab Friday.  There was a dance at Sego, she wanted me to go for the dance.  I did go.  Mother and Dad were home to tend the kids, and I did not come right back.  A lady in Sego was very sick so I stayed there two weeks to help the family.  They paid me good, I needed the money and they needed my help so I had enough to buy some school clothes for me.
When I returned home there really was no place for me, Mary and Jack had my room.  Aunt Pearl said we could live in her house again that winter.  Dad moved us right quick because Mary could not even walk yet.  Mother had Mary, Josephine and Ray there on the ranch to take care of.  Dad and Mother had ten kids, that left seven of us in town.  My second winter of sending kids to school.  Why it was no trouble for me I do not know but we did get along fine.  I thought if I was going to finish High School I should do my best to get good grades.
I was in school plays I did musicals, and readings for everything my English and speech teacher could think up to have me do.  I had made her mad almost the first week I was in school.  All I had done was read a poem with no expression, almost a monotone.  I learned a good lesson, don't make the person in charge mad, not if, as in my place, she could fail you, as she promised to do to me and I needed that grade to graduate.  I liked good grades, so I worked to get them even if I had six kids to take care of and to see that whey were kept clean and did their best in school.
I played at most of the church dances, I knew oldtime dances such as "Coming Through the Rye," Var Souvran, Quadrill, Virginia Reel, Danish Slideoff, etc.  I  liked history so I liked Church.
Dad and Mother had two young ones on the ranch and Mary who was very sick.  I did not have andy problems with the kids, except when Dad was a little late bringing us groceries and wood.  I washed and ironed, cleaned house and baked bread on Saturday.  The kids would go to the ranch to be with Dad and Mother on the weekends.  That did give me a break.
Annie is not quite two years younger than I am yet I did not have any trouble with her.  I look back on those days ad wonder how nice those kids were, no quarrels or fights.  I did keep them busy and they never complained about their chores.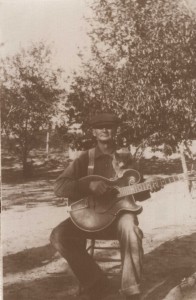 I was a senior at Grand County High School when I met Robert Muir.  It was the middle of April 1925.  The way that happened was unusual to me then and thinking back I still think so.
I took my younger sisters and brothers to a movie one evening, they all liked the cartoons.  Quite a crowd I must admit, all seven of us there.  It was silent movies then and you had to read what was going on.  Some of the kids went to sleep.  By the time I got them awake, except Nick, he was only six, and all their coats on the movie house was empty except for a small crowd of people just standing and watching me get the kids ready for the short walk to Aunt Pearl's home which we had rented.  I knew some of those people and one of the women spoke to me she said, "wait a bit."  I shook my head no and picked Nick up and we all walked out.  It was rather embarrassing.
The kids went to the ranch Friday after school and I went to a party.  Uncle Felix and I played for the dancing.  I got home about 3am and that lady woke me at 8am.  We never locked the door.  She said someone wanted to meet me and she was so persistent I finally dressed and went to meet this man.  Robert Muir.
She introduced us.  I asked what the big rush was?  He laughed and said he wanted a date for the dance Friday night.  He was well dressed and had a nice car and not many people had cars then.  After we talked awhile of course I said yes.  He worked night shift in Sego so he had to leave.  He did not wait until Friday, he came on Wednesday and took me to a movie.
From the time I met Bob Muir I had a steady date, he came from Sego mid week and weekends.  The roads those days were gravel and of yet very difficult.  One time I was not expecting him and there he was.  Dad had not brought us any wood or even worse no food.  The kids were hungry and kept telling me so.  It was too cold to sit in the house without a fire so Bob soon left.  But first he gave me $10 to buy lunch for a picnic which he had just thought up.  I told him that was too much but he said he had no smaller change.  When he came back for the weekend he brought a sack of coal, and as long as we lived in Aunt Pearl's house he brought a sack of coal.  It had been a very cold winter and it was a wet cold spring.  We went on picnics most times with friends and one time alone, usually out toward Kane Springs.
When Bob asked me to marry him, I told him he would have to meet my folks.  I wanted him to see the Old Rock house which had a dirt floor and a section had broken and Dad did not have it all fixed yet.  It needed a ceiling.  Mother had chicken and hot biscuits for dinner.  We were eating when dirt started sifting in through the cracks in the boards.  That experience did not change Bob's mind, he still thought I should marry him and move to Sego so he would not have so far to drive to see me.  I would not go along with that.  I had spent too many years working towards my graduating.
Uncle Felix was going to give me the money for a dress for my graduation.  Mary and Jack were there when we were talking.  Bob wanted to buy the dress and Bob did it.  I got a very nice dress from the Junction.
I graduated May 8, 1925.  Bob was there and took me to the dance.  We had a lovely time.  He was a worldly man, he had been in nearly every state in the Union and most of Europe.  I was glad I had that diploma.  The world I knew and lived in was so small.  We did enjoy talking together, being together and as I liked history I understood so much he told me.  I listened to him and his friends talk about the First World War, they had all been in it.  They were all Irishmen and they advised me not to marry him, they said he was a hard man to get along with and he liked to travel.
We were married May 16, 1926 at Aunt Mame's home in Moab by Bishop W.D. Hammond.  At the wedding was Dad, Mother, Grandma Murphy, Aunt Mame, and Uncle Felix.  We left for Sego right after the wedding.  Bob had rented a house for us, all it needed for me to start housekeeping was the things we brought from Moab.
NEXT TIME..MARRIED LIFE…AND SHOCK.