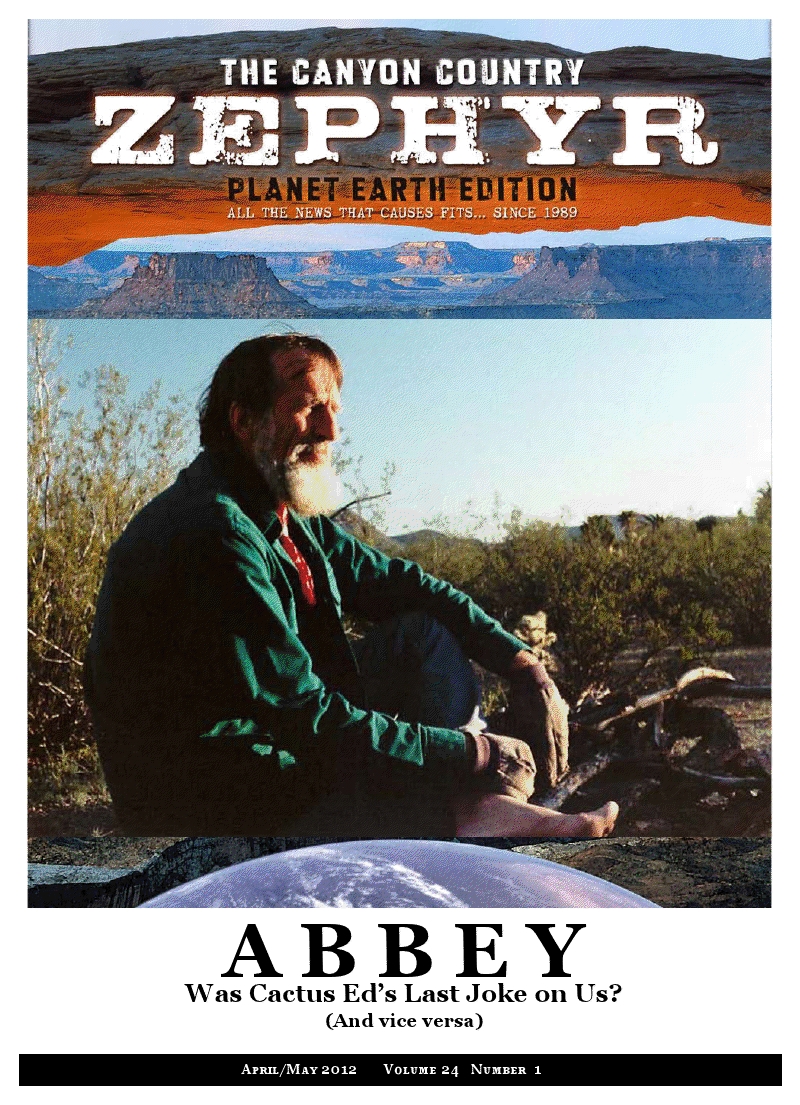 TAKE IT OR LEAVE IT.…By Jim Stiles
*  Was Cactus Ed's Last Joke On US?
SOWING CLOVER…Tonya Stiles
'WHY I HATE WESTERNS'

THE DOG OF THE MONTH!!!   FUZZY (1992-2012)
So long to my old cat…Stiles
GAINING PERSPECTIVE: Two Years in the Kingdom of Morocco–Charlie Kolb
Morocco faces the 21st Century and Western Influence

SAND CANYON BLUES: How the Hisatsinom Voted with their Feet
By Scott Thompson
HERB RINGER'S AMERICAN WEST: Glen Canyon Dam (under construction)
KEN SLEIGHT: 'Duty to Disobey' —Sean Prentiss &  Katie Phelan

GLEN CANYON DAMN…A History (and the rest of the story)

LOSING SOLITUDE:  A Tribute to Mardy (1993)…Martin Murie

REFLECTIONS on ED ABBEY AND DESERT SOLITAIRE –Lloyd Pierson, NPS retired

THE WILDER WEST: The Art & Wit of Dave Wilder
INCLUDING:  'BEYOND BELIEF'

THE BULLETIN BOARD of DOOM...

AN INTERVIEW WITH JOHN DEPUY (from 2001)
THE CALM BEFORE THE SWARM #3..Jim Stiles
"What Can we STEAL today?"
PORTRAITS OF MOAB (1988-1993) part 3… photographs by Jim Stiles
MY PERSONAL HISTORY: Life & Times in SE Utah  —Verona Stocks

THE VIEW FROM ABOVE: The 24 Hours of Moab Bike race…will it return?
WELCOME to the DIMFORMATION AGE:
Notes from the crawlspace of History     —-Ned Mudd
THE RIGHTEOUS WRATH of RANGER STILES
My first 'big bust, in words (and pictures by my prisoners)