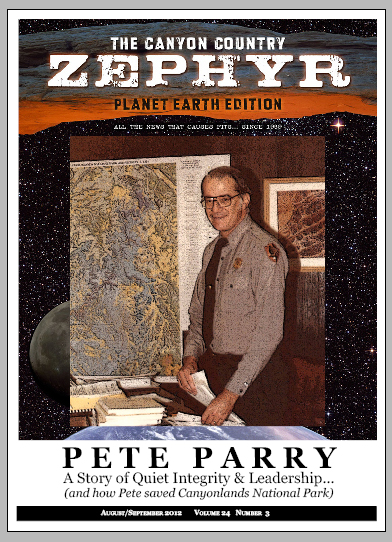 TAKE IT OR LEAVE IT…Jim Stiles
A personal note about Pete Parry–How he saved Canyonlands AND my Dogs
The History (and LOVE!!!) that Lives in my Fridge
SOWING CLOVER…Tonya Stiles
The Last Picture Show?
The Poetry of DAMON FALKE
'Among Ruins'

A REVIEW OF JAMES HANSEN'S provocative book…
"STORMS of my GRANDCHILDREN.'  
By Doug Meyer
OVERPOPULATION & LIBERAL TABOOS: In the Lands of Entitlement
…Scott Thompson
HERB RINGER'S AMERICAN WEST
Hole "N" the Rock, near Moab. 1952
LAST FLOAT DOWN GLEN CANYON : September-October 1962   #2
Journal and Photographs by EDNA FRIDLEY
LOSING SOLITUDE…Martin Murie
(from August/September 2003)
LET'S TALK
WELCOME to the DIMFORMATION AGE…
Notes from the desk of NED MUDD, reporting from the crawlspace of history
THAT WAS THEN…THIS IS…LATER
The La Sal Loop Road: 1973 & 2000
Mill Creek Drive in Moab: 1978 & 2008

UNSUNG HEROES of the CANYONLANDS #1
PETE PARRY…Pete quietly took on the DOE and a Nuclear Repository…and won.
Jim Stiles

THE BULLETIN BOARD of DOOM!
Including... "The recent disclosure of the Sierra Club's secret acceptance of $26 million in donations from people associated with a natural gas company has revived an uncomfortable debate among environmental groups about corporate donations and transparency…"
"TREAD SOFTLY, BECAUSE YOU TREAD ON OUR DREAMS."
(From the May 1989 Zephyr)   …Jim Stiles
THE 'GREEN' CIRCLE that EATS ITS OWN…Jim Stiles
What do oil companies & environmentalists have in common?
Sometimes their money comes from the same 'donor.'
VLACHOS' VIEWS…A PHOTO JOURNAL  #2
Paul Vlachos is a New Yorker who understands The West. He also understands New York. His work celebrates the differences and the similarities.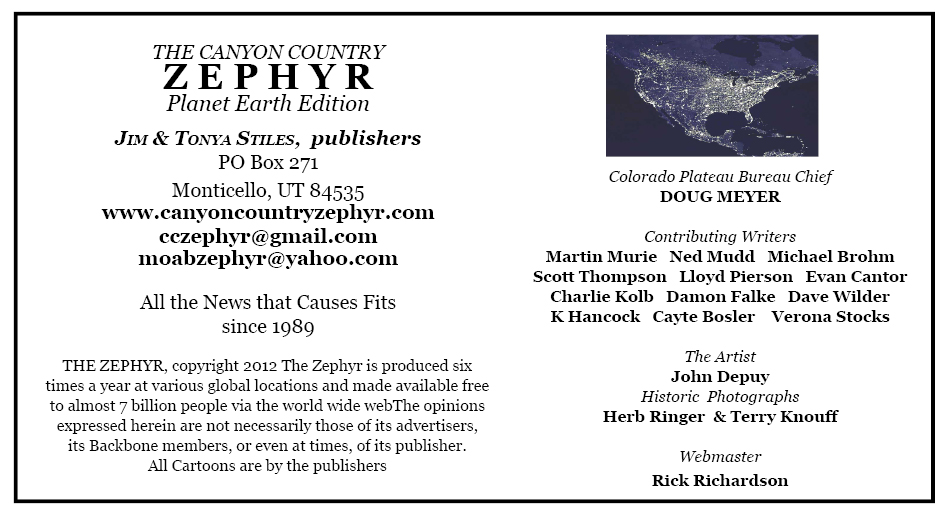 To view the PDF version of this page, click here.