Paul Vlachos is a New Yorker who understands The West. And he is a New Yorker who understands New York. Wherever Paul goes, he finds signs of life…
1. Fort Stockton, Texas. Out back of a radiator shop in a quiet part of town.
I woke up in Fort Stockton, TX recently and, since the sun was good and I was in no rush and my girlfriend decided to keep sleeping in the back of the van – yes, she left the motel in her pajamas and trotted out to the van and curled up – I took the time to drive around. It's always amazing to me, as a photographer, that when I slow down, things magically appear that I might have otherwise neglected to notice. Such as the case here. I think I was just doing a slow turn-around in preparation for my third attempt to leave town, when I spotted this wall. For whatever reason, I just liked the composition and the colors, so I stopped and took the shot. I just like this one. You could probably find some want to analyze this, via the standard tools of art criticism and semiotics and such, but I just like the way it looks. It also instantly evokes, for me, at least, that sunny, lazy forgotten moment in that town on the interstate that doesn't even have a Starbucks and, possibly, the most dysfunctional Taco Bell I have ever been in.
2. Meghan, in the West Village. Hair version 5.0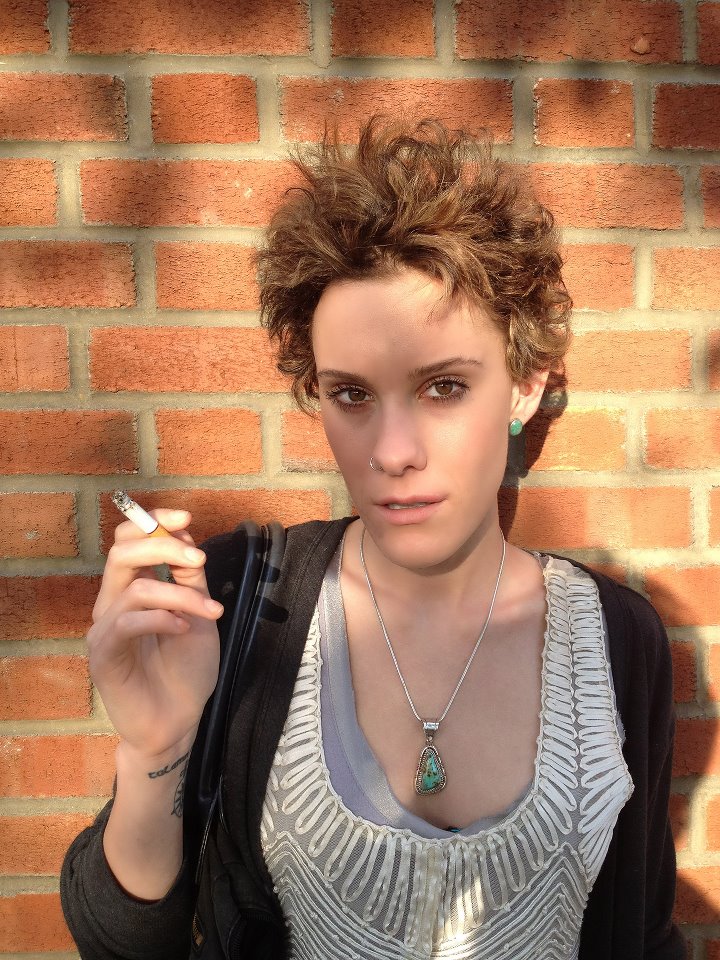 A rare bird, in her native element – Greenwich Village. Let's look a bit more closely. First, notice the green turquoise Navajo jewelry, signifying perhaps the spirit world. Or perhaps just a love of green turquoise. Second, the nose ring and the frosted hair. The cigarette leads us to the wrist with tattoos which identify her as someone who is descended from the Newfoundland Irish – a tribe of fishermen that was part of the Irish diaspora. Observe the penetrating glance. What is this woman thinking? She is standing in front of a brick building in Greenwich Village, where she was born and raised, making her doubly rare, as most people arrive in the Village from somewhere else. Apparently, she likes traveling around the country in vans. In fact, she claims to love Utah the most, but it's only because she has not experienced the real back roads of Nevada and Eastern Oregon yet. That will change soon.
3. Hanksville, Utah. I hope that people don't get the wrong impression of Hanksville from this shot.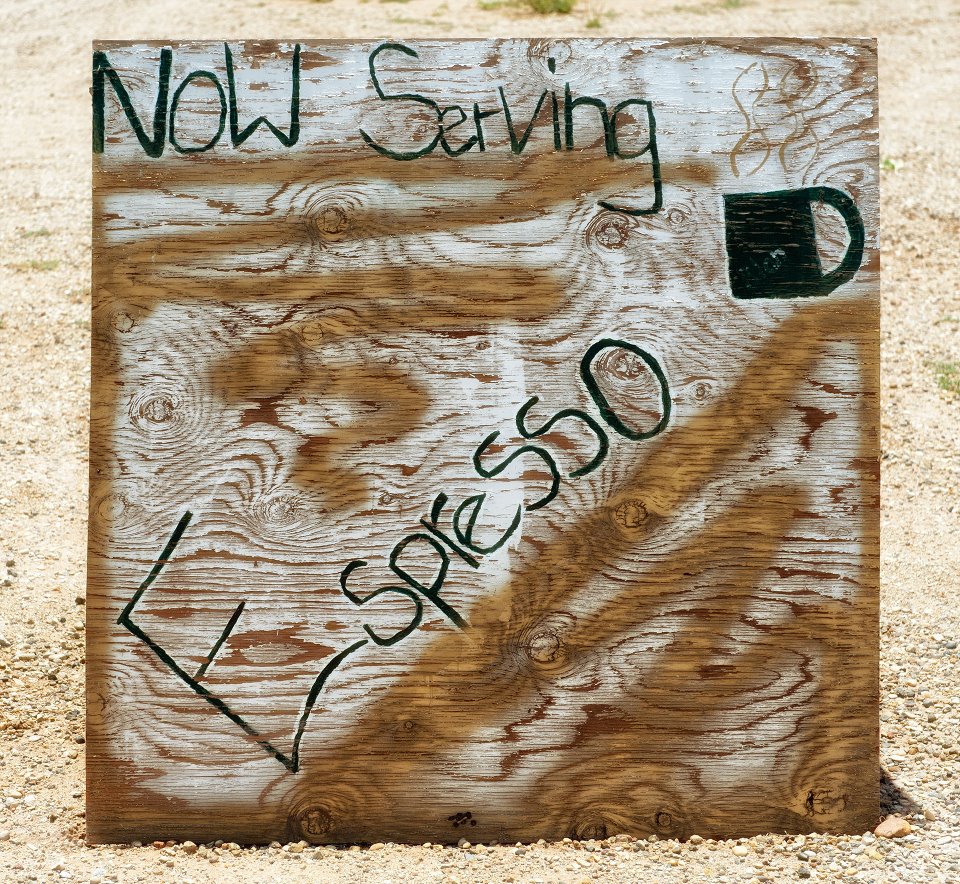 Hanksville, UT – 2011. I have been fascinated with Hanksville, UT more than it would seem anybody ought to be for way too long. I'm not sure what it is, and maybe it's simply because it's kind of remote, is in the middle of some crazily beautiful country, and because of some other oddities. Or maybe not. Either way, I find it amazing that you can now get Espresso in Hanksville. But, maybe nothing about Hanksville should surprise me at this point.
4. Fort Stockton, Texas.  This sign is all that remains of the Spanish Trail Lodge.
Another shot from that dear town, and I have many more in the can. I don't believe the old Spanish Trail ran through Fort Stockton, Texas in any way – nor did it come close. But it WAS close enough for one of the local, now defunct, motels to scoop up the name. All that's left is an empty lot filled with weeds and rocks. And the sign, of course. I wish I could have stayed at this place back in the day.
5. Way, way, way down south. bayou country. Southern Louisiana
Way, way, way, way down south. bayou country. Southern Louisiana. This was just another one of those moments when the air smelled good, the sun was just right and the clouds were just puffing up and asking to be photographed. I actually stopped for a shot of the clouds, which is not posted here, but then i turned and saw this old trailer-turned-billboard and I waded trepidatiously through some high grass that felt like it might have snakes in it. I got to a decent-enough spot and got off this shot. The sun could have been better for the billboard, but I was just passing through and had to bid the Bowie Cajun BBQ sign good bye and farewell.
6. The Joy-O RV Park, East of Memphis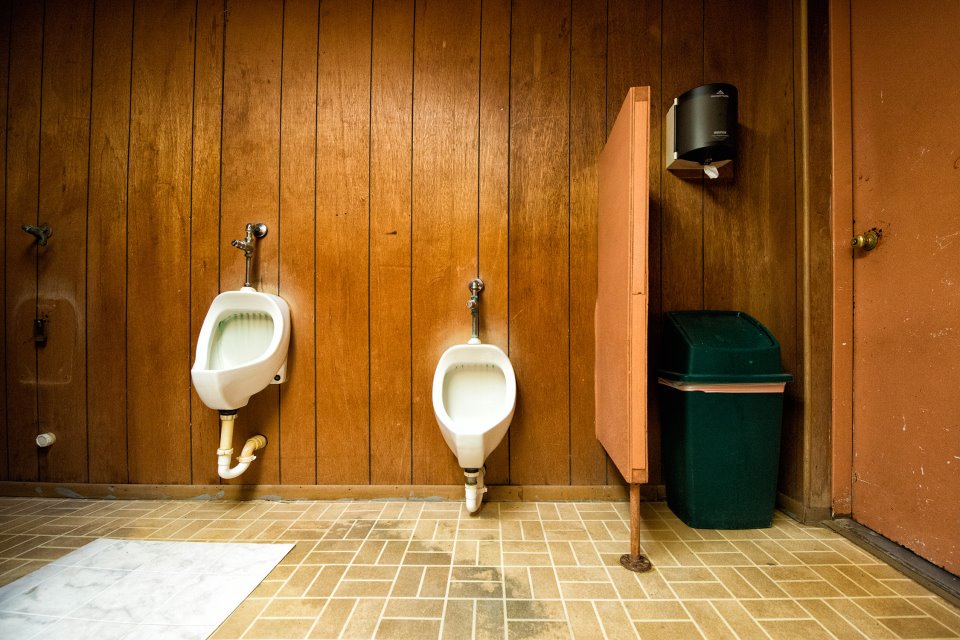 The Joy-O RV Park, about 50 miles east of Memphis, TN. It's really just a gravel loop with a lot of old trees, next to a working farm field. This one area, though – the small pool and the outhouse, circa 1964 – and the small, ancient office – are the only structures in the whole place. All in all, a pleasant place to bed down for the night in a van. I particularly appreciated the great lengths that ownership took to preserve the original features and authenticity of the outhouse and changing room. The old gentleman who ran the place was a joy to deal with, and I – seriously – cannot wait to stay there again. My idea of a perfect place to camp in the van.
7.  On the rez. Southern Ute Nation. SW Colorado – 2012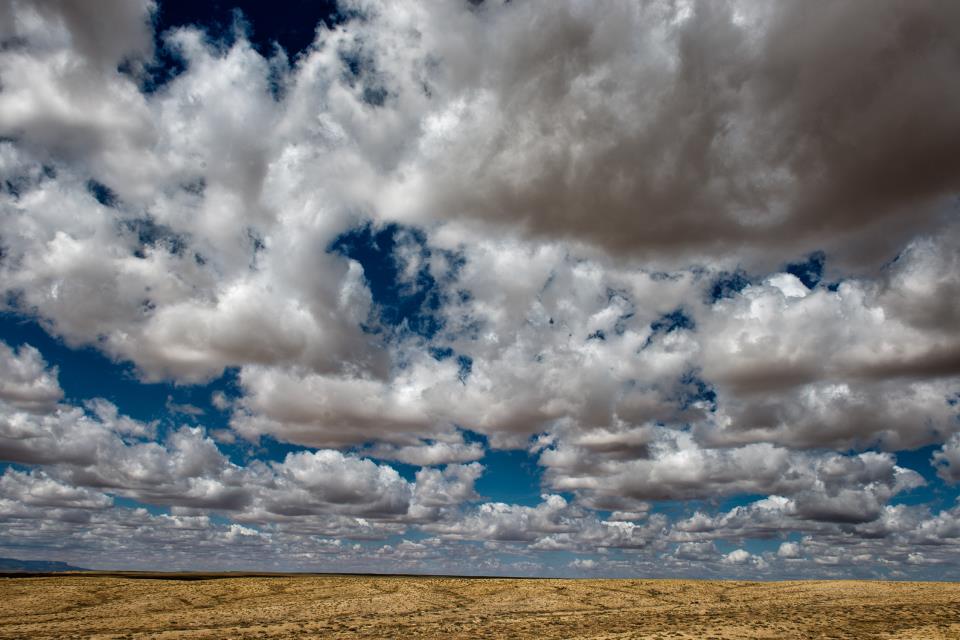 On the rez. Southern Ute Nation. SW Colorado – 2012. Sometimes, when I stop and take photos of the sky, I think "this will never do what I'm actually seeing justice." or "why am I doing this?" even though I know why – I'm doing it because I cannot fathom the beauty and grandeur of the planet that we live on, the atmosphere of which renders these incredible views. Anyway, I'll get home, or be in the van that night and look at the shot and think, "wow, I'm glad I took that," but I'll then forget about it. When I look at it a month or two later, I'll think "nice shot, but not much going on." THEN, though, when I show it to somebody or post it on Facebook, people love it. They just love those sky shot, and I feel a bit like a fraud, thinking, "well, it was the sky, it wasn't me. I didn't do that." I'm getting kind of rambling here, so I'll just shut up. Enjoy the sky.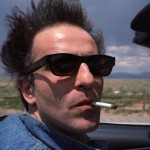 Copyright © Paul Vlachos 2012
Click here for the previous installment of  "VLACHOS' VIEWS" from the June/July Zephyr.
To read the PDF version of this article, click here.
Don't forget the Zephyr ads! All links are hot!