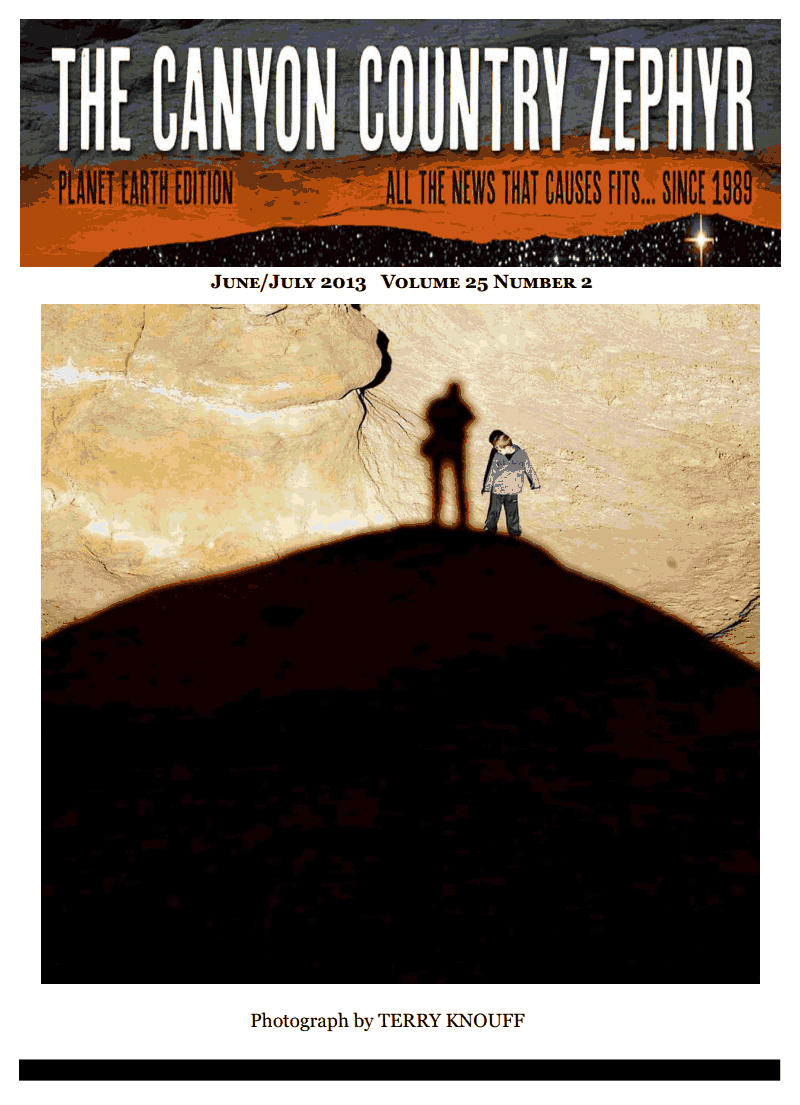 TAKE IT OR LEAVE IT…Jim Stiles
I Still Miss Martin Murie…15 Years later—Thoughts on the "Wilderness Mentoring Conference of 1998."
SOWING CLOVER…Tonya Stiles
THE WILDER WEST…Dave Wilder
"Anything is Possible"
What Might Have Been…From the August 1990 Zephyr  Jim Stiles
The Kokopelli National Theatre…a viable proposal or pie-in-the-sky?
82 days… March 16 to June 4, 1968…Robert F. Kennedy's Campaign for President
Excerpts from : THE LAST CAMPAIGN: ROBERT KENNEDY & 82 DAYS THAT INSPIRED AMERICA'
By Thurston Clarke
,
BEFORE & AFTER:  WILLIAMS WAY & 500 WEST
MOAB, UTAH…1989 & 2012
When Everything Changed?
"THE WILDERNESS MENTORING CONFERENCE"
May 22-24, 1998…Rex Ranch, Arizona
Sacredness and the Desecration of Nuvatukya'ovi
By Scott Thompson
LOSING SOLITUDE  Martin Murie
THEME PARKS
BEFORE & AFTER…HERB RINGER-STYLE
SEDONA, AZ. mid-50s & 2013 via Google Street-view
MARBLE CANYON…
1950 & 2012 (Google)
TONOPAH, NEVADA…
1942 & 2012 (Google)
Vlachos' Views

From the OUTER BANKS…
GOOD MEN…Long Time Passing
Judy Banks
The Evolution of Ed Abbey's
"A JOURNEY HOME
Images of the original manuscript, when it was still "Desert Music"
WELCOME TO THE DIMFORMATION AGE!
notes from the desk of Ned Mudd
reporting from the crawlspace of history
THE LAND EXCHANGE BILL THAT WENT OOOPS   Jim Stiles
Did a Land Transfer Blessed by Environmentalists Give a Boost to TAR SANDS NATION?
THE BULLETIN BOARD OF DOOM...
from Mudd, Stiles &Vthe Heath Monitor Files…
'INSTANT MOAB'
TERRY KNOUFF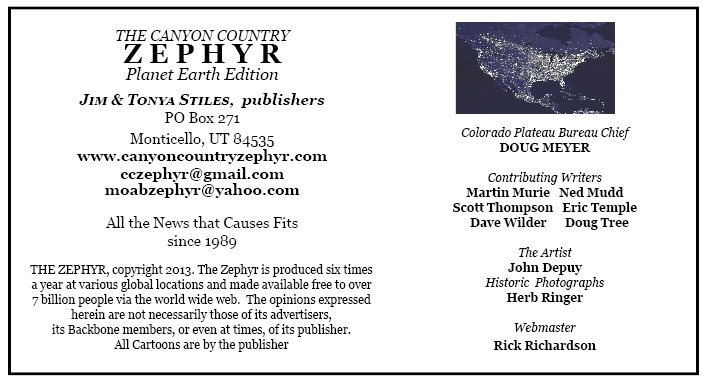 To see the cover page as a PDF, click here.