TAKE IT OR LEAVE IT…Jim Stiles

'Return to Abajo Peak. An Autumn's View''
Searching for Solitude at the Summit'
SOWING CLOVER…Tonya Stiles
'Cheap Lives in a Sacred Economy
W I N D O W S
A c r o s s A m e r i c a. . . l o o k i n g o u t / l o o k i n g i n
SANITIZING THE FACTS:
How BIKE Magazine Butchered an Honest Tale of Moab's Last 20 Years.
"Oh for an 'Insuperable Moab'"
The Original, Uncensored, Unsanitized Story, written for BIKE Magazine
Jim Stiles
The Myth of Progress
Harvey Leake
Quiet Times at Arches National Monument
with Lloyd Pierson & Lyle Jamison: March 1989
Jim Stiles
HERB RINGER'S AMERICAN WEST
The South Rim of the Grand Canyon. 1950
Building Bridges:
A History of Crossing Courthouse Wash and the Colorado River
by Lloyd Pierson
NOVEMBER 22, 1963:
DALLAS, MOAB and a 'CHEYENNE AUTUMN'
Jim Stiles
LOSING SOLITUDE
THE IVORY-BILLED TRUTH (June/July 2005)
Martin Murie
The WILDER WEST…
the Art & Wit of DAVE WILDER
Superstition Land: a Fable of Boundless Water
By Scott Thompson
V L A C H O S' V I E W S
America through the lens of PAUL VLACHOS
THE BULLETIN BOARD of DOOM
from TOM TILL
"Then & Now"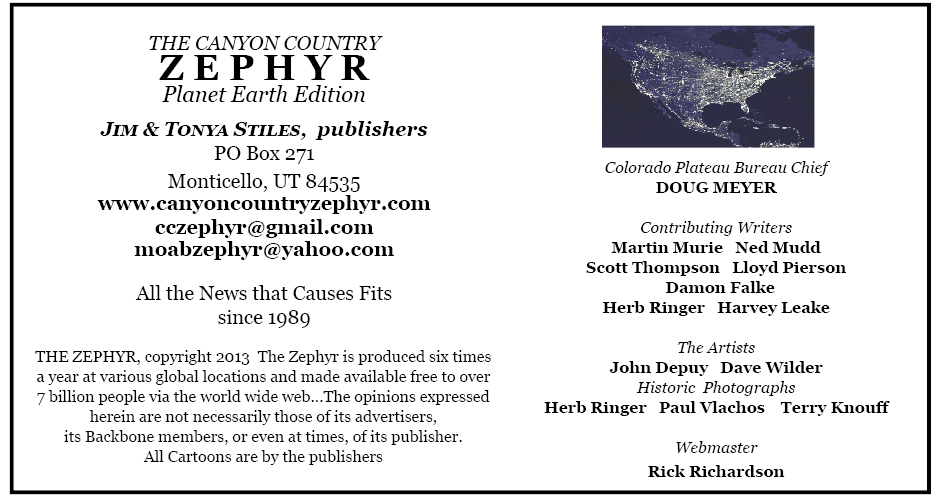 To see the PDF version of this page, click here.