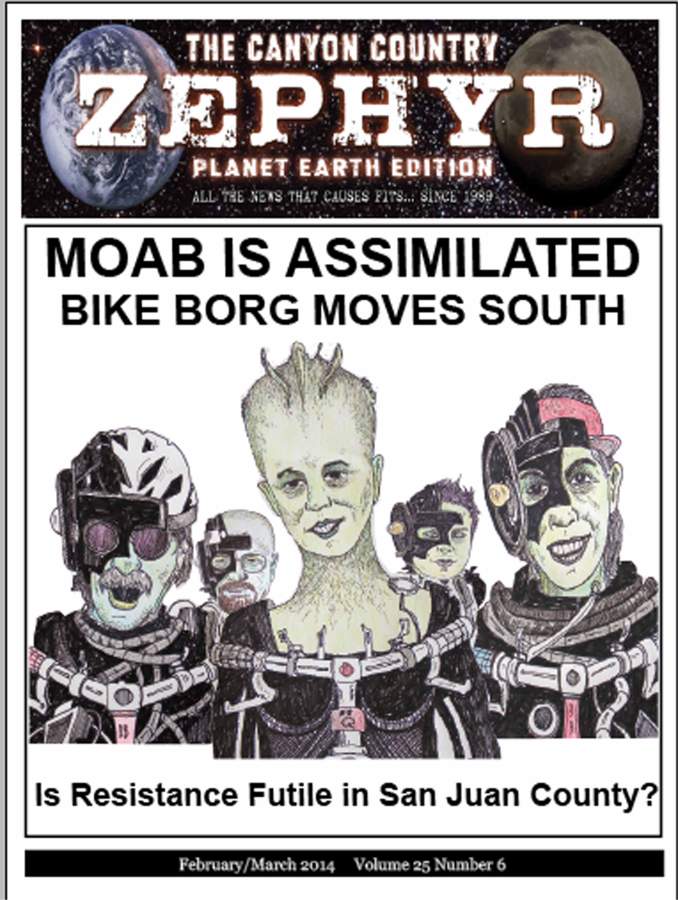 TAKE IT OR LEAVE IT…Jim Stiles
'On the Eve of our 25th Anniversary'
'When The West said 'NO' to the Winter Olympics'
'Here's my Life. Help Yourself—
As facebook invades our privacy, the rest of us are giving it away'
SOWING CLOVER…Tonya Stiles
Don't Sell Yourself Short. Don't Sell Yourself at All.
POINT BLANK…Patricia (Toni) McConnel
On desert water rights, the relevance of literary traditions
to interspecies relations, and the Disney Weltanschauung…MOAB IS ASSIMILATED…BIKE BORG MOVES SOUTH
Is Resistance Futile in San Juan County?
Jim Stiles
HERB RINGER'S AMERICAN WEST
Across The West in the Ringers' 1950 Ford Woodie…
Spring/Summer 1954 (new photos)
from the 1993 Zephyr Archives…by Ken Davey
An Interview with Grand County Councilman
BILL HEDDEN
Contemplation, Solitude, and Hyper-focusing: A Theory
By Scott Thompson
LOSING SOLITUDE…Martin Murie
'Empty Houses'
From TOM TILL…'THEN & NOW'
There's nothing more 'Extreme' than a Young & Brutal Death
Jim Stiles
The WILDER WEST…
the Art & Wit of DAVE WILDER

V L A C H O S'   V I E W S
America through the lens of PAUL VLACHOS
THE BULLETIN BOARD of DOOM
The Introduction to
ROCK ME on the WATER
Renny Russell
The ART of RENNY RUSSELL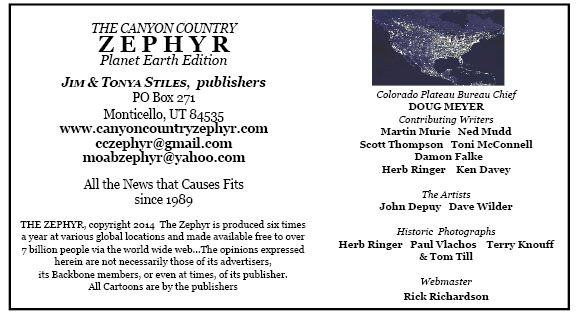 To see the PDF version of this page, click here.