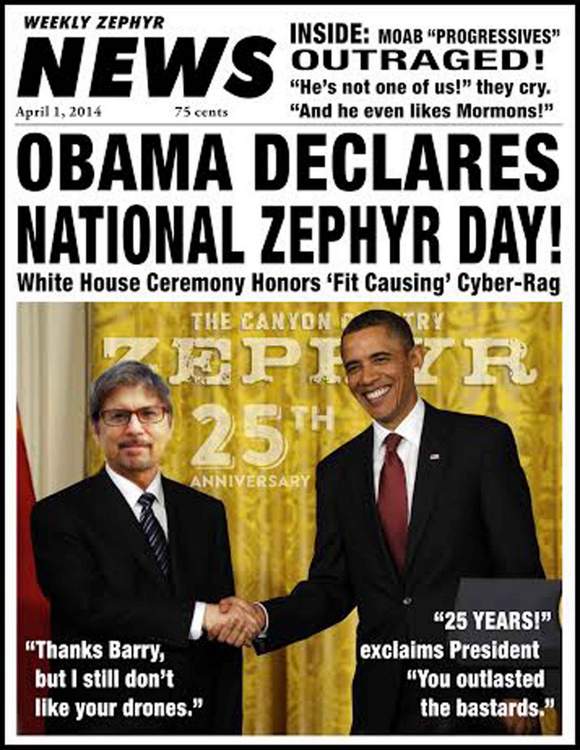 TAKE IT OR LEAVE IT…By Jim Stiles

The Zephyr at 25…A Summary
A Few Words About Ed Abbey
The Book Cliffs 'Zombie' Highway…A Bad Idea Rises From the Dead.
SOWING CLOVER…By Tonya Stiles
What You Don't Know About 'Mr. Zephyr'
THE FIRST 'PAGE 2' by Stiles
Volume 1 No. 1     March 14, 1989
THE ZEPHYR CHRONICLES   part 1
'Beginnings' 1988-1996'HARD TIMES IN SANTA FE'
The Last Original Story…Published March 14, 1989
By EDWARD ABBEY
THE ABBEY LINKS
A link to every Zephyr story connected to Ed Abbey
POINTBLANK:  A Reply to Last Issue's 'Bike Borg' Story
The Bishop Public Lands Initiative, Local Control and Shared Values
Ashley Korenblat
Why Jim Stiles Isn't Normal:
A Story That MUST Be Told
By Scott Thompson
Why I Happily Share My Husband, Scott, with the Z
By Gail Kinsey
from the 1991 Zephyr Archives. An Interview with:
CHRISTY ROBBINS (WILLIAMS DUNTON)
Moab City Councilperson
from TOM TILL…"Then  &  Now
Mount Olympus

THE GREAT FACES of MOAB
For Better or Worse, the Stiles Cartoons
1989-1995A New 'Twisted Tabloid' from
DAN O'CONNOR
'Obama Proclaims National Zephyr Day!'
V L A C H O S'   V I E W S
America through the lens of PAUL VLACHOS
A Sampling of the Cartoon Ads..1989-1995
THE COVERS part 1
A selection of Zephyr Cartoon covers from 1989-1995
From the 1991 Zephyr Archives
THE DREAM of OIL
B.J. Eardley"AFTER THE FALL"
A Look Into the Future of Delicate Arch
By Hayley Knouff
From the 1991 Zephyr Archives
'SOMEDAY ALL THIS WILL BE HISTORY TOO."
Remembering Moab…Long Time Passing.
Jim Stiles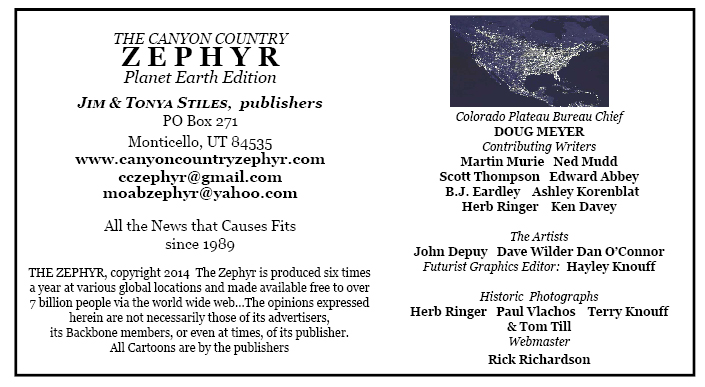 To see the PDF version of this page, click here.