In October 1991, I received a manila envelope from somebody named Dan O'Connor, up in Leavenworth, Washington. Somehow Dan had become a regular reader and a subscriber and was troubled by my obvious lack of graphic technical skills. I was, at best, a cut and paste guy with a hot hand waxer. Dan was a graphic computer artist in the finest sense. Enclosed were a selection of new banners for The Z. They were beautiful and his graphic skills would become a regular part of The Zephyr for the next…well..forever. The banner on this issue is a Dan O'riginal.
Then, a few years later, another gift from Dan arrived. It was a tabloid style cover for a fictional paper called the 'Zephyr Weekly World News' and it announced to the world—"Aliens Control Newspaper in Moab, Utah!"  How he knew I'll never know, but later I put that cover on the regular Zephyr cover. One thing led to another. Dan created his "Twisted Tabloid" series that ran as a regular feature for years and he contributed untold numbers of morphs for our "Lame Alien Swimsuit Issues." It was such a great relief to sometimes escape the seriousness of the day and lose ourselves in Dan's great works of art. (And of course the cover of this issue is from Dan as well). Here are a few of our favorites:
AND OUR NEWEST "TWISTED TABLOID:"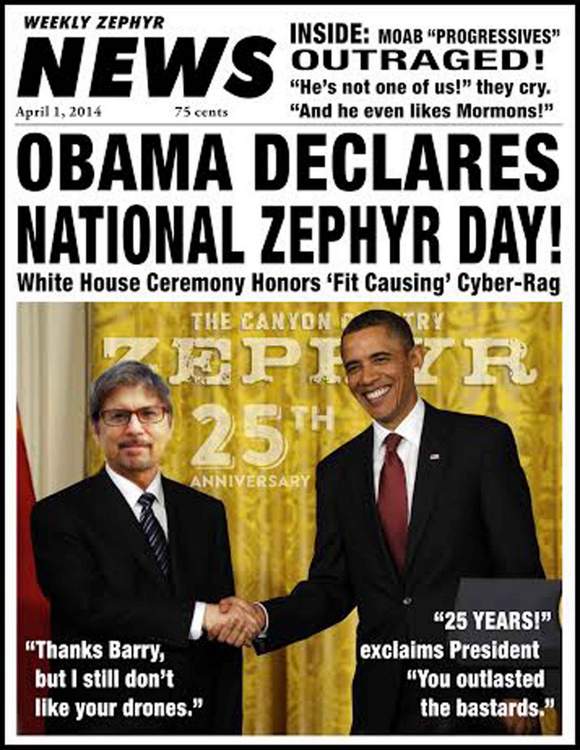 To see the PDF version of this page, click here.
To comment, scroll to the bottom of the page.
Don't forget the Zephyr ads! All links are hot!