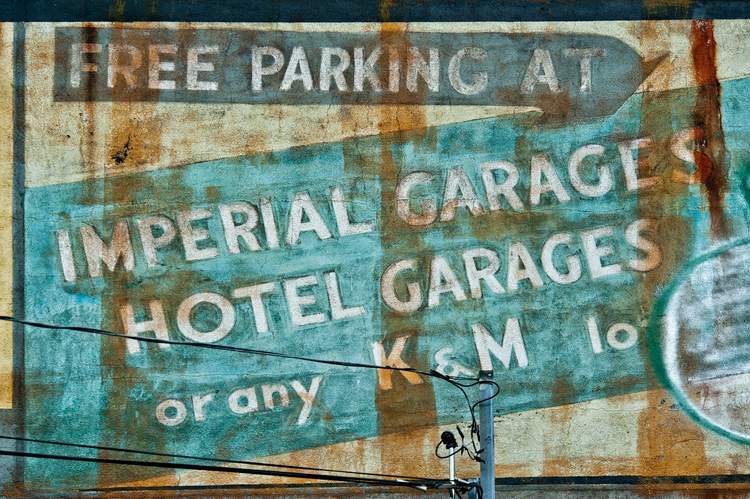 1. Portland, Oregon – 2011
This photo has nothing specific linking it to the 25th Anniversary of the Zephyr, but I never would have taken it had I not fallen in love with the West many years ago and begun to meander all over the country in my various vehicles over the years. I discovered my love for Portland when I bought my Ford van there in 2009 and had a local shop throw a transfer case into it, converting it to four-wheel drive. Maybe not the most sane thing I have ever done, but I don't regret it one bit. After I built up the inside with a bed and a small fridge, I had a house on wheels. That story, of course, is for another time. While I was waiting, though, in 2009, for the inevitable glitches to be worked out, I had a lot of time to drive around Portland and fall in love with that dismal, gray, friendly city. I have returned a few more times – for van work, for coffee, for photo wandering, for fun.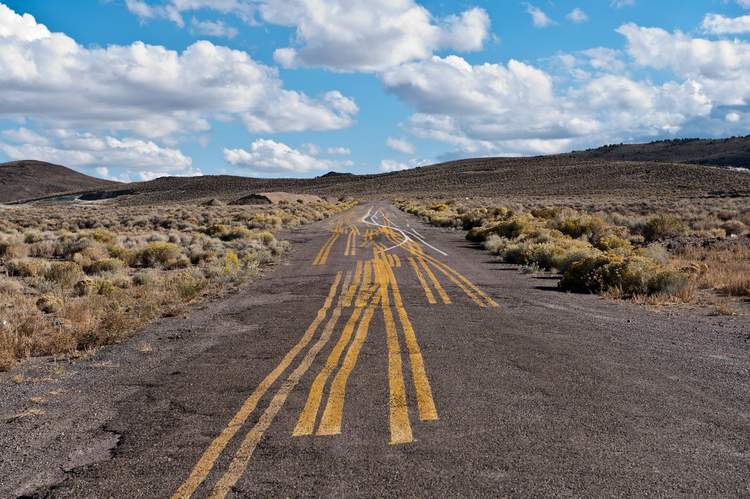 2. Near Coaldale, Nevada – 2010.
At the intersection of US Federal Routes 6 and 95, there's a deserted truck stop that contains and abandoned motel and casino, as well. The motel is now covered with a mixture of satanic and Christian graffiti that changes from year to year. It looks like bad things have happened in the abandoned rooms and it's not a place I'd want to stop at night. About half a mile from Coaldale is a tiny spur of asphalt that cuts up a hill into the sage. Perhaps it led to a gravel pile left over from road construction. Perhaps it was an aborted spur to a mine. I don't know. What IS clear, though, is that it was used, probably more than once, by the local road crews for painting practice. Maybe they were just aligning their machines. Maybe they were breaking in a new machine operator. Maybe somebody was just having fun, but there it is. Don't cross the double line.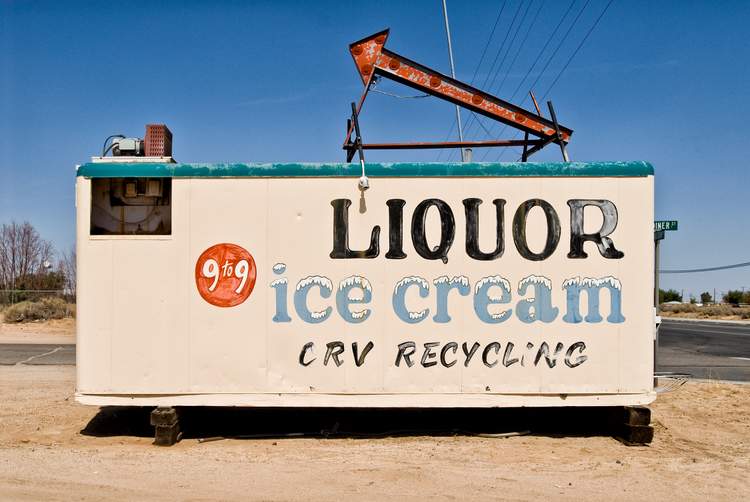 3. Boron, California – 2007
What's more American than liquor and ice cream? And maybe, just maybe, you can pay for them both with some redeemed bottles and cans? Why must I always try to link up the things that I see painted on signs? Isn't it just as likely that somebody paints something on a sign, then decides to add something later? Why must I always try to connect them. Is there no room for afterthoughts in my world view? Certainly, I'm not a conspiracy theorist. i don't buy into most of the current ones floating around. And, I might add, the people I know who buy into one conspiracy theory often buy into the whole lot of them. They become unified and start to reinforce each other. The web grows and thickens, much like my interpretation of signs. Anyway, Boron is an odd place – a mining town with labor problems. Not the usual boom-and-bust labor problems, but problems with the owners of the mine, Rio Tinto. A sales associate at the Apple Store on 14th Street in New York City was once helping me and I, as I am wont to do, started talking about how much I'd prefer to live in California or someplace else out west. She told me she was from the Golden State and I asked her where. She said "Oh, it's a small town that you've never heard of." I said "try me," to which she replied "Boron." My eyes lit up and I said "I know Boron well! I like that place." She, to use a time-worn cliche, looked at me like I was crazy. Maybe I am, but I'd love to be passing through Boron right now, camera in hand, on my way to US 395 and the Sierra Nevadas.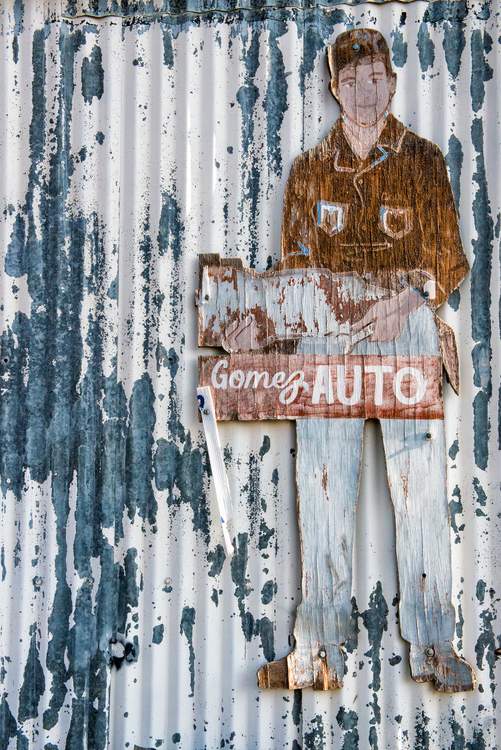 4. Fort Stockton, Texas – 2012
I don't think Gomez Auto is still in business, but I could be wrong. I'm always passing through Fort Stockton on a Sunday. I took this photo on a Sunday, after I had finally found a room the previous night. Saturday is never a good night to find a motel on the road, even in Fort Stockton. I had found one, though, and then had gotten up the next day and drove around. It felt like I was the only other person awake that morning. It was also a Sunday, back in 1998, when I broke down in Fort Stockton in my old Jeep Wagoneer and had to wait a day for a new part. It's another one of those crossroads towns that I pass through over and over, on my way out west or back east. There is no Starbucks in Fort Stockton – not a whole lot of local coffee options, either, and when I inevitably found myself getting coffee at the McDonalds the last time I was there, I asked them about it. The woman behind the counter had a unified theory as to why there was no Starbucks. It involved local politicians and business owners, a plot, a plan and a nefarious agenda. I listened politely, got my coffee and headed out the door, where Meghan was waiting with Elko and the van.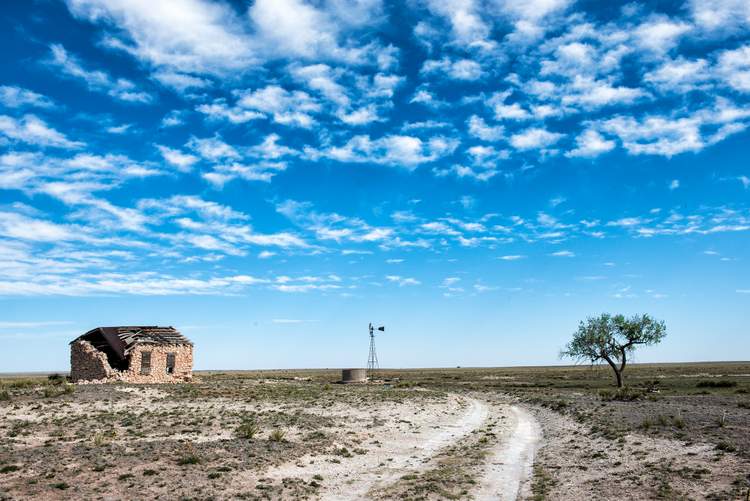 5. Southern New Mexico – 2012
This is south of Vaughn and north of Alamagordo. If I thought about it for a while, I could probably pinpoint it more closely, but that's close enough for now. There's a chance that, if you lived in this little ranch house back in 1945, and were looking north by northwest, you might have seen the flash of light in the night sky that signaled the dawn of the Atomic Age, when they detonated the first bomb at Trinity Site, in the Jornada del Muerto. Either way, you still had to wake up early the next morning and tend to your duties. My guess is the stock tank and windmill were there then, older versions, probably, but still there. Not sure about the tree, but it be older than it looks from here. I took this shot while heading slowly south, with that growing sadness I feel each time I have to drive back east. It's always good to get home, but it gets harder each time to leave the West behind.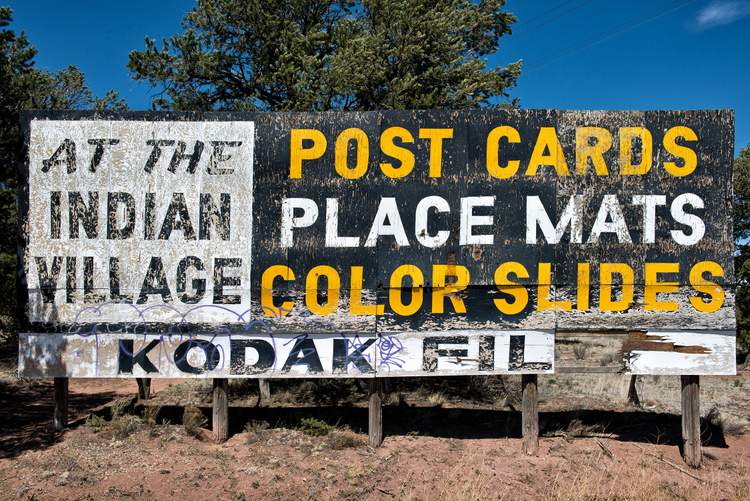 6. Northern Arizona – 2012
I love finding fragments of Road Trip America, tourist signage from more innocent days. Well, maybe "more innocent" is not quite true, but how about "less cynical" days? Either way, if the crumbling paint and fading plywood weren't enough to signal its age, "Indian Village" ought to clue in anybody that this sign originated before the 1970's, if not much earlier. Even more solid proof, though, is the hawking of actual film. Does anybody buy film anymore? Do people buy color slides of landmarks to take home and put in their slide projectors? Imagine who thought process behind that one. "Maybe they don't want to carry a camera. Let's shoot some slides, develop them, and then sell them to the tourists!" we are an industrious people, aren't we? My favorite part of this sign, though, is "Place Mats." I'd like to know who was lured off of Route 66 or I-40 to buy place mats.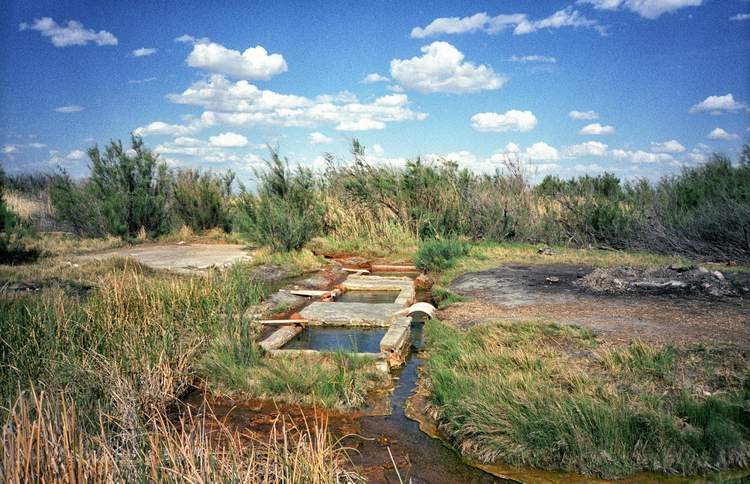 7. About 20 miles north of Delta, Utah – 1999
This is all that remains of an old hot spring spa and resort. These three old concrete soaking tubs. Everything else has disintegrated, but the hot water still flows into them and, if you are willing to drive a bit on your busy path from someplace to someplace, you can make the detour and enjoy a glorious soak not far off of the paved road. Delta has all the services you need, not always with a smile, but there, nonetheless. Whether you're coming from Nevada, passing through the evocatively-named Confusion Range, or heading on to Salt Lake City or Provo, it's worth taking a couple of hours to soak. That philosophy in life has led me to some heartbreaking scenery, quiet moments, and precious memories, as well as a bit of sunburn and a few chigger bites along the way.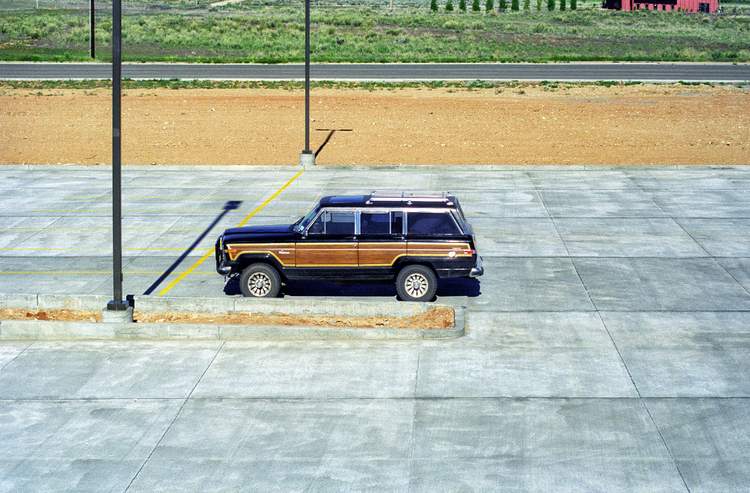 8. Blanding, Utah – 1998
I'll try to give the brief version of this story. We woke up that morning somewhere far away, so far away that, when the Trooper asked me where I was coming from, I had to stop and think about it for a good 15 seconds or more. We drove all day and into the night, my friend and I, and were trying to find a place to camp long before we hit Utah 95. In retrospect, we should have stopped at the "Valley of the Gods," but I wanted to keep on going. Was I trying to make Moab? I don't remember. After the Mokee Dugway in the dark and making the right on Utah 95, I was getting tired. That fatigue, combined with the famously loose steering box on the Wagoneer, made me wobble a bit as we drove on that dark deserted highway at a relatively sedate 50 miles per hour. Nothing dangerous, mind you. Maybe I was going too slow, who knows? Either way, the Trooper his his blue lights and pulled us over. He informed us that the road we were on was a veritable drug-running highway – news to me, for sure. He questioned me sharply – and I won't go into the details here, but it was interesting and, ultimately heart-warming, this encounter with the Utah State Trooper. He finally was satisfied that I was a relatively upstanding citizen. Maybe it was after I told him "You can rip this car apart, so long as I can sit down someplace while you do it." Maybe he just looked into my tired, sober eyes and realized that I just needed to sleep. Either way, he told me "Get to Blanding and check into the first motel you see." Maybe someone he knew owned it. Who cares? I did as I was told and, the next morning, when I peeked out the window to make sure my car was still there, this is what I saw.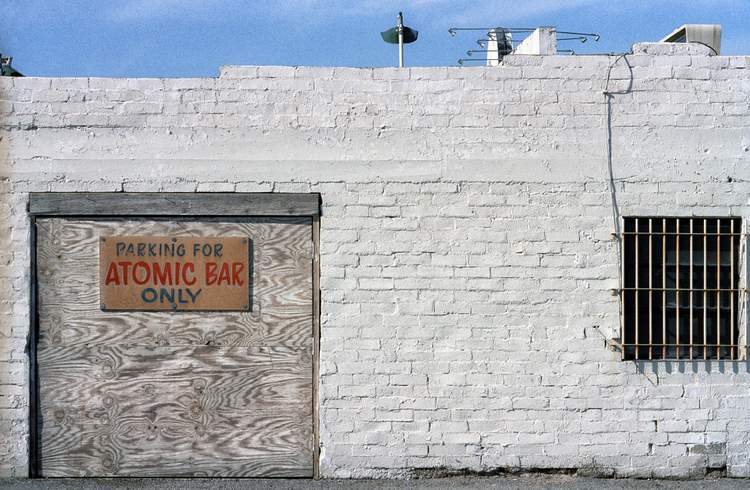 9. Las Vegas, Nevada – 1999
My fascination with the Atomic Bar in Vegas will never abate. I have never gone in there, nor do I intend to. No need. I don't want to destroy my mental preconception of what the place looks like inside. This is obviously the back side of the place, Who knows what has gone down here?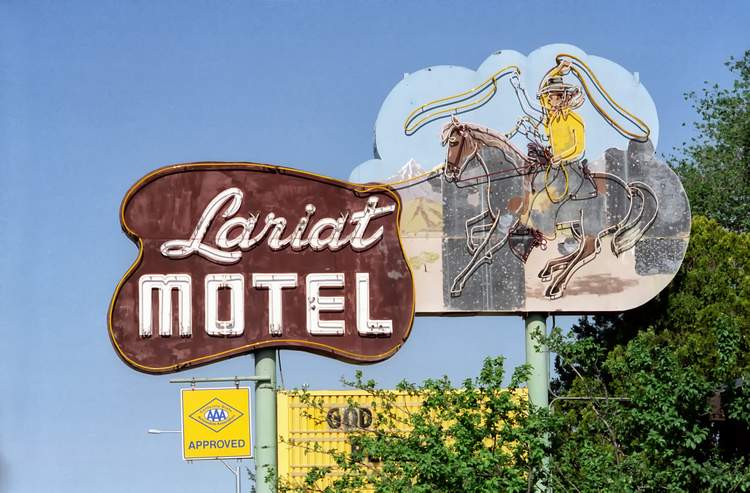 10. Fallon, Nevada – 2000
I have taken many shots of the Lariat Motel, and I have more than a few stories of the times I stayed at this place – my favorite motel of all time. Sadly, the Lariat is gone, as is the old owner. It's now a Maverik gas station. I am posting this photo here, though, because it's the 25th Anniversary of the Zephyr and I wanted to revisit some of my best memories of the west from a slightly different angle. Normally, you see, the money shot of the Lariat sign – and I surely was not the only guy who was in love with that sign – was when it was lit up at night. Then, you would see the neon pull its timed magic and the cowboy's lariat would move, the lights would blink, and the motel's siren song would pull you in to the safest of safe havens. During the day, especially in the later years, you'd notice that the sign had started to fade and peel. The background scene became indistinguishable. The old man would tell me that he was going to have somebody repaint it, but he clearly got too old and it got too late. So, for me, it's a bit more poignant to see the old sign during the day. At night, the decay was invisible. So many things look better at night. Here, you can see that he had stopped trimming the trees and bushes. The majority of the "God Bless America" sign is obscured. Either way, it lives on in my memory. Some woman in Fallon once told me that the sign is in the custody of the town now, but I don't know that for sure. Perhaps I should make the inevitable sad and fruitless phone call. Do I sound like a pessimist? Sometimes, I think the most hopeless of romantics and idealists sound like pessimists.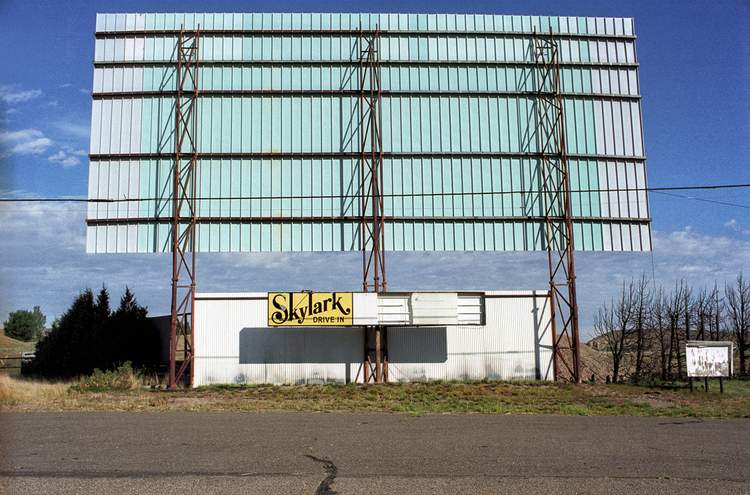 11. Northern Montana – 1998
Up on Route 2, along the High Line, it's stark. It's probably no more stark than living in a place like Hanksville, UT, Mojave, CA or Lakeview, OR. It's just a different flavor of stark. I don't know if the Skylark is still there, which tells me that I need to saddle up and drive Route 2 again, maybe from Michigan straight to Seattle, Washington. That's the only way to really know what's going on out there, isn't it? I mean, you can sit on the Internet all day, you can gobble up electrons, even particles of ink from the printed page as much as you want. You won't really know what's happening out there until you get out there on a bicycle, on foot, or in a car. You need to feel the dirt scratch under your shoes at the perimeter of a gas station, you need to walk into a local pie shop or, maybe, a second-hand clothing store. You need to roll down the window and take great, heaving breaths of that northern air. Maybe then you'll know what's going on – and what's not going on – up on Route 2 in Montana.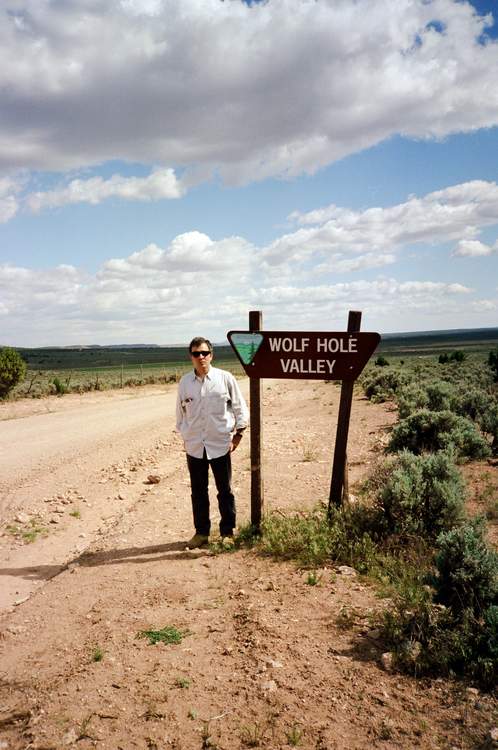 12. The Arizona Strip – 1998
This may not be such an impressive photograph, but I'm ending with this one to remind myself of how much Edward Abbey has changed my life. In honor of the mighty Canyon Country Zephyr, Mr Abbey, Jim and Tonya, and everybody I have spoken a few words with along the way on the Great American Road, I'd like to say "thank you." I took this on my way to Tuweep, on the North Rim of the Grand Canyon.
To read the PDF version of this article, click here.
To comment on this article, scroll to the bottom of the page.
Don't forget the Zephyr ads! All links are hot!