On a Saturday morning in late July, a skinny teenager who still examined his face closely each morning, praying for any sign of hair growth, left the Bright Angel Lodge at the Grand Canyon's South Rim in his VW Squareback. He planned to drive north, back to Ogden, Utah, to visit some newfound friends. But he lingered briefly in the lodge's lounge area, where a television set had been turned on and was starting to draw a crowd. He couldn't avoid the delay–he was mesmerized—as he gazed at the blurry blue screen and listened to the scratchy voices of Dave Scott and Jim Irwin. It was surreal—Scott and Irwin were dancing lightly, giddily, across the surface of the Moon, a quarter million miles away. Their usually laconic 'astronaut-voices' were edged with an almost uncontrollable glee.
In the background, beyond the moonwalkers, he could see the endless empty, lonely, lunar landscape. Terra incognita. The first extraterrestrial wilderness area. How the kid envied them for that singular sensation. The ultimate solitude.
He didn't know it at the time, but in just a few hours, the Kentucky Greenhorn would experience his own remote lunar landing…
He finally pulled himself away from the tv and headed northeast. Past Desert View, and down the winding highway from the Kaibab Plateau, to the eastern entrance to the South Rim, where it joins US 89 near Cameron, Arizona. He turned north, toward Utah; even on this major north-south artery at the height of tourist season, the traffic was light. His VW left 89 and followed US 163 to the northeast, toward the fabled Monument Valley and a remote corner of southeast Utah. Passing through John Ford Country, the battered Squareback labored to climb the tablelands to the north, over a narrow bridge and the San Juan River, and through a completely unexpected verdant little Shangri-la called Bluff.  A man and woman were hanging laundry as he drove past—they stopped and waved. And then up Cow Canyon to the wide open mesas that awaited. He could see forever in all directions.
Four miles south of Blanding, there was a sign. It marked the junction of an 'unimproved highway," Utah 95, that went west to Natural Bridges, then down White Canyon to Lake Powell, all the way to a town called Hanksville, 130 miles distant. He passed the sign as the main highway banked hard to the right, then left, past a Gulf Oil billboard that advertised 'full service," just ahead. He pulled over, studied the map closely, then made a U-turn, back to the junction.
The unimproved road at the intersection was paved. Maybe, he reasoned, since this map was published a couple years ago, the highway department had improved it. He was, after all, in a banged up Volkswagen, not a Jeep, and traveling alone. Breaking down out there was not appealing (at least not then). Still…there was something about this moment. Something seminal. 'What the hell…' He went west on U95.
The asphalt stopped after just a few miles. A 'Pavement Ends' sign stated the obvious— Yes, he sighed...I can see that. Warily, he proceeded. The gravel and dirt roadway climbed in and out of dry washes and through pinyon-juniper forests. Slickrock domes and humpbacks paralleled the road as the kid gawked through the windshield at this strange, new landscape The air was hot and dry and the silence, each time he stopped, was overwhelming. Just the squawk of a raven disturbed the calm; but it was comforting–at least somebody was out there. And as he drove, ever upward toward some unseen, unknown summit, he was seized by an unexplained anticipation—as if something was just ahead. Something he'd never known before.
Another twisting turn of the road, a rough wash crossing—he geared down for maximum traction—and up the other side, and finally atop something. A ridge. He turned the corner, the road became a series of rocky ledges and…there it was. He didn't know what to call it yet; his Gulf Oil map offered few details—but he was gazing at the upper terminus of a 'dugway,' a narrow dirt track that descended to the valley below  Staring south, beyond it, was the west face of the magnificent Comb Ridge Monocline—a hundred mile, thousand foot high 'wall,' that formed just south of the Blue Mountains and disappeared near Kayenta, Arizona. The west face glowed golden in the late afternoon light. He'd never seen anything like it.
But even more, he'd never felt anything like this. Not in his entire life. This was his voyage of discovery and the kid thought of Scott and Irwin on Hadley rille, 250,000 miles away. This, he proclaimed, beats the Moon by a mile.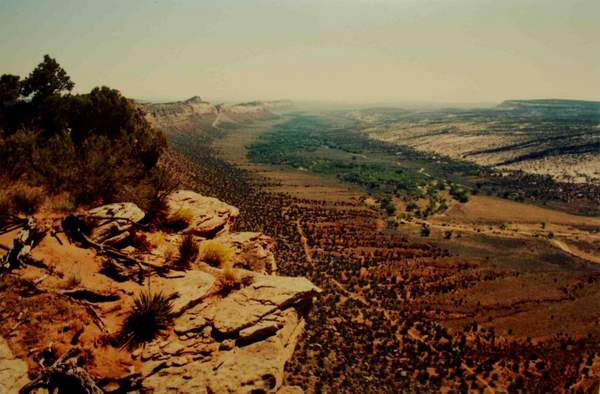 This was my introduction to the canyon country of southeast Utah, so many years and decades ago.  I was unwittingly penetrating the southern reaches of a place that would become my home. It was my "This is the place" moment. Never before had I thought of a place as the home of my choosing. Now I was there.
I drove down the narrow one-lane dugway to the wash. A canopy of cottonwoods made the afternoon feel cooler than it was. There was still water in pools near the crossing. It was perfect. Later, I left the shady wash and climbed the east incline to Cedar Mesa, camped in the pinyon-juniper near Natural Bridges, and the following morning followed White Canyon toward the new bridge that now spanned the Colorado River and had replaced the Hite ferry—a warning of things to come. Improbably, I found a cinder block building in the remotest of places, the Fry Canyon Store, open for business. The owner of the place seemed perfect for the job he'd chosen. He said little, accepted my money and my business indifferently, and only seemed pleased when I left without asking a lot of questions. Words were almost unneeded out here–the less said, the better.
Hours later, I reached the tiny community of Hanksville. I needed gas and saw a sign that said (I'm not kidding), 'city business district.' I found a gas station which was occupied by about a dozen dogs in various stages of sleep and sloth, but could not find a human. Finally, I honked my horn and a man appeared from the shack next door. He was as sleepy and unmotivated as his pups—the best way to be.
Later that day, I returned to Ogden and my friends but could not stop thinking about my discovery. The memory of that afternoon would never leave me. It's here now, as clearly as the day it happened.  Over the next few years, I would return again and again, using my last dime, if necessary, to make the journey to southeast Utah. Finally I'd move there, heart and soul, with the hope—the plan—to spend my life there. And I did, for the next 35 years.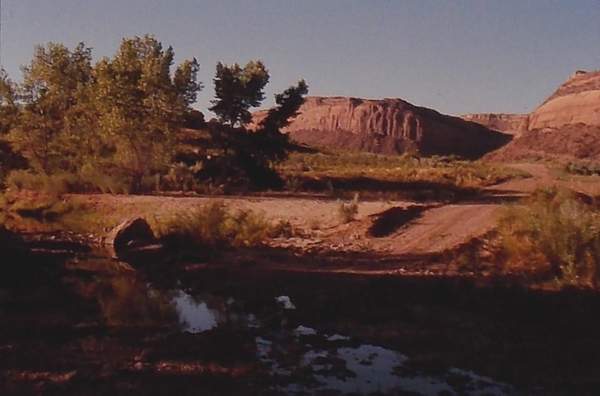 Back to the Present…A Reality Check…
It was the gentlest of souls, Elwood P. Dodd and the friend to a six foot, four inch rabbit named Harvey, who was once urged by his psychiatrist to 'face reality.' Elwood paused and smiled and replied, "I've been fighting reality for 35 years, and I'm happy to say I finally won out over it."  If only I'd adhered to that strategy. Thirty five years later, the home of my heart has been renovated and I'm not happy with the re-modeling job. The Land survives, more intact than you might expect. But it feels different. Realities have shifted in the Great American Southwest.
Some could argue that I'm out of touch with reality anyway; and it's true, I still believe the reasons we sought to save and protect the wild and untouched country of southeast Utah three decades ago are just as valid and sacred now as they were then. It's important to note that when the United States Congress, in a rare display of vision and selflessness, passed the Wilderness Act of 1964, not only did it define wilderness as an area of undeveloped Federal land that "still retained its primeval character and influence, without permanent improvements or human habitation."  Just as significantly, it offered "outstanding opportunities for solitude or a primitive and unconfined type of recreation."

In the eyes of the law, 'solitude' carried just as much significance as the resource itself. One component of wilderness could not survive without the other. Solitude lost was wilderness destroyed.

This is the way it would always be, I thought.  As environmental battles heated up in the 1970s and 1980s, the fight for the preservation of western lands was always waged on behalf of those qualities that defined wilderness itself. We fought for the land and the air and the water for its own sake, without a thought of economic bonanzas. If we benefited from wilderness protection—emotionally, spiritually— it was a side-effect. We didn't need to add anything to make wilderness better. We didn't need to create solitude. It was already there. We simply chose to appreciate the gift.
Nowhere in the legislation, nor in the hearts and minds and souls of its strongest proponents, was there any mention of money, or economic benefit, or recreational industries, or outdoor retailers. But in the twenty years since environmentalists turned away from the defense of wilderness in its purest form to a more pragmatic, but degrading, strategy of wilderness for profit, a new generation of Americans has grown apart from values that were once so cherished and revered. Ultimately, in order to "save" wilderness, its very meaning may have been lost.
The French novelist Gustave Flaubert once wrote, "When everything is reduced to the mere counter-balancing of economic interests…when Nature has been so subjugated that she has lost all her original forms, what room will there be for virtue?  In the mean time, things are going to get very murky."
Indeed. Recently, Canyonlands National Park celebrated its 50th anniversary and rumors ran high that the occasion might be made more memorable by a White House announcement. Proponents of a "Greater Canyonlands National Monument" have hoped that a presidential proclamation, adding millions of acres of federal protection to public lands adjacent to the park might be imminent. But the day came and went.
I admit to feeling ambivalent because I don't know what kind of 'protection' the new monument would provide. If it were forty years ago, I would not have hesitated to welcome such an announcement. But now, after watching the wild country of the West transmogrified into what my old friend Ken Sleight calls 'The Plastic West,' I worry what such a designation would bring. As the benefits of 'wilderness' continue to be defined in tourist revenues and recreational potential, I wonder just what a presidential proclamation would lead to.
I've scanned the local newspapers for years, as southern Utah's citizens debate the subject. Honestly, I have never—not once—seen a letter in support of the Monument that didn't link its creation to the economy. Nor have I seen any advocate acknowledge the irrevokable connection between the consumption of natural resources, via a tourist/amenities economy and the extraction of resources that their consumption demands.
And I have watched the National Park Service debate the future as it grapples with its dual, and sometimes conflicting, mandate—to protect the resource, while providing for the enjoyment of all who want to visit. Now it faces a generational shift, as younger Americans seek other ways to recreate and enjoy the parks.
A Different Future for our National Parks?
Almost a decade ago, I read an article from a group called "Cooperative Ecosystems Studies Units."  According to CESU it is, "a network of cooperative research units (that) has been established to provide research, technical assistance, and education to resource and environmental managers…multiple Federal agencies and universities are among the partners in this program."


At a CESU gathering called,"Tourism Break-Out," the group  noted that tourism patterns in the West were changing and that it was "important to have young people involved in projects – because they are a group that can help federal agencies recognize future needs."
They worried about "the changing values of generations regarding parks – what one generation values in a park (such as solitude) may be less important to another generation (that may be more interested in extreme sports)." Given their mandate to provide for the enjoyment of all people, federal land managers had reason to worry; visitation by people under 30 has been declining steadily for a long time. Rather than seeing this as something of a blessing–after all, their other mandate is to protect the park resources–federal bureaucrats are trying to find incentives that go  beyond the beauty of our natural wonders to lure new visitors to them.
The CESU report concluded, "(There is) great potential for partnerships with outdoor recreation outfitters, suppliers, clothing manufacturers, etc., who already know a great deal about our federal land visitors and have a strong handle on how people are using that land."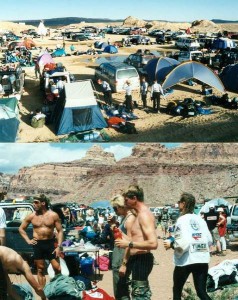 It's the future. And while the NPS has so far held its ground in most respects—it recently charged BASE jumper sensation Sketchy Andy Lewis for illegally jumping at Arches National Park—there will be a temptation to broaden the appeal of the parks, to reach a greater segment of the population, and to modify its mandate to embrace the kinds of recreational activities that would cause John Muir, Aldo Leopold and Ed Abbey to spin violently in their own graves.
But spinning wildly, whether it's via a 2000 foot free-fall BASE jump from the edge of the Orange Cliffs, or a maniacal swing ride through a once protected arch, may still be in the cards, as we move away from solitude and silence and slide ever more quickly into the adrenalin abyss.
In 2014, even the most ardent environmentalist, stylishly geared up for the next paid 'adventure,' and a dedicated supporter of a 'New West Economy,' will insist today's West is better than ever. And they may not have even liked the West I long for. But I recall Abbey's admonition, from 45 years ago. He wrote:
"For those who go there now, smooth, comfortable, quick and easy, gliding through slick as grease, will never be able to see what we saw. They will never feel what we felt. They will never know what we know."
I, for one, as each day passes, wish I were more and more like Elwood P. Dowd.
NOTE: How has visitation at Canyonlands National Park changed since it was created in 1964? Here is a link to the chart:
http://www.nps.gov/cany/parkmgmt/visitation.htm
TO READ MORE ABOUT CANYONLANDS NATIONAL PARK AS IT MARKS 50 YEARS...
'Bates Wilson, the Father of Canyonlands, in His Own Words."
A 1989 Interview with Superintendent Harvey Wickware, as Canyonlands NP celebrated its 25th Anniversary:

Jim Stiles is Founder and Co-Publisher of the Canyon Country Zephyr.
To comment, scroll to the bottom of the page.
Don't forget the Zephyr ads! All links are hot!