Green Chev : A local's classic. Not as many local "daily driver" classics in Moab as there once were.
 Atomic Motel : Stayed here a couple of times. Yes it was funky, and by funky I mean moldy. But it was authentic. Glad to see this sign is back on the property and proudly displayed.
Red Cadillac : A red Caddy brooding under an ominous Texas sky
Hole N" The Rock : Sure the punctuation is wrong, but how many signs do you see painted directly on Entrada sandstone ( don't nobody get any ideas ! )
ROCK : It's what Adam was made from ( and in this case FDR )
Prospector Lodge : 29.95 a night ? You'll be lucky to find a place during tourist season for less than 200 now!
Gas station: My brother and sister painted this movie set gas station, people stopped for gas and beer anyway.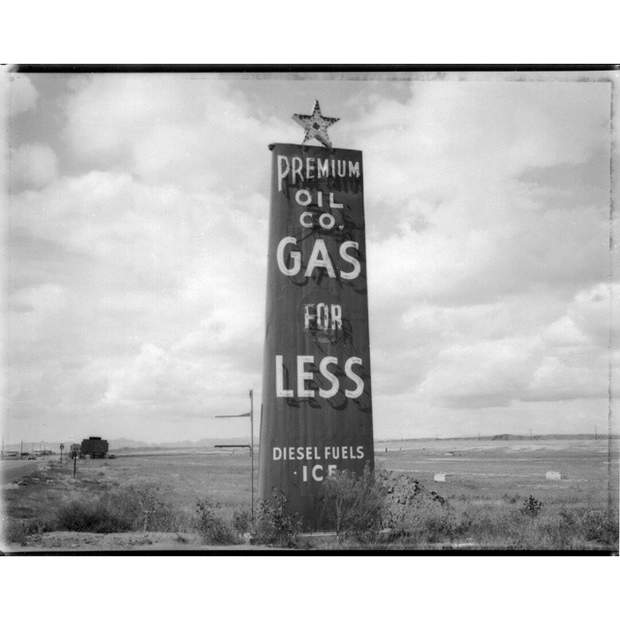 Premium Gas Sign : One of my all time favorite signs, made from a WWII bomber wing, it's since flown off to parts unknown.
Caddy Fin : Moab attracts all manner of wheeled vehicles, some like this Cad have more class than others.
Sandwich Sign : Greenriver is the place to be, desert living is the life for me. If that's not true for you, you better at least stop here, because you won't find another sandwich for 110 Miles !
Terry Knouff has been loving the Canyonlands country since 1979, and living in it since 1987. But his first love ( not counting Claudia Fancier in the 4th grade) is photography. Especially instant photogra­phy, the kind the Polaroid Corporation once provided to the world. Those days are past, Polaroid went belly up, and the Canyonlands have , by some estima­tions, been loved to death. But life goes on, and Terry continues to find enjoyment in the Canyon Country near his home in Moab, Utah, and in the art of Pho­tography. He has since found some satisfaction in digital photography, but of late he's yearned for the "good-old-days" of his instant photography youth. He is currently exploring instant films offered by other companies and former employees of Polaroid, un­der the banner of the "Impossible Film Project". And building his perfect instant photography beast, The Frankenroid. You can find his photography online at http://www.flickr.com/photos/tknou
To see more photos by Terry's sister, Becky Knouff, CLICK HERE.
To see the PDF version of this page, click here.
To comment, scroll to the bottom of the page.
Don't forget the Zephyr ads! All links are hot!