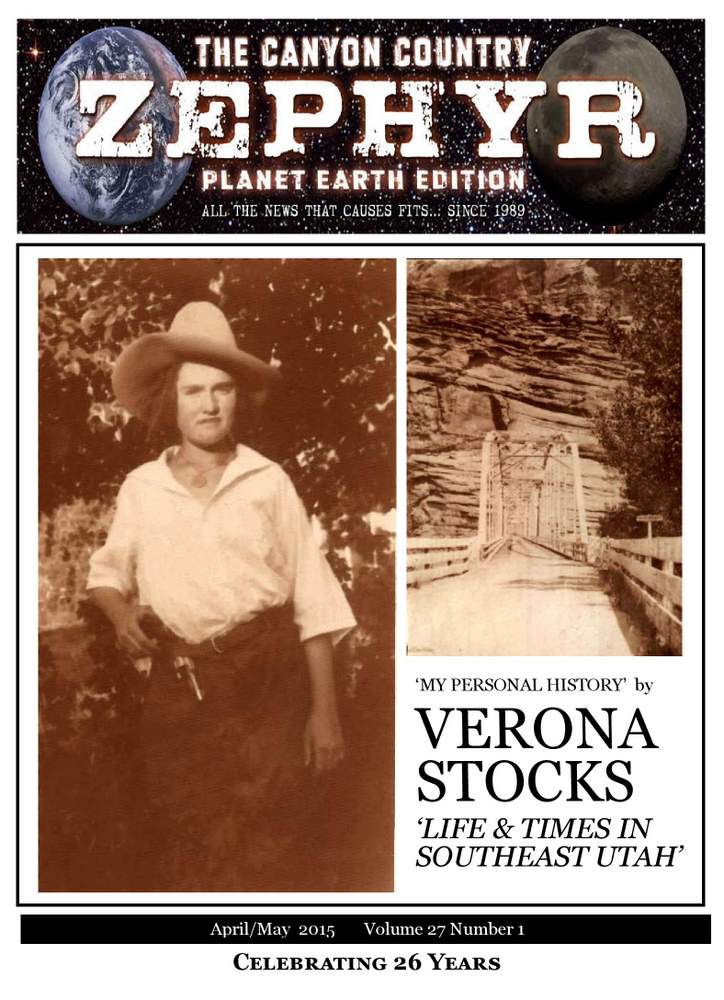 TAKE IT OR LEAVE IT…Jim Stiles
'Welcome Kara Dohrenwend'
"IT'S THE SCIENCE, STUPID!"
But for Conservatives and Progressives Alike, the 'Science' has to FIT.
SOWING CLOVER…Tonya Stiles
Watching SOUTH DAKOTA GROW…
A Century After Wild Bill, the Boom &Bust Continues
DEPUY!  The latest from the Great Southwest Artist
MOAB; GROUND ZERO…Facts & Opinions with Kara Dohrenwend
Finding Housing in Moab – 1994 and 2014:
It Gets Harder Every Year
(from the 1989 Zephyr Archives)
Toots McDougald's HISTORY OF MOAB
by Jim Stiles
"You Can't Go Wrong With A Dog."
Except for those damn Pomeranians, because when they get upset,
their eyes pop out.
Jim Stiles
HERB RINGER'S AMERICAN WEST
Portraits of Herb, from 1913 to 1998
'In the blink of an eye…"
WILLIE FLOCKO'S COUNTRY KITCHEN
'I like EGGS.' (and just in time for Easter)

"more poets. fewer lawyers…" 
Poetry by Amy Brunvand
THE 'UNITY MONUMENT'
The 'Hole n" the Rock Creator's Tribute to FDR & Willkie…& its Awful Demise
Jim Stiles

ALBERT CHRISTENSEN & AHARRON ANDEEW:
Eccentric Sculptors…& Kindred Spirits? The Mystery of a Second 'King World' Inscription
Jim Stiles
R  E  D     R  O  C  K     C  O  U  N  T  R  Y
Damon Falke
News Flash: Right Wing Fires Scientific Tradition
By Scott Thompson

KEN SLEIGHT REMEMBERS the 60s…
'Unscrewing the Locks.'
MY PERSONAL HISTORY
Life & Times in Southeast Utah…part 6
Verona Stocks

V L A C H O S'   V I E W S
America through the lens of PAUL VLACHOS
BEFORE & AFTER
Moab, Utah: 1992 & 2014
photo above by Stiles…below courtesy Google Earth
ZEPHYR EXTRA…
Solitude Lost? Or just Unwanted?