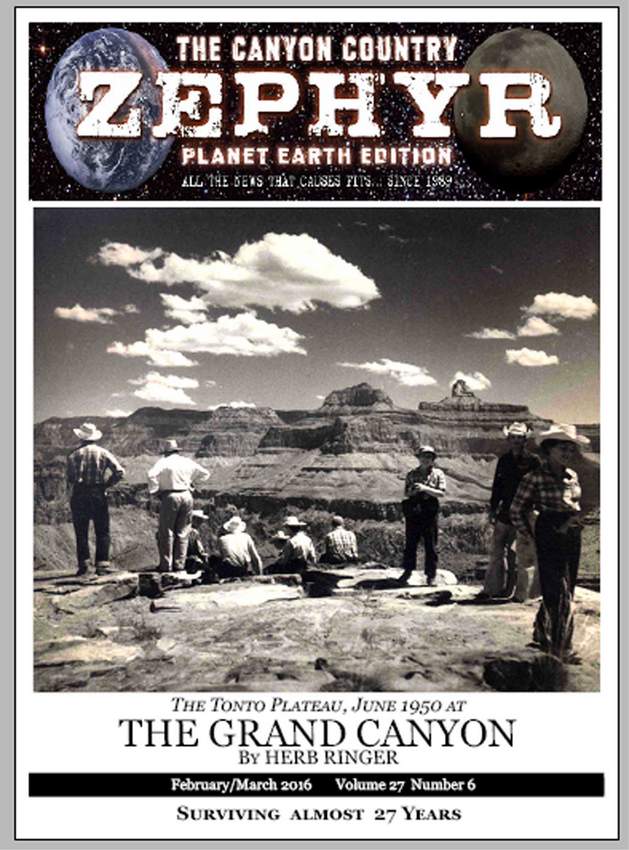 TAKE IT OR LEAVE IT…Jim Stiles
*  Some Personal Thoughts on the Moab City Hall Story,

    & Local Journalism in General.

*   Wind Subsidies & Conflicted Core Values, left and Right
SOWING CLOVER…Tonya Stiles
Sorry, Smokers. The Death Panels Were Real.

The Wages of Slim
TEN PICTURES ARE WORTH A THOUSAND WORDS
THE LATIGO WIND FARM
At Monticello, Utah…December 2015
MOAB GROUND ZERO…Kara Dohrenwend
Moab Needs a Truck Stop

Normal People Are Just the Ones You Don't Know Real Well
An excerpt from:
LAST OF THE ROBBERS ROOST OUTLAWS
Moab's BILL TIBBETTS…PART 4
Tom McCourt
" A Farewell to Arms"
"more poets. fewer lawyers…"
—poetry by Amy Brunvand
'Looking for the Great Sun Buddha'
HERB RINGER'S AMERICAN WEST
Winter 1945
"WHAT'S PAST IS PROLOGUE"
Three Small Towns & Their Common Bond–
City Manager Rebecca Davidson
Jim Stiles
An Entirely Different Vista Found
By Scott Thompson
"Tilting at Windmills"
A Geologist's View of the Latigo Wind Farm
Gene Stevenson
M o a b   in   W i n t e r
Terry Knouff
Ken Sleight Remembers……

MEMORIES of ARCHES NATIONAL PARK
(From the 2004 Zephyr Archives)V L A C H O S'   V I E W S
America through the lens of PAUL VLACHOS
"The Desert Dog"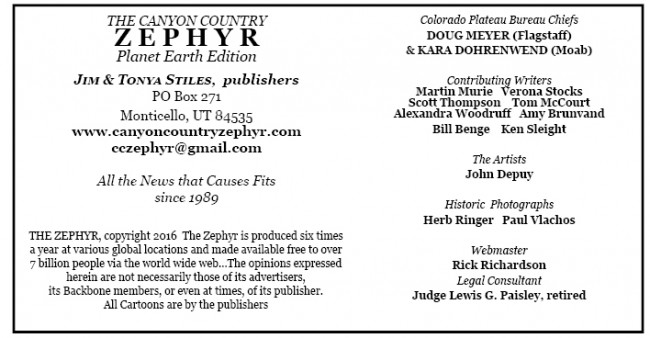 To see the PDF version of this page, click here.