"My father told of a fearful dream. He said, 'I dreamt I saw the greatest migration that has yet been through our country. I looked North, and South, and East, and West, and I saw nothing but dust. And I heard a great weeping…
'Oh my dear children, you may all think it is only a dream…
but I fear it will come to pass.'"
Sarah Winnemucca
Northern Paiute, 1845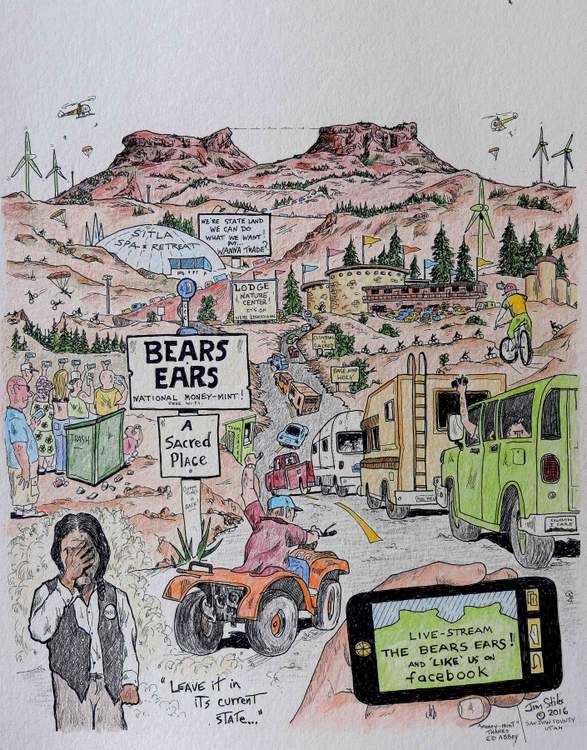 MORE FACTS & OPINIONS
RE: THE PROPOSED BEARS EARS NATIONAL MONUMENT…
There was a massive public hearing in Bluff, Utah on July 16. As many as 2000 citizens filled the small town, on a day when the temperature exceeded 100 degrees and the meeting hall's capacity was a fraction of the crowd. But almost everyone stayed relatively calm. San Juan County residents had hoped
the meeting, hosted by Interior Secretary Sally Jewell, would be an opportunity for the 'locals' to be heard. But environmental organizations spared no expense to bring its fair share of pro-monument supporters to the event.
Ten days later, the conservative Utah Senator Mike Lee, who opposes the monument, held an official senate field hearing in Blanding. Though the Interior Secretary (or a representative) was invited, they declined. Similar offers were extended to the Inter-Tribal Coalition, but they declined as well. The meeting in Blanding drew almost a thousand citizens, including a remarkable number of Native Americans who opposed the monument. Despite the stunning turnout, the huge media presence at the Bluff event failed to show up in Blanding.
But after observing both meetings, and after all the speeches and the heat, literal and figurative,  there is a very a striking dichotomy  when it comes to 'saving' these lands. The consensus is, we all want to protect the Bears Ears region of southeast Utah. The debate is, just 'how do we save it?'
Proponents of the national monument concept have expressed concerns and made observations about the best way to protect the area. Among them…
1. They are worried about the archaeological resources of the region and insist monument status will provide more protection.
2. They believe continued oil and gas development in southeast Utah will do irreparable harm to the environment.
3. Many environmental organizations have cited the 'clean, non-polluting,' aspects of tourism and recreation and insist that an 'amenities economy' that caters to the tourism industry will greatly benefit all residents of southeast Utah, and preserve the integrity of the lands they now want to proclaim a national monument.
4. Some Native Americans believe monument status will ensure their continued use of the land for traditional purposes
SOME FACTS…and OPINIONS
The Archaeological Resources Protection Act of 1979 (ARPA) is the specific law that protects Native American antiquities. This statute (16 U.S.C. 470aa-470mm; Public Law 96-95 and amendments to it) was enacted
…to secure, for the present and future benefit of the American people, the protection of archaeological resources and sites which are on public lands and Indian lands, and to foster increased cooperation and exchange of information between governmental authorities, the professional archaeological community, and private individuals (Sec. 2(4)(b)).
National monument status will NOT provide more specific legal protection of resources. The ARPA is there and has been for almost 40 years. What monument status could provide is more funding for more enforcement, and more restrictions on public lands, like road closures and even the designation of 'closed areas.' as determined by the superintendent. But federal land managers have noted that increased funding is generally linked to increased visitation.
Proponents cite 28 recent examples of vandalism to archaeological sites in the Bears Ears area, but compare that to the countless acts of destruction that have been reported in high visitation locations in national parks and monuments. Some are deliberate acts of vandalism; many more are the result of careless, thoughtless behavior by an uninformed visiting public.
So what is the strategy here for monument supporters? First, create the monument, then promote its world-wide appeal for the tourist dollar potential. When visitation increases dramatically, accompanied by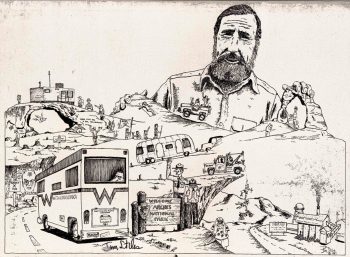 dramatic environmental impacts as well, land managers will call for more funding, for more protection and for more regulation. And they'll demand more funding to educate the public during their brief visits. Look at the Moab/Arches NP area and see what's happened there.  Establishing monument status for the Bears Ears has a Catch-22 component for sure.
If it sounds as if I'm being too hard on the tourist/recreation crowd, note that I include myself among them when I travel to any place that is foreign and different to me and where I lack knowledge and experience. Wilderness is an unforgiving yet fragile place. It can be deadly, and it can be easily destroyed.
And as this publication noted more than 15 years ago, when we first addressed head-on the impacts from the recreation industry—"It's the NUMBERS, stupid." Too many well-meaning people, most with good intentions, can be devastating. It's not a new idea; 'loving the place to death' has been an acknowledged fact for decades. But it seems to be a Truth that is often ignored these days.
LINKS FROM THE ZEPHYR:
IT'S TIME TO LOOK IN THE MIRROR
With regard to the development of oil and gas and other energy projects, the Bureau of Land Management planning office prepared a document several years ago, called a "Reasonably Foreseeable Development Scenario for Oil and Gas" in the Monticello, Utah area. The survey included 4.8 million acres of federally managed lands in San Juan County, Utah.
Proponents of the monument have argued that there are already thousands of active oil wells in San Juan County and until recently, that was true. With the world-wide oil glut, many wells have shut down. But oil and gas potential is not distributed evenly across the county. The overwhelming number of producing wells are found in the Aneth Oil fields at the far southeast edge of Utah and in Lisbon Valley, where energy production has been ongoing for almost 70 years.
According to the BLM study: "Paradox Fold and Fault Belt, and the area of concentrated oil and gas fields in the southeastern portion of the MtPA, within the Blanding sub-basin region of the Paradox Basin, both have a high development potential."
But much of the proposed monument overlays what's called 'The Monument Upwarp.' Again, according to the report, "The PorousCarbonate Buildup, Fractured Interbed,Permo-Triassic Unconformity, and Late Proterozoic(Chuar-sourced) Lower Paleozoic plays all occur within the Monument Upwarp area. Only two fields are developed in this area, the Mexican Hatfield, which consists of marginal wells and is nearly depleted, and the Lime Ridge field, which currently has no producing wells. Little, if any, development is anticipated in these plays for this area. Based on this information, and the lack of other producing wells, development potential for the Monument Upwarp is considered moderate to low."
Further, the deep incision of the San Juan River, physical and geologic, cuts across the Monument Upwarp; consequently, all the potential oil bearing and producing zones in that part of southeast Utah have been significantly depleted of pressure and oil.There is virtually no chance of active, profitable oil wells anywhere near the Bears Ears themselves, or the to the lands adjacent to them, including Cedar Mesa.
There is the potential for oil and gas production in Hatch Point area, at the very north end of the proposed monument. Some environmental groups have suggested, via computer generated image (CGI)  videos, that much of Lockhart Basin, along the Colorado River, could someday by inundated with oil wells and gas flares, but transporting energy from that remote location would be very costly. If it ever became profitable, it's a fair bet that the price of a gallon of gas would make tourist travel cost-prohibitive.
Finally, three small uranium mines operated by Energy Fuels in the White Canyon area shut down several years ago, due to resource depletion and plummeting prices. The Fukishima disaster killed the uranium industry in the United States.
In short, there are small areas where energy development could be exploited. But does it require the designation of almost 2 million acres to deal with these alleged impacts? Or is it overkill? Is there another way to find resolution?
* * *

The idea that monument designation and the introduction of a more robust tourist industry would somehow provide additional protection to its natural and archaeological resources is a dubious notion at best. Especially when you consider the world-wide attention such a designation would generate. You've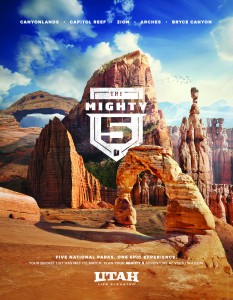 heard of 'The Mighty Five,' the massive PR campaign to bring the touring world to Utah?  The promotions have been successful beyond its creators' wildest dreams (and others' nightmares). Now get ready for the 'Mighty Six.'
Edward Abbey first coined the term, 'Industrial Tourism.' In the half century since he first warned us of the threat, the impacts from the recreation/tourism industry can hardly be overstated.
In the late 1990s, the same environmentalists who today support the monument and a massive tourist/amenities economy were making observations about  recreation impacts that were more dire and desperate than Abbey's .
In 1998, almost twenty years ago, Moab's Bill Hedden, now the Grand Canyon Trust's executive director, expressed this warning on behalf of his organization:
"Throughout the region…visitation has grown by more than 400 percent since 1980. This surge of interest has coincided with a proliferation of new recreation technologies–some exotic like modern ATVs, humvees, mountain bikes, climbing gear, jet skis and hangliders; and others prosaic like water filters, sunscreen and dry suits. Armed with these new toys, today's legions of visitors can exploit every niche in familiar areas and enter terrain that previously was protected by remoteness…And though it is common to blame the destruction on a small percentage of lawless visitors, my experience brings to mind the old joke that a mere 99 percent of users give a bad name to all the rest. Make no mistake–we are in this together."
Hedden concluded:
"Everywhere we looked, natural resource professionals agreed that industrial-strength recreation holds more potential to disrupt natural processes on a broad scale than just about anything else. (emphasis added) It's a very tough problem affecting all of us."
Scott Groene, the executive director of the Southern Utah Wilderness Alliance (SUWA) was once a columnist for The Zephyr. His worries and concerns about tourism and recreation were an ongoing theme in his "Watchdog" articles.
In December 1993 issue,  he wrote:
"Abiogenesis (the natural process by which life arose from non-living matter such as simple organic compounds) does not cause Moab tourism. People are drawn here by advertising, guidebooks, and publicity created through travel films, newspaper features, outdoor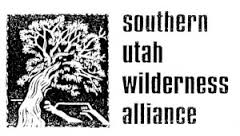 magazines and the like. And because of the large numbers of people being drawn to the Moab area, frequently, and justifiably, federal land managers now lament the damage being done by too many recreationists. Recreation is like any other public land use: too much in the wrong place can be bad." (emphasis added)
Groene and SUWA once protested a film permit that the BLM had granted to National Geographic for a segment of its "Explorer" TV series, "including rafting in Westwater Canyon, climbing, hot air ballooning, a visit to an archaeological site, and a horseback ride." Groene ruefully noted that, "the Moab travel council could not hope for more." SUWA wrote to the BLM questioning whether the show "will draw more visitors than the land can handle."
Groene even took on 'Outside Magazine.'  In a Watchdog segment called "Outside is off-base," Scott wrote:
"I quit buying Outside magazine a long time ago, when it transformed into little more than a plug for the over-consumption of expensive and unnecessary gear and silly 'gonzo' activities. I do still read it, standing at the newsstand, to learn which 'secret' places have been doomed by irresponsible publicity (unfortunately, southern Utah sites are frequently targeted). Some federal agency staff have also commented about the magazine's practice of 'Outsiding' little known places.
But since the late 1990s, mainstream organizations like SUWA and the Grand Canyon Trust have expressed little if any concern for recreational impacts in southeast Utah and have taken even less action. SUWA's current crop of young staffers would be shocked to read these words from 20 years ago. It's like a different world in 2016, for sure. With different priorities.
Now, with visitation to these areas increasing at a shocking rate, one wonders why they were so concerned about environmental impacts from tourism two decades ago, and are so indifferent to them now.
Today powerful recreation industry promoters like the 'Conservation Alliance' (including outdoor retail giants like Patagonia, North Face and REI) offer financial support to Monument supporters, including Utah Dine Bikeyah. The Alliance and the Outdoor Industry surely expect a good return on their investment.
* * *
Finally, another opinion… while the majority of Native Americans living in San Juan County seem to oppose the monument, many others, via the Bears Ears Inter-Tribal Coalition, strongly support a proclamation. They want to be assured of their continued access to, and use of, the land for traditional purposes. Good luck with that.
I was a ranger at Arches National Park for a decade, many years ago. Even then, I was stunned at how uninformed and uneducated so many visitors to the park were. Now, all these years later (and as I noted earlier in this story), with visitation skyrocketing (500% increase at Arches) almost daily epidemic-like reports of another tourist's fatal blunder, or another mindless act of vandalism, or their utter lack of understanding of natural processes or other cultures, how is bringing hundreds of thousands, or even millions of tourists with their smart phones, playing Pokemon Go in the meadows below the Bears Ears, going to assure Native Americans that their centuries-old traditions will prevail?
It's a a question that everyone who loves the lands of Southeast Utah needs to ask.Our ultimate goal in this endeavor should be to protect the lands we cherish and revere, not turn them into a marketing tool.  Because once we commit to this future for the Bears Ears, and Elk Ridge and the Blue Mountains and White Canyon, and Cheese Box Butte and the tablelands at Hatch Point, and Beyond….once we determine that THIS is the future we want for these sacred places, there is no going back.
Jim Stiles is Founder and Co-Publisher of the Canyon Country Zephyr.
SOME LINKS TO CONSIDER:
A week after man dies in Yellowstone, tourist fined for leaving the walkway at Hot Spring.
Bear cub killed in hit and run in Grand Teton National Park

Click here to read SOME HERETICAL THOUGHTS ON THE PROPOSED BEARS EARS NATIONAL MONUMENT…BY JIM STILES.
To read the PDF version of this article, click here.

To comment, scroll to the bottom of the page.
Don't forget about the Zephyr ads! All links are hot!
Save
Save
Save
Save
Save
Save
Save
Save
Save
Save
Save
Save
Save
Save
Save
Save
Save