The Uranium Boom. The big bang that was heard and felt around the globe. Although the Atomic Bomb was used with devastating effect to end World War II, it has not lost its popularity as a threat for further action. It is presently holding the world hostage. With the discovery of vast deposits of the material necessary to keep the stockpiles replenished, this threat remains a fixture in the life of every living soul on this planet. The repercussions of the Uranium Boom are still rumbling away. Waiting for a reason to explode. Testing the patience of mankind. Causing betrayal and distrust. Racing to be first in new experimentations.
I read in the Salt Lake Tribune this week that the President of our country has challenged the National Laboratories in Livermore, California and Los Alamos, New Mexico to make a bomb that will penetrate the earth's surface before it explodes. The purpose is to destroy underground bunkers full of hostile military personnel and makers of germ warfare agents of mass destruction. Then not only will we be able to blow the face of the earth off, but blast out its guts as well. Scary as hell, isn't it?
But that is for the future. Let's get back to the Boom that brought together people from far away places. People of diverse lifestyles and careers. Plopped them right down in the middle of a small oasis, called Moab, on the banks of the Colorado River in Southeastern Utah. The Boom affected every creature, plateau and settlement in a 150 mile radius.
These people were called tramp miners because of their nomadic way of living. When a mine petered out or the urge for a change of scenery hit, they simply moved to a new sphere of action. It was my impression over the years that these people were indeed miners, but they were not tramps. If they were, then all who came to work in out-of-the-way Moab were also tramps, including ourselves. My husband was a truck driver and that is an occupation conducive to frequent moves. Like us, these miners and families succumbed to the innate charm of Moab and stayed for years before moving on.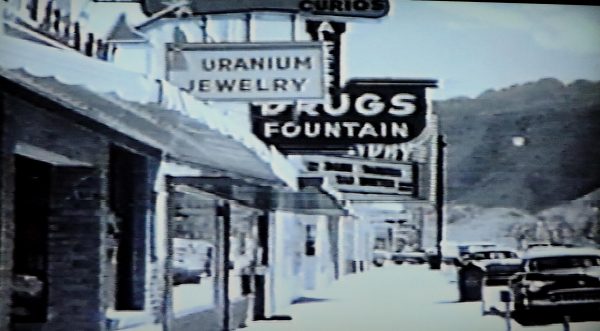 When my husband took a job hauling lead and zinc ore out of Rico, Colorado to the refinery in Salt Lake City, Moab was the breaking point. He chose the Colorado end and moved three small children and me from Ennis, Montana via Ashton, Idaho into this unbelievable area. I cried as we dropped into the valley on the old highway that hugged the red sandstone cliffs. I cried as we crossed the river and drove into town. I cried for weeks before submitting to the inevitable and got mad. I stuck out my stubborn chin, dug in my bulldog heels and yelled, "Vic Thill, you have brought us to this god-forsaken place and if you try to move us ever again, it won't be for twenty years!"
It wasn't either. Our children grew to adulthood with many lifelong friends still living there. They hold those twenty years deep inside their hearts. Moab is as much a part of their heritage as are their bloodlines.
I'm glad to see someone putting the record straight on Charlie Steen. Way to go, Mark. I have a couple of little stories to add to the legend. He signed my husband's paychecks for several years. Vic was an exceptionally good truck driver and hauled the raw ore from the Steen mines to the rail cars in
Thompson, the processors in Grand Junction, Colorado, the University of Utah and Bartlesville, Oklahoma for experimentation and the Atlas mill in Moab. When Charlie eliminated the trucking division of his operation, Vic went in for a final check and a talk. Vic looked at the check, looked again and handed it back saying, "There is something wrong here."
"How so?" Asked Charlie
"I think someone added an extra zero and then some," answered Vic.
"No mistake," explained Charlie. "I'm closing out that account. You deserve what was left in it. Take it with my thanks." Vic came home still stunned at this unexpected compensation and stated sincerely, "I have never worked for a fairer man."
I was a sixth grade teacher in Moab for most of the twenty years. When Charlie was president of the school board, he also signed my checks. Shortly after he gained the position, he said in a speech, "Those that can, do. Those that can't, teach."
This had teachers grinding their teeth, but after I knew him better I saw a twinkle in his eye and concluded he had a sly sense of humor. He accomplished his purpose, however, when the teachers set out to show this guy a thing or two about what teachers can really do. It is my opinion that Moab kids got a very good education at all levels. I have wondered since how many times this underhanded encouragement was used to challenge people in other careers. Those that can't, mine. Those that can't, drive trucks. And so on. I say, "Charlie, those that can, do. Those that can't, prospect."
Gotcha! Like us, you were also a phenomenal success. We had many good friends among the mining population. Even picked up an in-law or two. They were hardworking people and they played just as hard. I don't remember much about social organizations at that time except for the Chamber of Commerce and the Ladies Literary Club, but the Boom brought in many of them and created others. The Masons, Elks Lodge, Uranium and Dinner Dance Clubs, and National affiliated sororities proved very popular.
Home parties were a tradition that continued to prevail and remained reminiscent to the good old days. The Steens not only gave great parties for friends, employees, and once a year for the whole town, the hosted well-supervised events for their children and friends.
Charlie's wicked sense of humor came to the forefront in sneaky reminders of the days before the Good Times, but putting money meters in his bathrooms. I don't know how many fed the things, but I know several who appreciated the joke.
School teachers were in a good position to meet all the families who inundated the valley. The children were not the shy undereducated students their itinerant environment suggested. Most of them were worldly, talented and well-informed. They were eager to learn, outgoing, and brought to a little backwater town views of the world unprecedented to that time. The parents were cooperative and plunged into the scheme of things as enthusiastically as the children. The school curriculum was adequate with great teachers already in place. The advent of hundreds strained resources to the maximum.
It was miraculous how well everyone coped. Two elementary schools and a senior high were constructed in record time. More good teachers were sought and brought in by Superintendent of Schools Helen M. Knight. Grand County became one of the leading school districts in the state, not only academically, but in sports, music and drama.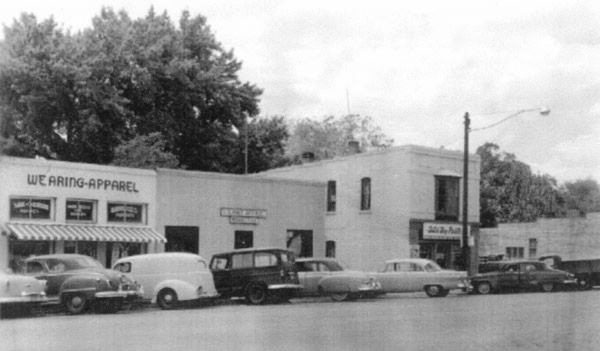 I consider myself privileged to have experienced this rare opportunity. Moab and all the people who lived the Boom contributed in untold ways to the history of the United States and ultimately the world. There are many stories I could tell about school-related incidents, but I will relay only one. It illustrates how expertly and sympathetically such episodes were handled.
A little boy was enrolled in kindergarten by parents working in the industry. Every recess break, the little fella just disappeared. It was reported to the principal and discussed in faculty meetings.
Superintendent Knight was consulted and took it upon herself to investigate. She followed him home from school one day. He went directly to his home, which was a small trailer house, and he sat down on the front steps. Mrs. Knight sat down beside him and gently started talking to him about small things. Finally, she asked, "Don't you like school?"
"Oh, yes," replied the child.
"Do you like your teacher?"
"Yes. She is very nice."
"Are the other children mean to you?" She queried.
"No, they are fun to play with," responded the boy.
"Then why do you run away from school every day?" was the next question.
"See those wheels." He pointed to the wheels still attached to the trailer.
"I see the wheels," said Mrs. Knight. "What about them?"
"They roll," was the short but very enlightening answer.
Mrs. Knight met with the parents, who were aghast to think their child was afraid his rolling home would roll away and leave him behind. They removed the wheels and set the house on a foundation. Problem solved.
Its ability to handle crises has contributed to Moab's survival. Evidence left behind by the wooly mammoths, ancient cultures, determined pioneers, stalwart ranchers, explorers like John Wesley Powell, the movie makers and, last but not least, the Boomers, is proof of that fact.
Today Moab is going through another Age. After the boom it did not become the proverbial ghost town. It did not revert to its former peaceful existence as a rest stop for travelers touring the four corners. It did not go back to exporting the best peaches, apples and melons in the state. It did not keep the title as Movie capital of the Old West. Instead it went all artistic, touristy 'n' stuff. The IN place to spend a vacation or a weekend hide-away. Two wheelers, four wheelers, RV's, ATV's and developers are its modern weapons of mass destruction. But this too shall pass and leave its mark in the annals of time.
Future adventurers will be lured in by the magnetism that is The Land of Moab. They will succumb to its magic and linger awhile to write another chapter in its history. To me, Moab is indestructible. It can only be enriched by all the peoples it has embraced through the ages and will play host to in the future.
The day I moved away forever, we drove through town, across a two-way bridge and up a gentle sloping highway between the red sandstone cliffs and to the desert above, north to Salt Lake City. It was the same way I entered twenty years before—with tears of sorrow streaming down my cheeks.
Former Moabite Irene Thill died in 2008 at the age of 88.
Save
Save
Save
Save
Save
Save
Save