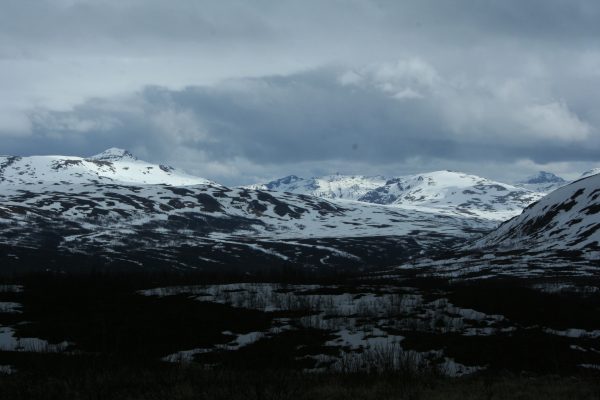 Lately I've been studying the barn and trees across the road from my house. I like watching trees move into winter, though this late in the year most of them are already there. No one uses the barn anymore. The wooden panels have long ago been stripped of paint, but they are built on flat and oddly pale stones for this part of the world. The stones are stacked in a manner similar to stone walls squaring up fields in north England and the Scottish Borders. Of course, there are stone walls in other parts of the world, but north England and the Borders are places where I go.
The barn has been used by at least three generations of farmers. There are smallish stalls inside where a farmer could have joined a tentative ewe with her lamb or with another lamb from another ewe that refused to feed her own. I have worked with sheep before, and something I know about them is that a ewe is more likely than not to be affectionate with her lamb, but not consistently enough that a farmer will walk away from a birth before the ewe has bonded with her lamb.
Walking through barns, especially old barns, is something of a pleasure of mine. I go through old barns hoping to see the ghost of another time, say the ghost of the family who built the barn or who took care of it, their tools, what's left of the livestock, including the smell, and those dry or rusty implements often abandoned in such barns. I'm not clandestine about my looking either. Most farmers here wouldn't care if I was looking into their barns. Most of them would rather tell me a story about their fathers or grandfathers than worry over why I was hanging about, shifting through trivial piles of rotten twine and fishing nets.
I remember the few landowners I met in an unhappy summer while working as a fishing guide in Montana. They where absolutely convinced about their ownership of the land. They collectively insisted that anyone who set foot on their land or who fished in what they called "their river" was a criminal, and a fantastically guilty criminal at that. There was an implied weighing of sins, and indeed, the landowners held the scales. What I couldn't convince any landowner of, and I am thinking of one man in particular, was that he did not actually own his land. The federal government owned his land—all of it, as such. The landowner is essentially renting his land or his river or his valley or his mountainside from the federal government by paying considerable taxes for the privilege of claiming ownership. If the landowner did not pay his taxes, then he would lose his land. More abrasively, if the federal government wanted his land for any reason, he would lose it. All that argued, most of what I perceive about property rights can be summarized by recalling how years ago I quit fishing the Frying Pan River near Basalt, Colorado. I quit fishing the river after landowners started stringing wire across the water to insure no one would fish their section of river. That was enough for me. Anyone who strings a wire across a river so that no one can fish the water is an unredeemable asshole. So yes, I too have checked the scales.
Yet to return where I began, we are entering our winter months. Since the birch trees have lost most of their leaves, I notice again how the barn is exposed to the granite hillside that rises behind it. It is curious how most of us spend what I suspect is an unusual amount of time looking up in winter. Maybe we remember how lush and green the countryside was just two short months prior to our being here. Maybe we hope to see the first snowfall. It is a marvelous change, the first snowfall, and when it comes, it is likely more beautiful than we have imagined or remembered. I look in the direction of the barn and the country behind it every morning. I look and listen, believing the world and its seasons will speak in a language I can hear. Perhaps every season invites us to frame our experiences inside of what is essential about that season, what colors dominate, how the light is different, what grows. For me, winter is the season in which we keep our silences.
I think of a December twenty-five years ago when I was passing through Monticello and ran into Karla Vanderzanden, co-founder and long time director of Canyonlands Field Institute. At that time, Karla and I had worked with each other for nearly four years, and I like to think we were friends. We met by chance that afternoon at a Trailside on the west side of Highway 191. We had both stopped to gas-up our trucks. I was heading towards Moab, and she would soon be turning east into Colorado. She was, she told me, on her way to experience winter solstice in winter solitude. Winter solstice in winter solitude. Those words sounded like an incantation to me then, though what I understood of them was insignificant.
I had known Karla from the time I went to work for Canyonlands Field Institute at fifteen years old. I am confident I was fifteen, because it was not long after I started working for C.F.I. that I got my driver's permit. Afterwards, I bought a new bicycle, a blue Trek that I rode for years and that likely remains in someone's storage unit or garage in Moab. Marian Ottinger worked the front desk of C.F.I. in those days. That's when C.F.I. was located in a somewhat dilapidated house on 100 W Street. I went into the office initially to apply for a part time clerical job. There I was, standing in front of Marian Ottinger, not knowing for a moment why I had walked into her office. She looked at me and grinned. I can still see her grin. She cocked her head a little sideways and studied me more closely than I could have expected. I didn't feel doomed exactly, but I felt it would take a considerable effort to convince her that I had the slightest abilities with filing, copying, keeping records or anything involving clerical work, which I certainly did not have. Even so, I held my limited ground of pretense. I can't remember whether it was Sue Bellagamba or Marian or maybe even Karla who told me there wasn't much paperwork to do, but there was a cooler out back that needed cleaning. I regret that I cannot remember who among that crowd said those words to me, because, without hyperbole, that moment changed my life. It is a cliché, the phrase "changed my life," but in fact, we all have moments measured in terms of before and after, and for me, walking into C.F.I. as a young man was such a moment.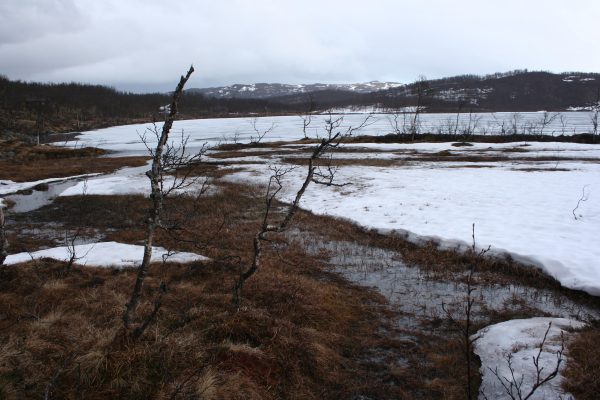 Visiting with Karla that December outside the Trailside marks another experience of change. It was an early occasion when I found myself looking at where I was and appreciating what more could be taken in. In such a moment, there is a realization of the other. This realization is expressed by acknowledgement. We acknowledge what we are looking at, and what we are looking at acknowledges us. It is this experience that sanctifies our experience of a place or landscape, or even a work of art.
What I carry of that afternoon, at least in part, is a picture—an image. The image is commonplace. Two people are talking, leaning against their mid-size trucks in front of a gas station. The mountain to the west is grey with winter. The stoplight up the road switches from green to red and back to green again, but not a car anywhere to go. I can see into our truck beds. I see backpacks, dry bags, sleeping bags, and the duffle bags with fleece pullovers and wool socks crowding the top. Karla is going to a location in the farm country. I am going home to Moab for the first Christmas of my adult life. We are two people talking in front of the Trailside, somehow, exotic and far away.
I recall feeling tunnel vision for a few seconds when it began to snow, and I tried to focus on individual snowflakes. Eventually, I looked up through the snowfall, wondering if I could see whatever cloud made the snow. I tried to imagine something like a giant flour sifter in the sky, held by an invisible hand, and dusting us all, including the parking lot, with bleached white flour snow. It was not the best image to conjure. There was simply snow falling from a grey sky, and a reminder that we don't always need our metaphors.
Other than on the mountains above the valley where I live, there hasn't been much snow this year. I get a little nervous thinking about it. I start to wonder if I am literally witnessing the world turn warmer, considering I live in one of the colder parts of the world and there isn't much snow. It bothers me. I think about the polar bears that need ice to survive, drifting as they seemingly are to a pointless extinction. Someone recently told me that these bears can't adapt to a world without ice and snow. The same person told me one of these bears swam from an island called Svalbard to Greenland. That's 1,800 kilometers of distance. The same bears that can swim so far are now facing extinction? I don't know. I don't know what to think about such things anymore. There is so much we cannot save. I think about that, and when I do, sometimes those other worlds come back to me in small episodes, small pieces of roadsides and people I used to know.
But then last week a neighbor came over to ask if I would help him kill and butcher a cow. The cow lives up the road at the next farm. My neighbor said to me, "We will wait for the snow. The first snow will help us." Maybe it will or maybe it won't. I've butchered a few animals in the snow, but I didn't notice the work was any easier because of it. Mostly, I noticed it was cold. But we'll see. I haven't met the cow yet. It's a good looking farm though, up the road as it is. Most of the property fronts the sea where I know someone's father or grandfather once caught fish to supplement an income and diet both. I can see the outbuildings and naust are all old but still in use, still well kept. I don't know if my neighbor will remember to come get me or not, but if he does I'll be able to walk through some of those barns and outbuildings, maybe even peek into the naust where I know there will be stories. I will be happy to sit with all of them.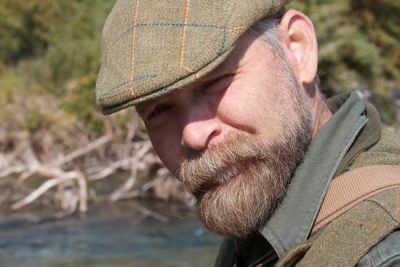 Damon Falke is the author of five books, including most recently Now at the Uncertain Hour. His poem Laura, or Scenes from a Common World was produced by Square Top Theatre and was an Official Selection for AVIFF Festival at CANNES.
To comment, scroll to the bottom of the page.
Don't forget the Zephyr ads! All links are hot!
Save
Save
Save
Save
Save
Save