THE PROCLAMATION:
On December 28, 2016, President Obama, by proclamation, designated 1.35 million acres of federally
owned land in southeast Utah as "Bears Ears National Monument." The President stated that he had taken this action, "to protect some of our country's most important cultural treasures, including abundant rock art, archeological sites, and lands considered sacred by Native American tribes… I have also established a Bears Ears Commission to ensure that tribal expertise and traditional knowledge help inform the management of the Bears Ears National Monument and help us to best care for its remarkable national treasures."
Environmental groups like the Southern Utah Wilderness Alliance (SUWA) declared that, "The President's action grants a new layer of protection to some of the most spectacular places in southern Utah," and it explained that, "The new monument withdraws Lockhart Basin, adjacent to Canyonlands National Park, from future energy leasing."
SUWA announced that, "Nearly 100,000 archaeological and cultural sites are now covered by the proclamation (via the Antiquities Act of 1906) , including House on Fire and Moon House ruins.
But their statement suggests that these sites were completely unprotected before the designation. That is simply not true. The federal lands within the new monument were already protected by the Archaeological Resources Protection Act. In 1979. ARPA was passed by Congress, in fact, to address shortcomings and inadequacies in the original Antiquities Act, and applies to ALL federal lands.  Yet, the claim by SUWA and others is that these lands were previously wide open to desecration.
And SUWA added, "Equally important, the proclamation elevates the voices of the Native American tribes who have ancestral ties to the region."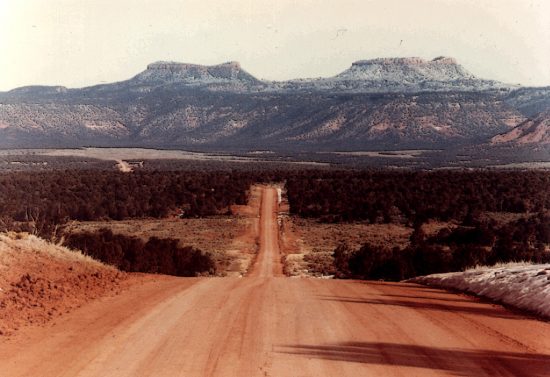 NATIVE AMERICANS & THE INTER-TRIBAL COALITION…
'ACTIVE CO-MANAGERS?' OR 'GUIDANCE' PROVIDERS?
The Native American organization that spearheaded the push for Bears Ears monument designation, Utah Dine' Bikeyah, was equally enthusiastic. It posted, "UDB applauds President Obama's action, which comes in response to a historic unity of Tribes who together requested permanent protection for the Bears Ears
cultural landscape."  The UDB post added, "This designation is both durable and defensible, as it reflects the will of a majority of Utahns as well as the wish of peoples who have lived here since time immemorial. UDB looks forward to helping craft a land management plan for the first National Monument to be collaboratively managed by Tribes."
Clearly, proponents of the new monument, Native Americans and Whites alike, approve of the designation and the language contained in the proclamation. Leaders of Dine' Bikeyah declared last July that, "Under the framework set forth in the Bears Ears National Monument proposal, five Tribes – Hopi, Ute Mountain Ute, Navajo, Uintah Ouray Ute, and Zuni – would co-manage Bears Ears to ensure cultural sites and uses are honored and upheld."
And in September it announced that, "5 regional Tribes with deep ties to the area will actively co-manage these lands side-by-side with federal agencies. NOW THAT'S HONORING TRIBAL SOVEREIGNTY."

But here is the specific language from the proclamation:
"The Secretary of Agriculture and the Secretary of the Interior (Secretaries) shall manage the monument through the U.S. Forest Service (USFS) and the Bureau of Land Management (BLM), pursuant to their respective applicable legal authorities, to implement the purposes of this proclamation.
"The USFS shall manage that portion of the monument within the boundaries of the National Forest System (NFS), and the BLM shall manage the remainder of the monument.
"The lands administered by the USFS shall be managed as part of the Manti-La Sal National Forest. The lands administered by the BLM shall be managed as a unit of the National Landscape Conservation System, pursuant to applicable legal authorities."
And the announcement also included this:
"In recognition of the importance of tribal participation to the care and management of the objects identified above, and to ensure that management decisions affecting the monument reflect tribal expertise and traditional and historical knowledge a Bears Ears Commission is hereby established to provide guidance and recommendations on the development and implementation of management plans and on management of the monument."
And an accompanying press release from the BLM made it clear just who would manage the new monument:
"Honoring tribal expertise and traditional and historical knowledge, a Bears Ears Commission has been created that will enable tribes to share information and advice with federal land managers. While tribal input will be carefully and fully considered during such planning and management, the BLM and USFS retain ultimate authority over the monument."
It's worth repeating:


"While tribal input will be carefully
and fully considered
during such planning and management,
the BLM and USFS
retain ultimate authority
over the monument."
Nothing could be clearer than that.
It would be impossible, in the space allotted here, to recount all the broken promises made by the U.S. Government to Native Americans, going back centuries. And Native Americans who opposed the Monument, specifically members of the Navajo Nation who reside in San Juan County, believe the language is cleverly misleading. One thing is certain, the inescapable meaning of the proclamation is that the Five Tribes and the Commission noted in the proclamation will serve as an advisory panel. They have no legal authority to implement their own preferences for the monument's management.
Still Native American proponents believe the designation guarantees their participation in "co-managing" the monument, "side-by-side' with the federal agencies. If that's true, they should ask the following very specific questions of federal land managers and the Departments of Interior and Agriculture—
* Will the Commission have the authority to establish the Monument's organizational structure, personnel-wise?

* i.e., will the Commission have the legal authority to determine the size and nature of the staff that manages the Monument?

* Will it be able to hire Native Americans via a selection process exempt from established federal hiring rules and regulations?

* Will it be able to make its own decisions or overrule decisions made by federal land managers (BLM & USFS) with regard to the placement of monument "improvements" like the location and size of visitor centers, campgrounds, picnic areas, contact stations, or the creation new roads or the improvement of existing roads?

* Will it be able to overrule decisions to close or restrict access to parts of the Monument?

* Will it have the authority to close or restrict access to parts of the monument that the federal agencies want to keep open?
* Will law enforcement authority lie solely with the federal government agencies or will the Commission provide its own law enforcement to co-manage the Monument?

* Will the Commission establish penalties and punishment for violations committed on the Monument?

* Who will establish what a violation is? Will rules and regulations be set by the BLM and the USFS? Or will the Commission establish rules and regulations as they see necessary?
* Will it have the authority to determine the collection of fees for special use areas like campgrounds or picnic areas?
* Will it have the authority to overrule decisions by federal land agencies re: fee collection?

* Who will benefit from the collection of revenues generated by the Monument? Will those monies go into the federal treasury or will they be shared with the Five Tribes?

* Will it have the legal authority to overturn or block ANY decision made by the federal government when it comes to the management of Bears Ears National Monument?
OR..as the proclamation states, will it only be able to:
"provide guidance and recommendations?"
There's a massive difference between "actively co-managing" and "providing recommendations." How actively engaged will Native American be able to participate in 'the process?' Even under normal conditions, it's questionable. But this is not a 'normal time.'
Because January 20 just happened…
NOW WHAT?…JUST SPECULATING…
President Obama's proclamation, as we all know, came seven weeks after the surprise election of Donald Trump, and just three weeks before Obama left office. So now what happens…?
A couple days after the announcement, I posted these thoughts on what might be coming next.
Just speculating…
* Obama declared a Bears Ears National Monument on December 28th.
* On January 20, Trump takes office and Republicans control the Congress.
*  We already know that Republicans oppose these kinds of designations and are unlikely to legislate much in the way of funding. Utah's Senator Lee has already confronted Interior Secretary Zinke, who has agreed to come to Utah and hear first-hand from the monument opposition.
* Democrats know this.
* Despite the lack of funding to protect the resources that proponents of the monument claim to support, the tourism and recreation industry will mass market the new monument anyway, because that's what an Industrial Strength Recreation Industry does.
* Proponents of the monument will not object to the mass promotion because they still cling to the idea that tourism is a clean and non-threatening kind of economy.
* Many more people will come to the area to visit the new monument that they just saw promoted in slick 'action ads' on tv or on facebook.. Impacts from the increased visitation will increase as well.
* Monument supporters will blame Trump.
* Trump supporters will say it should never have been designated a monument to begin with, knowing that a new administration would not be supportive of it.
* Monument supporters will pay no heed to the warning that the Grand Canyon Trust's Bill Hedden issued almost twenty years ago when he proclaimed: "Everywhere we looked, natural resource professionals agreed that industrial-strength recreation holds more potential to disrupt natural processes on a broad scale than just about anything else. It's a very tough problem affecting all of us."
* Monument supporters in 2017 will say that this is why the new monument needs more protection and more funding and more staff and more law enforcement and more paved roads and designated campgrounds and restricted access to backcountry areas seldom visited in the past.
* Nobody will appreciate the irony.
REALITY CHECK..EVEN FROM 'FRIENDS OF CEDAR MESA'

For months, prior to the December 28 announcement, monument proponents were absolutely silent on the issue of tourism and recreation and the impacts they might bring. At the Bluff hearing last July, when Interior Secretary Jewell came to hear and support and opposition, Bears Ears fans spoke endlessly of archaeological damage from looters and even cattle, and of destructive energy exploitation. For groups like SUWA and the Grand Canyon Trust, this was no surprise–they haven't acknowledged the impacts from an Industrial recreation economy in almost two decades.
But just days after the proclamation, at least a few Bears Ears supporters finally spoke up, and some of their remarks were revealing. In an excellent Salt Lake Tribune article by Matthew Piper called 'Bears Ears Backers Say Work is Needed to Ensure Designation Results in Protection—Not Degradation," monument proponents conceded that the monument could lead to impacts not addressed by them until now.
Piper's article noted that while proponents "celebrated" the new monument, "they acknowledge immense challenges to come." Josh Ewing, executive director of Friends of Cedar Mesa, and its board chair Vaughan Hadenfeldt acknowledged that dramatically increased visitation could damage or destroy the very antiquities they hoped the monument would protect.
According to the Salt Lake Tribune story, "Should tourists arrive by the busload to check "Bears Ears ruin" off their list of Utah wonders, some sites may simply
need to be 'sacrificed,' said Hadenfeldt and Ewing.
"…Hadenfeldt yearns for a coordinated information campaign. Now, he said, maps at the Bluff Fort Visitors Center identify places to find pottery shards, and front desk employees at some Bluff hotels are eager to share directions to their favorite spots. 'It's probably not a good idea,' he said."
'FCM'…THE TRUE FOUNDERS OF BEARS EARS NM?
Friends of Cedar Mesa (FCM) and Josh Ewing have been an integral part of the monument process and have been the voice for other environmental groups since efforts to create a "Greater Canyonlands National Monument" were abandoned in 2013 and support shifted to Bears Ears. Significant financial support to promote and market the monument came from organizations like the Conservation Lands Foundation (which contributed to FCM) and the outdoor industry giant Patagonia.That company, in fact, funded a promotional documentary film about the monument called, "Defined by the Line: A Film About the Fight to Protect Bears Ears," featuring Ewing.
The film's producer/director, Fitz Cahall, was interviewed by Climbing.com in 2015 and offered some insights not heard by most mainstream environmentalists. While organizations like SUWA and the Grand Canyon Trust insist that the Bears Ears monument idea originated with Utah Dine' Bikeyah, Cahall, who worked closely with Ewing to produce "Defined by the Line," offered a different opinion on the monument's origins.
Some excerpts:
"…we found someone in our bigger climbing community who had a really cool story, someone who fit exactly that idea: Josh Ewing. He's a super-passionate climber, and he's been doing it for a long time."
"…he went to work for an advertising agency as head of corporate communications and messaging. He had this pretty high-powered job but was still really passionate about climbing."
"He moved down to Bluff, Utah, which is basically one of the quietest places you could possibly be. Definitely not a lot there!"
"…there were people in the community who started a group called Friends of Cedar Mesa, a loose volunteer organization. They came to Josh because they realized that this town of 200 people just added a guy who spent 10 years in corporate communications and working in politics, and they needed someone to help spearhead this effort to stave off oil and gas. And he thought, 'Why not? Maybe this is what I was meant to do with my life.'"
"And he came up with this idea of wanting permanent protection for Cedar Mesa. He crafted a monument proposal for President Obama to consider as he leaves the White House at the end of his term…So Josh and the Friends of Cedar Mesa are hoping to get that chunk of land protected permanently….The last few months have been incredible. Originally the proposal was to save 200,000 acres, and it was just Cedar Mesa. Now, because of the coalition Josh has built, it has 1.9 million acres." (emphasis added)
"There are four or five Native American tribes involved. There are several local organizations that have banded together with Friends of Cedar Mesa. And there are bigger national conservation organizations supporting this."
Fitz Cahall added, "if you're into adventure climbing and new-routing, I mean, this whole area of Cedar
Mesa is so ripe…"
An article from the Deseret News and Amy Joi O'Donohue also questioned whether Utah Dine' Bikeyah acted along in pushing for Bears Ears NM. O'Donohue reported that:
"In October 2014, a group of people sat around a table and discussed their campaign to bring a monument designation to southeast Utah for the region they called Bears Ears.
"This wasn't a group of Native American tribal leaders from the Four Corners, but board members from an increasingly successful conservation organization (The Conservation Lands Foundation–CLF) who met in San Francisco to discuss, among other things, if it was wise to 'hitch our success to the Navajo.'"
O'Donohue noted that, "… the campaign is fueled in part with $20 million in donations from two key philanthropic foundations headquartered in California — the Hewlett and Packard foundations — that cite environmental protections as a key focus for the grants they award" It has also been reported that the Leonardo DiCaprio Foundation has recently contributed $15.6 million in grants for environmental causes, including Utah Dine' Bikeyah and its Bears Ears Monument campaign.
So..does Bears Ears NM owe its existence to Utah Dine' Bikeyah? Or to the Conservation Lands Foundation and its mega-wealthy board of directors? To Josh Ewing? We may never know. But it's very important, especially for Native Americans who supported the monument, based on the information that was provided to them, to read the proclamation.

AND RE: THOSE  SITLA LANDS
And then there are those pesky SITLA lands. When the federal government claimed ownership of the West's lands, part of the deal was that they gave a certain number of parcels per township to the states. In Utah, those lands are administered by the State Institutional Trust Lands Administration (SITLA) Its mandate by law is to make those lands generate funds for the state schools. For much of its existence, SITLA revenues were not always significant; many were used by local ranchers as affordable grazing allotments. The grazing practices on many of those sections were often sub-standard, but at least the lands remained open. When possible, SITAL used state lands to exploit the energy industry. That's where the revenues came from.
But recently, with the big tourism/recreation/amenities boom, SITLA started selling off state lands for other purposes. They have auctioned large parcels to developers to create second home subdivisions and are popping up all over southeast Utah. Many of the buyers are affluent urban types, buying up parcels and building million dollar homes. Or second homes. There's a cluster near Flatiron Mesa. This has been happening for years and The Zephyr addressed the subject almost ten years ago. But NOT ONE environmental group has expressed concern, at least not in the past 15 years.
Five years ago,  SUWA and Grand Canyon Trust negotiated a massive land swap with SITLA. SITLA gave up scattered tracts of land in SE Utah; in exchange they gained ownership to a significant parcel of former BLM land in the Book Cliffs—land rich in tar sands.
SUWA eagerly made this trade. Of course, as should have been expected, SITLA then leased the new parcels to a tar sands exploration company to exploit and develop. Consequently, OTHER environmentalists were furious and tried to shut down the operation. BUT it was the trade that SUWA engineered in the first place that made the tar sands deal happen.
In late October, two months before the proclamation, SITLA announced it had sold 381 acres of state land to a Utah farming corporation called 'Lyman Family Farms' for $500,000. Spokesman Joe Hunt said the purchase was intended asa a place where youth groups could learn about the history of the Mormons in southeast Utah and its extraordinary 'Hole in the Rock Expedition in 1879-80.
Environmentalists were furious, of course. Josh Ewing told the Deseret News,"It is disconcerting that an area that is integral to Comb Ridge is now privatized."
Many, including this writer, would prefer to have seen the area left alone, all 381 acres, but there are some contradictions at play here that should be mentioned.
Within the new Bears Ears NM are a number of state parcels locked inside the monument boundary. Note all the blue squares in the attached map). They are ALL SITLA lands… more than 106,000 acres.
Within the proclamation is another proposal to 'swap' those parcels, probably for energy rich lands in northern grand County which, when exploited, will incur the wrath and legal maneuverings of the same groups who agreed to the land exchange in the first place. And, to add insult to injury, San Juan County will lose any tax revenue benefit from those SITLA  lands if they are transferred to another part of the state.
* * *
But SITLA is not obligated to trade out ALL its parcels, just the ones they think they will benefit from making a trade.
Note all the state parcels that are adjacent to or lie across major highways that intersect the monument—along Utah Hwy 95, near the junction with Natural Bridges NM, near Muley Point. All around Bluff, up by Church Rock where state hwy junctions with US 191.
There are dozens and dozens of state sections that SITLA will exploit for their commercial value. But because they promote Industrial Tourism, THE preferred industry of environmental groups like SUWA and the GC Trust…AND Friends of Cedar Mesa, one will be hard pressed to hear a peep of protest when/if THOSE state land are sold or leased for use as hotels, lodges, restaurants, gas stations, jeep rentals,Adventure tour companies, river companies—whatever the tourist economy can come up with to exploit those lands.
When THOSE kinds of proposed uses for SITLA lands are implemented–sold off, leased and transmogrified to the highest bidder in the New West Economy, it will be interesting to see how many of these people protesting the sale of 381 acres of land to the Mormons will object as strenuously, if at all.
In this new age of corporate environmentalism, each proposal has two faces. On the surface, a proposal for the Bears Ears National Monument is a plea for preservation–keeping the land in its natural state and empowering the Native Americans who would honor the land with its "co-management." That is an honorable vision. But it is only the surface.
AT THE END OF THE DAY…
Buried beneath the rosy Bears Ears Monument vision, the  facts expose a cold and cynical motivation.  Native American "co-management" is quickly re-packaged and re-defined, and "proclaimed" in such ambiguous terms that it can be sold as the truth, without ever having to acknowledge its own deception.
"Preservation" takes a backseat to "profit," as the recreation industry becomes the most powerful and effective voice for  "environmentalists" in Utah. If anything, protecting the land for its own sake, without thought to economiv benefit, becomes secondary, if not antithetical, to the goals of tourism and recreation.
(see accompanying article, re: the threats by the Outdoor Industry)
And, in the end, thanks to the SITLA lands locked inside the monument, the proponents of the Monument, much to their own chagrin, may have created even greater opportunities for energy exploitation in more mineral-rich portions of the State of Utah.
That is what modern environmentalists call a victory. Whether it is a victory for the Bears Ears land itself remains to be seen…some day its supporters may wonder what exactly it is that they "won."
Jim Stiles is Founder and Co-Publisher of the Canyon Country Zephyr.
Save
Save