From the 1992 Zephyr Archives…
this article is rated R – not suitable for reading by children due to the sensitive subject matter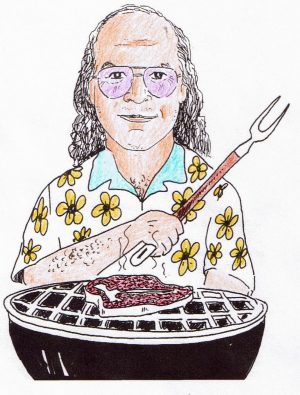 .
If you're like Ol' Flocko, you probably wonder what to do with the Easter Bunny after you have trapped him in your home on Easter morning after delivering his chocolate eggs, colored eggs and other goodies. I had never really thought of trying to trap the Easter Bunny until one Spring about 15 years ago when I was running Willie Flocko's Halfway House for Wayward Peace Officers. That Spring, the halfway house's only resident besides myself was Deputy Newley. Newley had been living at the halfway house for about two months and, in addition to his other problems, was suffering from severe "trapping withdrawal." Up to that point, Newley had run a string of traps for coyotes all through Grand and San Juan County, but had been dissuaded from his trapping endeavors by animal rights activists, environmentalists, and other more enlightened beings. I had been gone Easter week and came home Easter afternoon to the smell of something wonderful cooking in the kitchen.
"What's cooking, Newley?" I asked
"Easter Bunny Hasenpfeffer," he replied. "I set traps for the little bugger all around the house and caught him behind the woodburning stove."
I surveyed the house and found that there were no chocolate eggs, chicks or other goodies and therefore assumed he had trapped the Easter Bunny before he made his delivery.
"Newley," I said, "this Easter Bunny trapping is a good deal, but in the future, don't kill the Bunny before he lays the chocolate egg."
In any event, I've been preparing Easter Bunny in various ways every Easter since that fateful day 15 years ago.
Though I refer to "Easter Bunny" in the following recipes, I have adjusted them for the use of commercially obtained rabbit, which are somewhat smaller than a true Easter Bunny. (A true Easter Bunny is the same approximate size as Bugs or Roger.) If you cannot find rabbit at your local super or mini market, I am sure you will find some neighbors who unwittingly gave their children a pair of cute little bunnies last Easter and, thus, will have rabbits galore for your dining pleasure.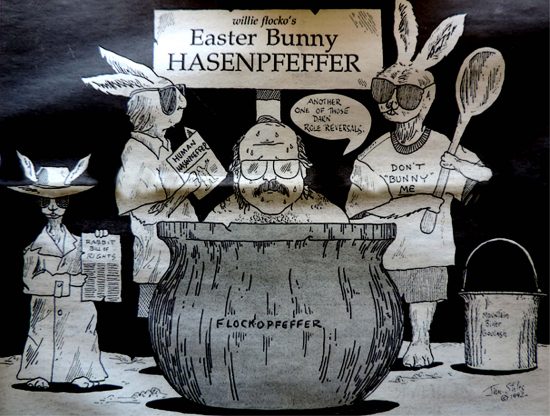 EASTER BUNNY HASENPFEFFER
Ingredients:
approximately 4 lbs cleaned Easter Bunny, cut into pieces
1 1/2 C. red wine vinegar
1 1/2 C. water
1 T. lemon juice
1 C. Cabernet Sauvignon
2 medium onions, sliced
1 t. dry mustard
2 t. salt
12 peppercorns
1 T. pickling spices
8 cloves
3 bay leaves
flour
1/3 C. butter
1 T. sugar
1 C. sour cream
Red currant jelly
Place Easter Bunny parts in a large bowl. Add vinegar, water, lemon juice, wine, onion, salt, mustard, pepper, pickling spices, cloves and bay leaves. Refrigerate at least 24 hours, turning occasionally (this is better if marinated 48 hours.) Remove "bunny" pieces and reserve marinade. Dry pieces well, dredge with flour and brown in butter in a heavy skillet or dutch oven. Add strained marinade to the browned "bunny." Cover. Bring to a boil. Lower heat and simmer until tender, approximately 40 minutes.
Arrange "bunny" pieces on a platter. Add sugar to the broth. Blend 6 T. flour with a little water and stir into the broth. Cook while stirring for 1 minute. Stir in the sour cream, but do not let boil. Pour over the "bunny" and serve with potato pancakes and currant jelly.
♣
Another good Easter Bunny recipe is the following, which is rumored to have been a favorite of author Lillian Hellman:
Ingredients:
1 1/2 lbs pork belly, chopped
3 carrots, peeled and chopped
1 1/2 onions, minced
1 clove garlic, minced
1 t. thyme
1 bay leaf
1 Easter Bunny, cut up
1 C. dry white wine
1/4 C. brandy
2 T. heavy cream
1 t. Dijon mustard
1 t. chopped parsley
salt and pepper
Lay 1/2 pound of the pork in the bottom of a casserole. Cover with a layer of half the carrot, onion, garlic, thyme, bay leaf, and add another 1/2 pound of the pork. Add the "bunny," then the rest of the vegetables and the rest of the pork. Pour the wine and brandy over the casserole. Cover tightly and cook in a slow oven (about 300 degrees) for 2 1/2 hours. Remove, arrange meat and vegetables on serving dish and keep warm. Skim the fat off the cooking juices and place casserole on low flame. Beat the egg yolk and and cream together and add to the juices, stir, and cook gently. DO NOT BOIL. Just cook until it thickens, add the mustard, and pour over the "bunny." Sprinkle with parsley.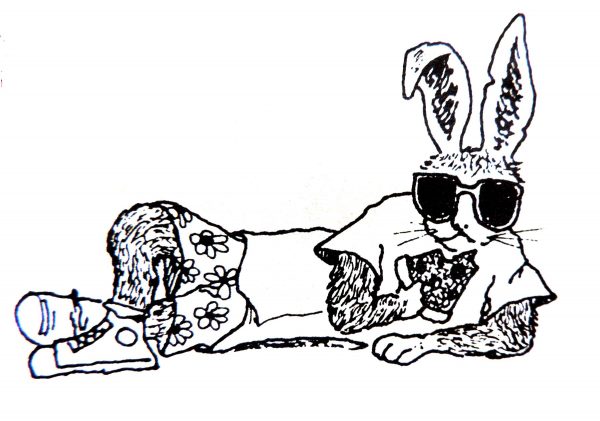 Though our Native American brothers and sisters to the South, the Hopis, do not traditionally celebrate Easter, they do have several recipes for cooking migratory Easter Bunnies that pass through their Reservation on their way to other locales. The following recipe uses dried Easter Bunny in case you are unable to trap or procure a fresh one:
DRIED EASTER BUNNY STEW WITH DUMPLINGS
Ingredients:
1 dried Easter Bunny
2 quarts water
1 T. salt
1 medium onion, chopped
2 stalks celery, chopped
assorted other vegetables
dumplings (recipe below)
1. Undo forelegs from hind legs and wash "bunny" thoroughly
2. Place "bunny" in a saucepan, cover with water, and simmer, covered, for thirty-five or forty minutes, until tender.
3. Add salt, onion, celery, and other vegetables you like in a stew, and cook until tender.
4. Add dumplings, cover, and cook another ten minutes.
Dumplings:
2 C. blue cornmeal
1 t. salt
1 1/2 C. boiling water
1 T. bacon drippings or other shortening
1. Mix salt and cornmeal in a bowl.
2. Melt shortening in boiling water and add to dry ingredients, stirring to dissolve lumps.
3. When dough is cool enough to handle, roll into 1-inch balls, flatten with your hands, and drop into the boiling stew.
♣
Another of my favorite Easter Bunny dishes is a dish from the Caribbean, as follows:
CURRIED EASTER BUNNY
Ingredients:
2 1/2 lb Easter Bunny, ready-to-cook, and cut into serving pieces
2 T. unsalted butter
2 T. peanut oil
2 onions, finely chopped
1 T. curry powder
3 T. guava jelly
1 C. coconut milk
2 C. "bunny" or chicken stock, about
Salt, freshly ground pepper to taste
1 to 3 T. lime juice
2 t. arrowroot
Heat the butter and oil in heavy frying pan and saute the "bunny" pieces, a few at a time, until browned on all sides. Transfer to a heavy, covered flame-proof casserole. In the fat remaining in the pan, saute the onions until golden brown. Add the curry powder and cook for a minute or two, stirring. Add to casserole, scraping up all the brown bits from the pan. Add the guava jelly, coconut milk and enough stock to cover the "bunny" pieces, about 2 cups. Season to taste with salt and pepper. Cover and simmer gently until the "bunny" is tender, about 1 1/2 hours.
Adjust the seasoning. Add 1 tablespoon of lime juice, and taste. More lime juice may be needed, according to the sweetness of the guava jelly; add another tablespoon or two if necessary. Mix the arrowroot with a little cold water and stir into casserole until the sauce has thickened lightly. Serves 4 to 6.
Serve with plain boiled rice, or plain boiled potatoes, and mango chutney. If a hotter curry is preferred add a chopped fresh hot red pepper with the cooking liquid.
Our friend Bill Benge died in 2006.
To comment, scroll to the bottom of the page.
Don't forget the Zephyr ads! All links are hot!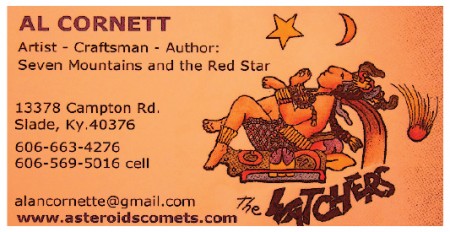 Save
Save
Save