Jimi Hendrix, Grace Slick & The Jefferson Airplane were guests
Judge Willis Ritter was a resident
I was an interloper.
The Hotel Newhouse was an elegant 12-story Salt Lake hotel built in 1912 on the southwest corner of 400 South and Main Street. Mining magnate Samuel Newhouse built the luxury hotel with his riches from local silver mines. In 1896 he had already struck it rich in the mines of Ouray, Colorado before moving to Salt Lake.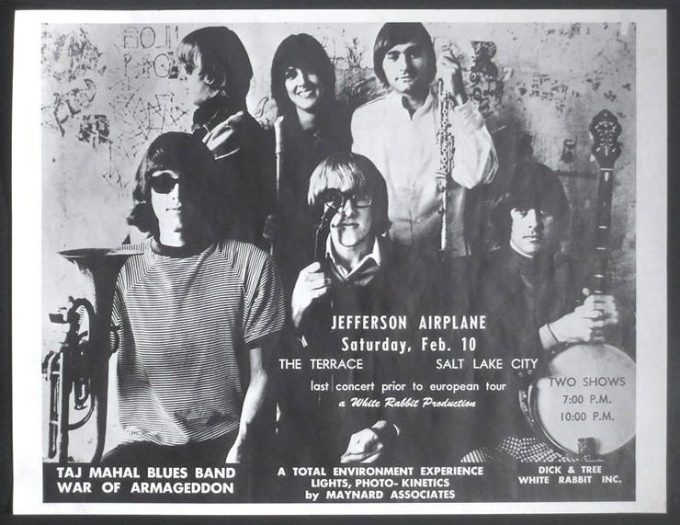 Jefferson Airplane with Taj Mahal and War of Armageddon
Terrace Ballroom – Salt Lake – 2/10/1968.
By 1968, I had done my best to take Dr. Timothy Leary's advice of "tuning in and turning on." I had yet to take the more extreme step of "dropping out." I enjoyed the hippie music that came out of San Francisco and by the summer of that year I found myself in Haight-Ashbury.
In February, while I was a senior in high school, I bought tickets at The White Rabbit–one of the early head shops in the Salt Lake Avenues. At that time the historic lower Avenues of Salt Lake were run down. The once opulent Victorian homes were cut up into small apartments. The rent was cheap and the local Bohemian culture gathered there.
The Freed family was progressive in both civil rights and in the new music scene. They owned the Lagoon Amusement Park that hosted The Doors, Janis Joplin, Jimi Hendrix, The Rolling Stones and many other great talents in the '60's. They also owned what was left of the 1930's big band dance hall known as the Terrace Ballroom.
The Freeds sponsored concerts at their Terrace Ballroom as well. Just across the street from the Terrace was the once-elegant Freed family-owned Hotel Newhouse. It was the natural and convenient choice to put up the traveling rock bands while they were here in Salt Lake City.
With tickets secured for the Jefferson Airplane concert, I caught wind that the band was staying at Hotel Newhouse. Security seemed nonexistent. My friend and I figured out that Grace Slick and her band were staying on the 12th floor. Like the adolescent groupies we were, we waited down the hall from their room to get a glimpse, or better yet an interaction with the real deal San Francisco Hippies. We did have a sighting. It was brief. Grace gave us a friendly and seemingly understanding nod as she and the band retreated to their hotel room. After about an hour and a half we were politely asked to leave by a hotel employee. Later that night we saw Grace and the band again at their live performance at the Terrace.
J

imi Hendrix

at

Hotel

N

ewhouse
On August 30, 1968, I had just returned to Salt Lake from Haight-Ashbury, San Francisco. My future wife Jeanette and I attended the Jimi Hendrix concert at Lagoon Amusement Park. The Freed Family owned Lagoon as well as Hotel Newhouse. It was common for the artists of the Freed-promoted concerts to stay at their once-elegant Hotel. Jimi Hendrix was their guest. It appears from his surviving notes, shown here, that he was working out the playlist and other ideas for his upcoming album ELECTRIC LADYLAND on Hotel Newhouse's stationery. He produced the double album and released it in October. By mid-November, it charted number one. Electric Ladyland was his most successful record.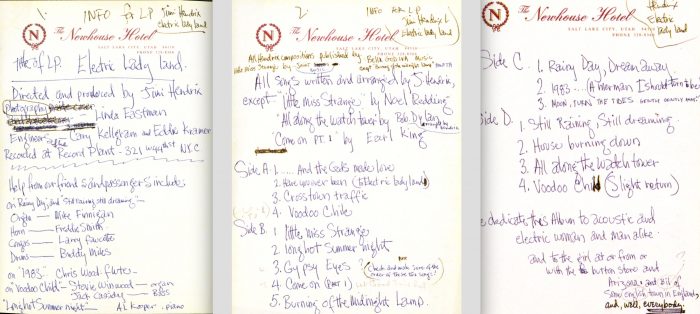 Tournament Bridge at the Hotel Newhouse
I entered Westminster College [SLC] as a freshman in the fall of 1968. I was 18, confused, afraid and facing involuntary military conscription at the height of the Vietnam War. I saw the confusion of the Democratic National Convention in Chicago. I was immature but still identified with the resistance movement. I became involved in the antiwar movement, not just with commitment but for survival. I had no long-term goals. When I settled into my regular 15 hours of freshman college credit classes, I would waste time and socialize in the coffee shop by playing the great card game of Bridge. I was pretty good at it. Or at least I was proficient against other students in the college coffee shop.
Poker and card games are a family tradition. My father once operated a discrete card room in the back of his pool hall. My oldest brother taught me to play poker and chess before I was in 1st grade. After Thanksgiving and Christmas dinners, the uncles, an aunt, and the grandparents would break out a small-change poker game that seemed to aid in the digestion of the large holiday meals. Some families watch football after a holiday dinner. Our family played poker. Being old enough and smart enough to sit in on the family poker game was a rite of passage into adulthood.
I became somewhat obsessed with Bridge. My favorite partner was Roman Piotrowski, a student direct from Italy. His English communication skills were limited.
Our conversations were usually shallow because of that limitation. But in a card game like Bridge, which does not require talking, communication is done subtly through the bidding. At that level we were simpatico. One day, over our regular coffeehouse card game, we were encouraged to try our hand at tournament Bridge, sanctioned by the American Contract Bridge League [ACBL]. Both of us were excited to test our skills against older, more practiced, card players.
At the time I was driving an interesting wreck of a car: a 1961 Saab Gran Turismo with a 3 cylinder, 2 cycle engine. The engine required that a quart of oil to be added to the gas tank with every 8 to 12 gallons of gas. It sounded like a two cycle motorcycle:
Ring – ping ping ping – – – Ring – ping ping ping ping. It barely ran but it was groovy, with its wooden steering wheel, bar in the backseat, and factory installed rally clock.
Married and broke, with tuition paid for by grants and a work-study program, my wife and I lived in the northern foothills of Salt Lake in the rundown 1969 Bohemian neighborhood of the lower Avenues. We lived on 3rd Avenue in a two story Victorian home that had been cut up into 6 one bedroom apartments. Our rent was $60 a month and that included utilities and a coveted garage,
Roman lived with his host family much higher on the northern foothills, on the more gentrified 16th Avenue. The Gran Turismo could barely make it up the hill. On tournament nights we would dress up slightly and go to the luxurious Hotel Newhouse to play cards. The lobby was spacious, well appointed, and, being with my Italian friend, it seemed to have the feel of a European hotel. I was familiar with the hotel as just two years earlier I had snuck in to get a glimpse of Grace Slick and the Jefferson Airplane. Back then I had also found their elegant and almost empty lobby bar called The Embassy. The neighborhood was no longer popular, and the nearly empty bar was a delight for me, as they would serve me underage without question while I enjoyed their flamed mahogany paneling of a bygone elegance.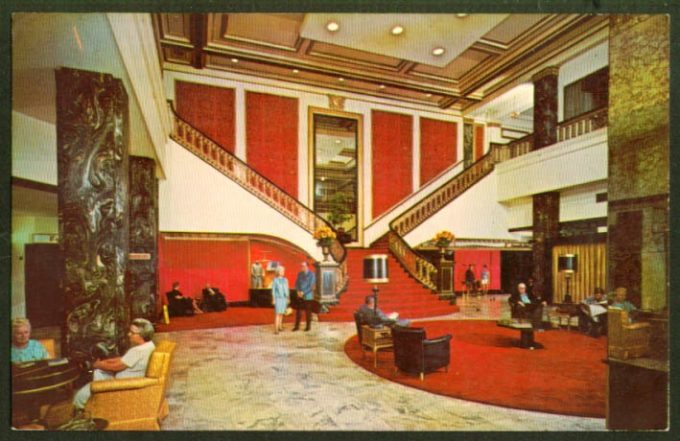 The bridge tournament was on the mezzanine. We would walk up the stylish staircase shown in the old postcard and turn to the left to a banquet room that was dedicated for the tournament. The hostess, who ran the tournament, wore formal floor-length gowns resembling Salt Lake's own Loretta Young. The whole thing had a spectacular look until almost everybody pulled out cigarettes, desecrated the air, grabbed mugs of coffee, or not so discrete flasks or brown bagged bottles, furled their brows, and took to the cards with the seriousness of open heart surgery.
In stark contrast to the elegance of the mezzanine of the grand old hotel, we also played tournament bridge at The Perky Poodle Parlor, a dog grooming business by day, and, oddly, a card room at night. Because Roman was allergic to dogs, we curtailed our competition at the Perky Poodle Parlor. We came to a humbling surprise that our expertise in the college coffee shop did not translate to the seriousness of sanctioned tournament bridge. We were, at best, middle of the pack. We continued to play in a couple of dozen tournaments and both of us are listed in the official ACBL register with a few master points.
I can be obsessive. Bridge had me hooked. The tournaments kept me out late, away from my bride, jacked up on coffee, and they completely occupied my brain. After one tournament and a troubled caffeine-restricted sleep, I dreamt about how to finesse the Jack of diamonds to be able to make the winning trick. Upon awakening I swore the game off. I haven't played a hand of bridge for nearly 50 years. But I remember it as fascinating.
Judge Willis Ritter – COLORFUL CHARACTER
Ritter was a US District Judge until his death in 1978. He lived at the Hotel Newhouse and would stagger across the street to his court room in the Federal Building. He was a famous advocate of the underdog, but capricious and might turn against anyone for unknown reasons. He was a womanizer, and hung out at the Manhattan Club, also across the street. He was the subject of a 60 Minutes TV expose.
> He issued restraining orders against Salt Lake Mayor Jake Garn from issuing parking tickets.
> Disturbed that he couldn't see the University of Utah basketball game on TV he ruled that the NCAA couldn't prevent a blackout.
> I had a straight-laced Mormon friend that I learned was a felon and had spent a year in prison – it seemed so unlikely – because once he had harvested a Christmas tree without a permit in a national forest. It was a federal crime and Ritter, an environmentalist Mormon hater, condemned him to a year in prison.
> The County Attorney of Grand County Utah and friend of mine Bill Benge joked that when he went before Judge Ritter he had a toothbrush in his pocket in case he was found to be in contempt of court and had to spend the night In jail.
> Ritter ordered a stay in the execution of Gary Gilmore. The U.S. Court of Appeals overruled him.
> If Ritter thought a jury member was a Mormon he was hard on them.
> There was an attorney that used to law clerk for Judge Ritter. The clerk was sent over to the liquor store with Ritter's personal check made out to the liquor store. The employee told him "We don't accept personal checks." He told her "You'll take this one!" When she saw Ritter's signature, she told him "Why, yes I will!!"
The LDS church tried unsuccessfully to have a bar shut down because it was too close to a Ward House. The Judge asked which was there first, the bar or the church?. The attorney for the church stated that the bar was there first. Ritter had seen this case in front of his bench before, only the church's attorney was trying a different tactic to have the bar shut down, claiming the bar had been remodeled and therefore couldn't be grandfathered into being too close to the ward house . Ritter informed the attorney for the church that if this case came before him again, he would have the church torn down and moved 200 feet further from the bar.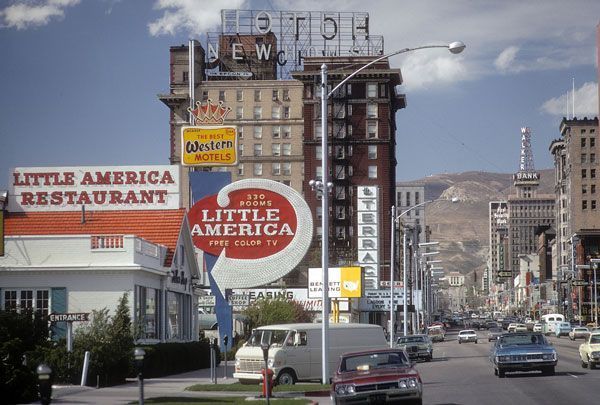 The demolition of Hotel Newhouse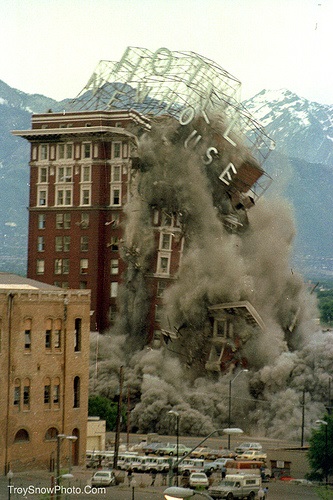 During the 1980s, the hotel was becoming unsafe and expensive to maintain. Ownership of the Hotel had passed to Little America Hotel Corp., a company owned by Earl Holding. Behind the LDS Church, Holding was the 2nd largest landholder in Salt Lake. He was an interesting man who made his wealth in Little America Wyoming and Sinclair Oil. Holding owned many things, including the ski resort of Sun Valley Idaho and the competitor Inn: Salt Lake's Little America Hotel just south of the Hotel Newhouse.
Soon after he acquired the grand old Hotel Newhouse he made plans to destroy it.
On Sunday June 26,1983, the widely advertised demolition took place. I staked out a position catty-corner from the doomed building near the popular Manhattan Nightclub where Judge Ritter used to hang out. After several explosions and a monstrous cloud of dust, the once elegant grand hotel was reduced to rubble. It was a sight to behold if you like that kind of thing. Weeks later I hooked up with the man who had salvage rights. Before the demolition, he had gone through and saved lighting fixtures, bathroom fixtures, some doors, and even yards of heavy wool carpeting. I loaded up on fantastic lighting and bathroom fixtures for resale. I have two lamps in my kitchen, and two towel bars in my bathroom that occasionally remind me of bygones and obsolete buildings.
Clark Phelps lives in Salt Lake City, Utah.
Click Here to Read Clark's Previous Installment of "Bygones & Obsolete Stories…"
To comment, scroll to the bottom of the page.
Don't forget the Zephyr ads! All links are hot!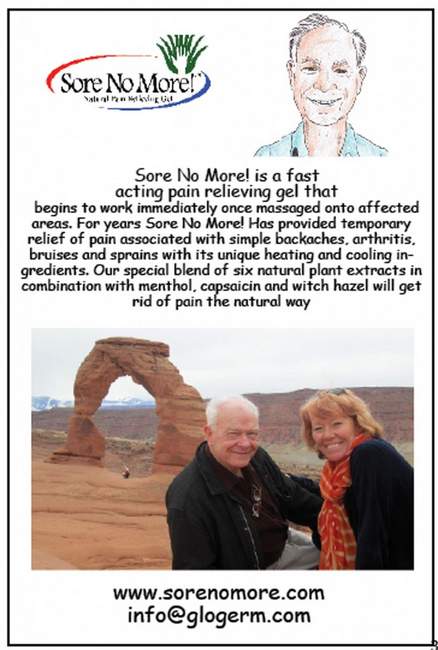 Save
Save
Save
Save
Save
Save
Save
Save
Save
Save