In the Spring of 1964 I traveled into Arches National Monument with my family. We entered the park over the Willow Flats Road, seven or eight miles of rough, one lane, sand and dirt in the family station wagon and stopped at the gate (really just a cattle guard) by a little ham can trailer and spoke with the park ranger. He directed us to a camp site some nine miles further up the dirt road passed balanced rocks, magnificent formations, great valleys and suggested we camp around some fins that would protect us a little from the wind.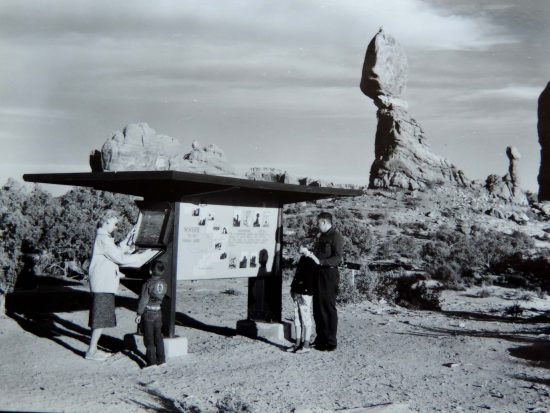 We followed his directions and made camp somewhere around what is now Devils Garden Campground. As a 12 year old I was off into the landscape as soon as I could get free. Scrambling amongst the rock formations I stopped at a big Pinyon and noticed a small leather case in the crook of a branch. I opened the case and found a D.W. Brunton Pocket Transit inside. I showed the compass to my family and we were going to leave it with the ranger on our departure.
In those times there was no visitors center or park headquarters. As far as I know there was only the little trailer at the cattle guard. We left the park the next day and stopped by the trailer only to find it locked up tight and no vehicle around. With no porch or mailbox to leave it in, I kept the compass in my possession.
After several years of the compass being used in the boy scouts, explorer scouts and mountain rescue I noticed faint initials inside the case. The letters E.A. drawn in fine point black ink. See photographs:
In 1971 I went on to school at Fort Lewis College and studied Archaeology for several semesters. In 1972 I enrolled in a summer field school on Mockingbird Mesa near Lowry Ruins and used the pocket transit to map ruins and prepare the documentation of dig sites from field notes. During that summer I became acquainted with the writing of Edward Abbey. Living on the mesa tops far from any towns or entertainment we passed around Black Sun, Desert Solitaire, and Slickrock. The movement of environmental awareness was building and in our community Edward Abbey became a solidifying voice. Learning at that time and through those readings that Ed Abbey had been a ranger at Arches, I began to wonder if the Brunton might indeed have been his. The thought was always a tickle whenever I handled the instrument.
Sometime after the "Monkey Wrench Gang" took the Southwest by thunderstorm (1975) I had occasion to hear Ed give a talk, it was in Durango or maybe Albuquerque I don't remember exactly. In the question and answer session that followed I remarked that I might have his compass. He asked why I might think that and I related the story of Arches and the tree. His reply was a question, "Does it have a broken mirror?" I confirmed that it did and said I could probably find it to return to him. His reply was " That's OK, they gave me another one".
After all this time (53 years), I finally returned to Arches, now a National Park with a visitors center, museum, paved roads and lots of people. I took along with me the Brunton pocket transit and shared it's history with Lee G. Ferguson, Park Ranger. He confirmed the location of the little trailer and the campsites as well as Abbey's presence at Arches in the spring of 1964.
The Documentation of the Brunton Pocket Transit:
COMPASS, M2 STOCK NO. 7578443
Serial # 36469
Mfg Date 1926-1946 US GOV. RDECOM NSN Assigned 01 Jan 1962 ( NPS ) ( NFS ) (USGS)
D.W. Brunton's Pocket Transit
Wm. Ainsworth & Sons
Denver, CO.
Aluminum Body, Green paint, Cracked Mirror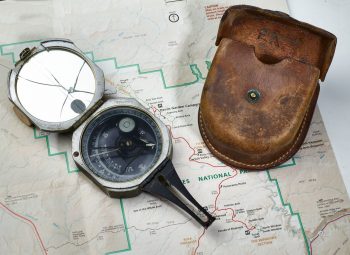 1 Long Level, 1 Round Level, Graduation: Degrees
1 Arm, 2 scales, Grade over Degrees
2 sights, 2 hole, outside fold short sight
Compass: Quadrants
Needle Black Steel with White painted North end
Side Slots
Ed Abbey has been a grounding influence in my love of the Southwest, along with my parents and my archeology study. I have always felt a strong connection through the Brunton and will continue to conserve it until such time that I decide to dedicate it to an institution in the Southwest.
John Waugh is a commercial photographer from Boulder, CO.
To comment, scroll to the bottom of the page.
Don't forget about the Zephyr ads! All links are hot!
Save
Save
Save
Save
Save