In 2001, the Zephyr interviewed John Depuy. Here's an excerpt…
Jim Stiles: Where did you grow up?
John DePuy: My grandfather's buried in New Mexico. But unfortunately he lost everything in the Depression, so I was born in the East. God help me. He's buried nearby and my mom and dad are here near Taos. The 50s are really the formative years, good time. I always related to European paintings, especially the German Expressionists. They were a mad lot and had passion, which some of our art here lacked.
Jim Stiles: When did you come to Taos?
John DePuy: I came twice. I came when I was very young in the 30s briefly with my grandfather. My parents came back in the late 40s. I came permanently in '52.
Jim Stiles: So right after you got out of Korea?
John DePuy: I went out even before that. I took somewhat of a leave of absence and went out to Navajo Mountain and spent some time with an old shaman. I was a navy medic. I went AWOL for a short time after I got back. My mind was burned out. So, I went out and spent some time with an old medicine man at Navajo Mountain. His name was Long Salt. He was what we call a medicine man. He had quite an influence. Stewart Brand, who started the Whole Earth catalogue, spent time with him too. He was an incredible person.
A Sampling of John's Artwork: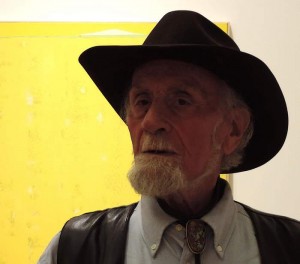 "His work is unique and strongly individualistic, though, at once indigenous to this land. For he has probed, with his cutting mind, beneath the deserts and mountains, into the bare  bone of the rock of this land and has dared to seek the secrets of its womb."
Stan Steiner
His line and ink drawings and oil paintings represent clearly, recognizably, the landscape of the Southwest – mountains, buttes, abysmal gorges. But De Puy's landscape is not he landscape we see, but the one, he claims, is really there.  A world of terror as well as beauty that lies beyond the ordinary limits of human experience, that forms the basis of experience, the ground of being."
Edward Abbey
BIO: "The two greatest influences on my work have been Expressionism and the Southwest. Expressionism has influenced me as a tradition, beginning with Van Gogh and continuing through the German Expressionists. In this tradition, I translate visual experience into an inner expression.  The Southwest landforms and its native people are the immediate source of my work. This land speaks of another time sense than our Western European lineal time. It is the land, its myths and dreams of wholeness, that nourish me." John De Puy
Save
Save
Save