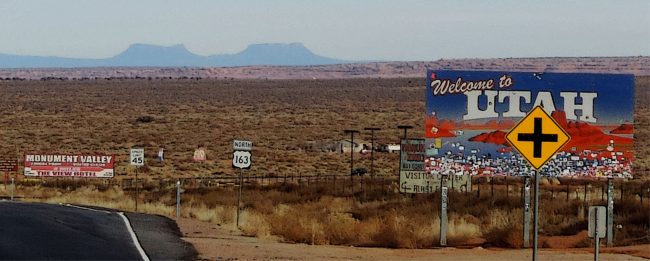 What benefit to the Navajo people would ever come from the Navajo Nation threatening to sue the Federal Government over Bears Ears National Monument being reduced?
Suing the government over the anticipation of reducing Bears Ears National Monument pays more lip service to the land issues than it does to actually protecting it. Not to mention the fact that filing fees and court costs are probably going to come from resources that should be utilized elsewhere, and are needed elsewhere.
Unemployment hovers at around 42 percent on the Navajo Nation (4.4 percent National Average). According to the 2010 Census and 2010 American Community Survey, "more than one-third of the Navajo Nation tribal members are classified as "severely poor," with poverty ratios that range from below 0.5 to .99." A further 19 percent of the Navajo Nation is right at the poverty line. Forty-three percent of Navajos exist below the federal poverty line of $24,250 for a family of four. With numbers like those, who can justify supporting Navajo Nation leaders that push for a frivolous lawsuit against the federal government over lands that were already federally protected prior to the massive 1.35 million acre Bears Ears Monument designation?
The monument designation is entirely outside the borders of the Navajo Nation. It would have zero impact on the everyday lives of our Navajo people who struggle to simply put food on the table. The only economic benefit the monument would have is for the very people who pushed for its creation in the first place; radical environmentalist organizations with extremely close ties to the tourism industry.
Of course it would benefit those special interest groups, but what would it do for the Navajo people living on the fringes of the Navajo Nation nearest to the national monument? Hotels, restaurants, and outdoor clothing apparel companies that cater to the super-rich, would profit from the work of Navajo employees who would see no real gain in their financial status. It's no secret to Navajo workers that tourism jobs do not pay well, and that results in our people having to work two, even three jobs at the same time. Plus, the work is seasonal. No one likes being laid off for 4-5 months out of the year.
More urgent issues on the Navajo Nation far outweigh the need to initiate costly lawsuits. We have reservation roads that need improvements everywhere. Kids are missing class because they can't even make it to bus stops. We have families living in the 21st Century still with no electricity, no running water, or housing at all. Around "34,000 new homes are needed on the Navajo Reservation," according to AZCentral. All important and pressing issues each, yet threats of frivolous lawsuits are all we have to look forward to?
What is the rationale for threatening a lawsuit of this nature? Reducing Bears Ears National Monument? One thing most don't know, but are beginning to understand, is that reducing it is probably the best solution. Why? Well for one thing, the monument encompasses over 11 existing federally-protected Wilderness Areas. These aren't particularly small areas either, as they are approximately 400,000 acres combined. And they were protecting and preserving the cultural heritage sites and sacred areas even before the national monument was designated.
The highest form of federal protection, Wilderness Areas, were already in place, and should have never required an unfunded national monument designation. Not to mention the fact that these cultural heritage sites and sacred sites are well protected by 11 separate federal laws, including: Consultation & Coordination with Indian Tribal Government, Archeological Resources Act, and the Native American Graves Protection and Repatriation Act.
It's unfortunate that the Navajo Nation would put so many resources and so much time toward suing the government in order to further the agendas of business owners and clothing companies, when what we need is tribal leaders to pay attention to our everyday struggles here on the Navajo Nation.
Ryan Benally
Ryan Benally is Vice-President of the Stewards of San Juan County and a member of the Navajo Nation from Montezuma Creek, Utah.
follow @american_navajo on Twitter